Earlier this month, Amazon announced an addition to its Amazon Web Services cloud computing suite:AWS IoT. Launched as a beta, AWS IoT is a platform for managing large numbers of devices, securely connecting them to one another and to web and mobile applications, and integrating them with other AWS and third-party cloud services.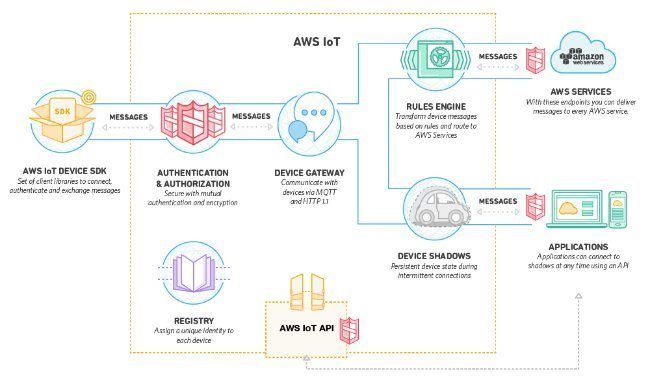 The platform uses a publish/subscribe model. That means a device (like a smart thermostat) can publish its latest sensor readings and status updates to AWS IoT, and the platform will push that info out to any other application or device that is subscribed to the thermostat's feed (like the user's smartphone or the home's connected air conditioner). Each burst of communication to and from AWS IoT is bundled as a "message" — a 512-byte chunk of data — and pricing is based on the number of messages published to and delivered by the platform each month.
Of course, Amazon is providing several SDKs to get software developers started. It's also offering a bunch of hardware starter kits, which include sensors and microcontrollers already configured to play nicely with AWS IoT — like Grove, Beaglebone, and TI LaunchPad.
We've expected Amazon would be adding IoT-specific features to AWS since the company acquired IoT platform provider 2lemetry earlier this year. It's also a necessary move to keep up with other tech giants, like Facebook and PTC, that are keying in on the market for IoT support services.
To learn more, check out the video below from the AWS re:Invent conference in Las Vegas.
Related: IoT Cloud Ecosystems