Bastille, a cybersecurity firm focused on the Internet of Things, yesterday announced a $9 million Series A investment round led by Bessemer Venture Partners. Additional funding came from Bastille founder and CEO Chris Rouland and cybersecurity entrepreneur Tom Noonan, who along with Bessemer's David Cowan all contributed to the company's previous $2.5 million seed round.
Details of Bastille's security technology have yet to be released, but the company claims it has a proprietary combination of sensors and software that can scan the "entire electromagnetic spectrum" to find and identify wireless devices. While it seems unlikely that there'd be any use in looking for gamma or X-rays, the phrase seems to be shorthand for saying that the sensors can detect the many different radio frequencies, and interpret the various signalling protocols, used by connected devices. On the other hand, it's not clear if the sensors will be able to detect devices that use visible light or sound to share data.
Bastille's marketing thus far targets corporate IT security. Tens of billions of devices are slated to join the IoT in the coming years, and each new product represents a possible point of failure for a secure network — a way for malicious software, like viruses and spyware, to get in; or for sensitive information, like trade secrets and customers' banking info, to get out.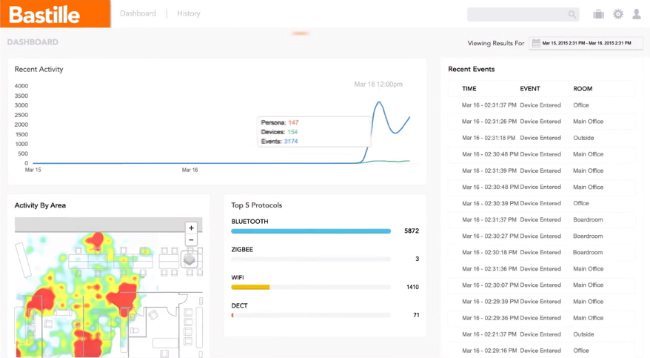 By scanning all of the wireless traffic in a company's airspace, Bastille says corporate security managers will be able to identify each individual device as it comes online, probe it for vulnerabilities or data leakage, and combine device location and behavior with data from physical security systems.
In a statement about the new funding, Rouland said that the IoT "presents unprecedented physical and cyber risks that cannot be mitigated retroactively. Every enterprise must enact strong IoT security safeguards in order to adequately protect their companies from both intentional and inadvertent threats."
Bastille's security technology is currently in pilot testing, with a full release expected in 2016. The company will be present at upcoming cybersecurity events including Def Con, CyberCon, and the Security of Things Forum. See the video below to learn more.