Blesh, already known for its Apple-compatible iBeacon products, is the first company to make beacons for Google's project, the Physical Web.
The Physical Web promises to create seamless interactions with smart objects, by having them broadcast easily discoverable URLs — which is what Blesh's new PW beacons accomplish via Bluetooth Low Energy signals. With the Blesh app installed, nearby smartphones will pick up on the signal and present it as a notification, just like a text message or calendar alert.
With a quick tap, the user can open the URL to access content relevant to the broadcasting object. The devices can also be displayed and ranked by a combination of user proximity, signal strength, and past history.
Possible use cases span everything from a bus stop that broadcasts a URL for its timetable, to a concert poster that links to ticket purchases, to museum displays that provide multimedia content about the installation. Unlike true "smart" objects, which rely on embedded computing for at least some of their intelligence and interactivity, objects associated with a PW beacon can be computationally inert, offloading all the processing and connectivity to cloud servers.
PW beacons are a one-way form of communication: They broadcast, but they don't receive signals. That means the beacons don't passively collect info from nearby users devices — though once a user clicks a URL, of course, they will be known to the linked website. PW beacons are also designed to broadcast "in the clear," which means the signal is accessible to anyone in range. That's ideal for public spaces, but those who want to restrict access to their content (say, for use in the home) will have to take additional steps like password-protecting the broadcast URL.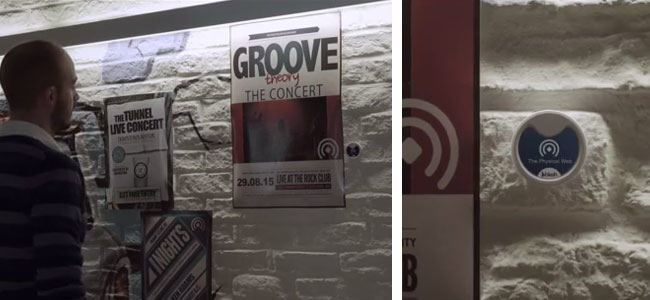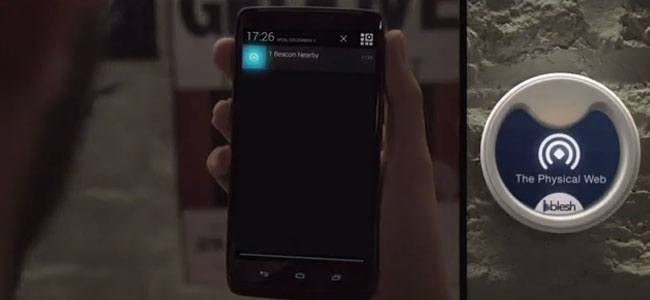 Blesh's PW beacons weigh less than an ounce and boast battery life of more than two years. URL assignments and firmware updates are handled through the Blesh PW app for iOS and Android. The beacons are available as of today, and some reports indicate that Blesh has already received pre-orders for 50,000 units.
Check out the video below to see a PW beacon in action.
Related: Scott Jenson, Bluetooth Beacon Handbook