Ontario based engineer Mark Nicholas created the Bluetooth 4 sensor mote system Wimoto after searching for a product to remotely monitor the temperature and humidity in his son's bedroom overnight and not able to track down an available low-cost solution.
Being released in 4 different flavors the coin cell battery operated sensors each target their own niche:
Securimote – Uses a passive infrared motion sensor and accelerometer to detect if it has moved positions, or if there is motion near it from up to 16 feet away.
Climote – Provides temperature, humidity and light level readings.
Growmote – Measure soil water content, temperature (-25c to +85) and light levels up to 60,000 lux to help inform you if your lawn or newly planted garden needs some extra attention.
Thermote – Uses "infrared emissivity" to determine the temperature of an object that it is pointed at with an accuracy of +/- 1c
All of the motes have a general line of sight range of around 100 feet and use Bluetooth 4 to upload their data readings to be monitored, and set monitoring alerts for certain parameters. Raspberry Pi support is included and later this summer a WiFi bridge is in the works to extend the range of the system and enable real-time data mashups.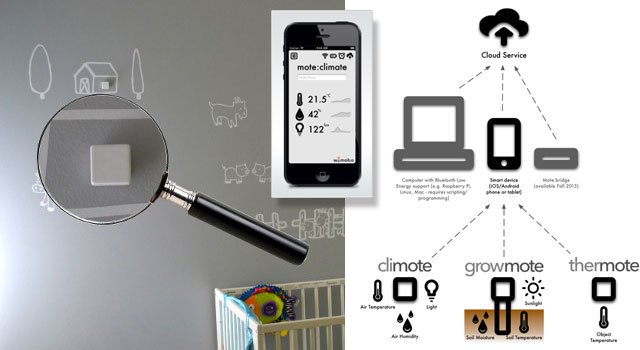 More details about the system can be found at: Wimoto.com/ or watching the team's product pitch video below.
Via: Mickey McManus @mickeymcmanus
Additional: UberGizmo, TreeHugger, Indiegogo Page