Fobo Tire and Fobo Bike are two versions of a smart tire pressure monitoring system that works with cars, motorcycles, motorized three- and four-wheelers, and bicycles. The Fobo line is produced by Malaysian company Salutica Allied Solutions.
The system consists of a set of chunky, inch-wide, weatherproof replacement caps for each tire's air valve. Inside every one is an air pressure sensor and a small Bluetooth Low Energy radio powered by a single coin-style battery, which should last up to two years.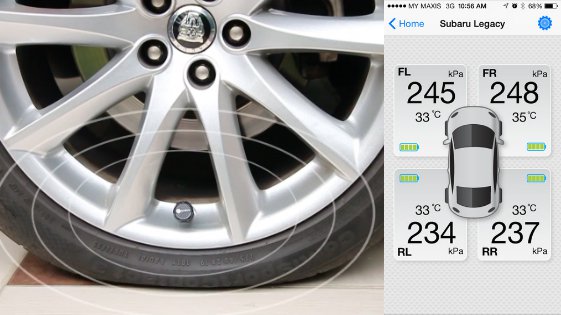 Once the sensors are paired with a smartphone, they'll send readings whenever they're in Bluetooth range. That means instant alerts as you're driving or riding whenever pressure drops below a preset threshold — and for safety, improved gas mileage, and reduced wear on the tires, keeping them near the recommended pressure is always a good idea.
For Fobo Tire users, the sensors also pair with an in-car unit that runs on two AA batteries. It serves as a replacement or backup for the mobile app, indicating problems by beeping and illuminating one of four LEDs to show which tire is low. Riders of motorcycles, bikes and other vehicles without an enclosed cab will have to rely on their smartphones, however.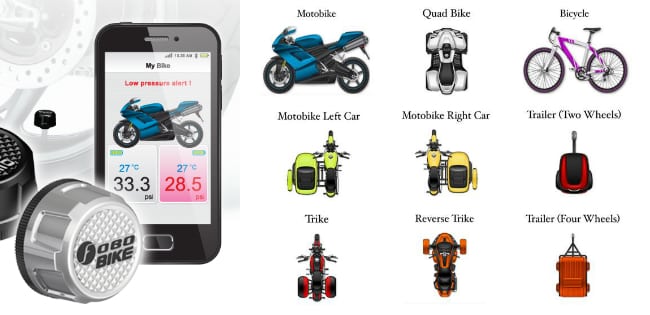 The Fobo line is part of a wider ecosystem of smart car devices, which can add embedded intelligence and wireless connectivity to vehicles of all kinds. Many of them use the on-board diagnostics port to report detailed information about driving behaviors, vehicle location and maintenance needs; while others pair dashboard cameras with a smartphone and use machine vision algorithms to provide real-time collision warnings and encourage safer driving habits. Until the most futuristic of Internet-connected, GPS-enabled, sensor-equipped, self-driving features become available even on budget models, this is the closest most of us can get to owning a "smart car".
Production of Fobo Tire and Fobo Bike was initially funded on Indiegogo last October. Salutica also produces location-tracking tags as well as fixed beacons that use the same Bluetooth Low Energy technology. See the full product lineup at my-fobo.com, and learn more about the tire pressure sensors in the video below.
Related: Connected Car Devices, Carvi, BTPS