Cryptotronix, the Coloradan designer of open-source cryptography hardware and software, earlier this month announced a partnership with forthcoming cryptocurrency app TilePay that will bring automated, secure micropayments to the Internet of Things.
The company's designs are already used for products like SparkFun's CryptoCape, a hardware security add-on for the BeagleBone development board. The new design is a similar add-on for another tiny computer, the Pinoccio, which has Wifi and 802.15.4 mesh networking capabilities baked in.
The CryptoBackPack, still in prototype stage, adds an Atmel crypto-authentication chip to any device built with Pinoccio. The chip creates a unique cryptographic identifier that can be used to verify that the data really did come from where it says it did. That's where TilePay comes in.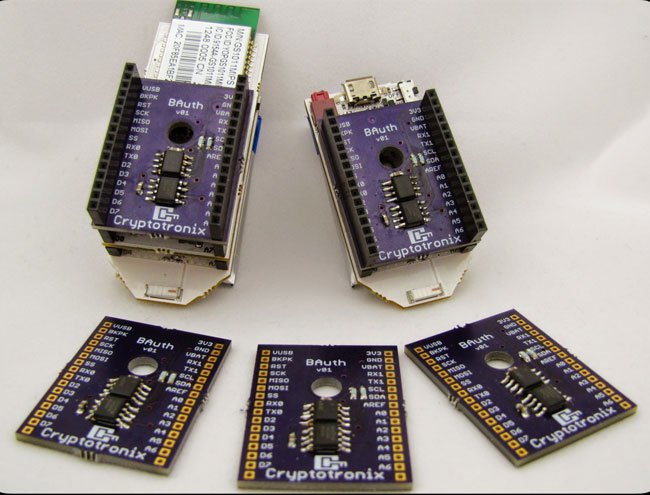 TilePay works a lot like Bitcoin (on which it's based) and other cryptocurrencies: It's a way to exchange money or data securely, through a decentralized system. Embedding cryptographic tools in IoT devices makes it possible for those devices to participate in the TilePay marketplace, by offering up access to their data on a pay-as-you-go basis.
For example, let's say I have an outdoor environmental sensor measuring the temperature on my lawn, near the sidewalk. My next-door neighbor is building an automated lemonade stand, and she wants to maximize her profits by adjusting prices as the temperature goes up or down throughout the day. She programs her smart lemonade dispenser to buy an inexpensive temperature reading from my thermometer every 30 minutes, and automatically update the cost of lemonade accordingly.
The beauty of micropayments is that you only pay for what you need, instead of being locked into a subscription or forced to deal with advertising. My neighbor can do just fine with occasional readings; a meteorologist might pay for temperature data every minute, or every few seconds. And because each transaction is verified cryptographically, the buyer always knows that the data really did come from my sensor.
Micropayments are just one way that blockchains — the cryptographic technology behind TilePay and Bitcoin — can be used by connected devices. To learn more, see our article Blockchains and the Internet of Things.