The Smart Citizen Kit is an environmental monitoring hardware board, web service and mobile app developed to connect "people with their environment and their city to create more effective and optimized relationships between resources, technology, communities, services and events in the urban environment."
The project was initiated in 2009 by Tomas Diez and Alex Posada and has since been brought to life by a crowdfunding campaign and a global team of architects, designers, and engineers including Fab Lab Barcelona, Hangar Interaction Lab, and Acrobotic Industries.
The team is initially launching the project with an 'Ambient Board' that has built-in sensors for measuring air composition (CO and NO2), light intensity, temperature, sound, and humidity levels. Once the device captures this data it wirelessly sends it to a web service (using a Roving Networks 802.11 b/g module) to visualize and track the measurements, share the information with the community, and enable others to mash the data with companion projects using an API.
Power to the device can be provided by either solar or battery, and a forthcoming mobile app will provide easy access and ways to engage with the device and it's data remotely.
All of the design files (schematics, PCB layout, 3d printed enclosure) for the device are being released under an Open-Source license (Github repository), and the team is hoping to follow-up with the 'Ambient Board' by launching additional shields for use in urban agriculture, measuring electromagnetic fields, energy consumption levels and monitoring certain biometrics.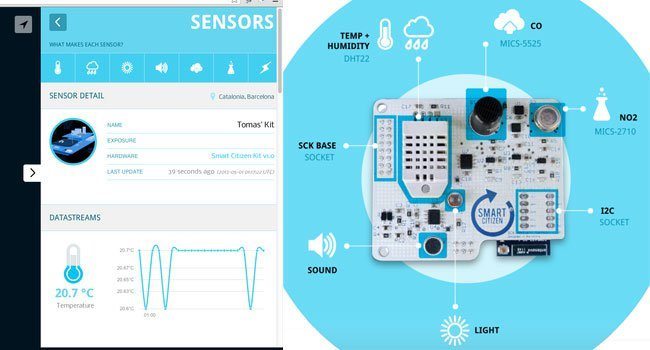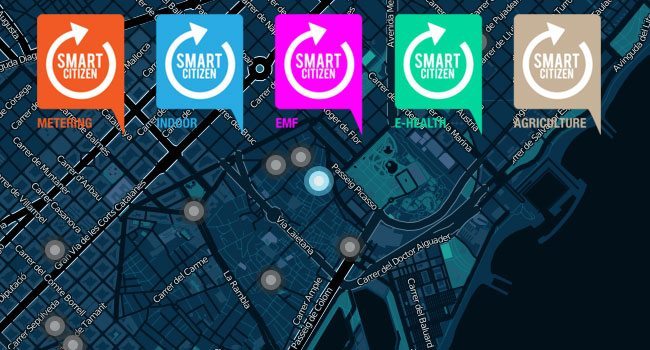 For more details on the project you can visit:Smartcitizen.me or watch the overview video of the project embedded below.
Via: Peter Thomas
Related: AirQualityEgg, Lapka, Pollux

Additional: SpainLab, Github page, Kickstarter Page, Techcrunch, Arduino Blog