Though it was announced almost a month ago, few news organizations took note of Europe's newAlliance for Internet of Things Innovation. Grounded in the international research coordination program of the IoT European Research Center, AIOTI's 11 working groups will bring government, academic and industry stakeholders together to organize and promote Europe's efforts on everything IoT—from standards and policies to specific vertical markets like wearables, smart farms, smart cities, and smart manufacturing.
Membership is open to companies, associations and other organizations that demonstrate an interest in the IoT space, and the only requirement is that members participate in one or more working groups. Organizations that chair the working groups also make up AIOTI's steering committee, and E.U. member states can participate as part of an advisory board.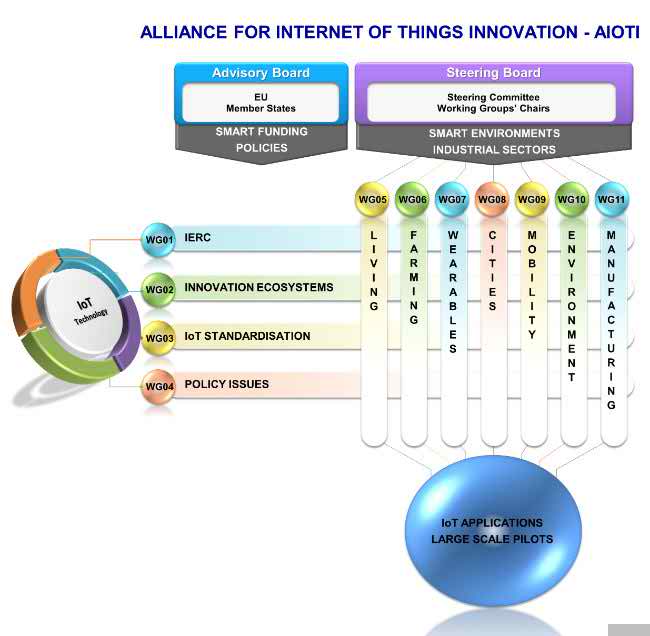 So far AIOTI is mostly made up of established IoT players, but the goal is to build up a broad membership base that includes startups and small businesses, as well as service providers and demand-side entities like the companies and governments that are the eventual customers who install and use IoT products. Current membership totals nearly 50 companies, including major IT firms like IBM and Intel, telecoms and network service providers such as Orange and Sigfox, and diverse manufacturers and industrial players from Shell to Volvo to Ikea. At the time of AIOTI's launch last month, Bosch, Philips and Sigfox were identified as the first steering committee members.
In addition to fostering dialogue between the public and private sectors on policies that affect the innovation and adoption of new IoT technologies, AIOTI will help the European Commission set research and funding priorities in the years to come. The current E.U.-wide science and technology research program,Horizon 2020, kicked off in 2014 with a budget of €80 billion ($88 billion)—and as with previous research efforts, hundreds of millions of euros are expected to go toward funding IoT initiatives. A number of large-scale pilot deployments of IoT systems are already planned for 2016 and 2017 in areas like smart cities, environment and mobility. The commission expects AIOTI members will forge the kind of cooperative, cross-sectional relationships that will make for attractive bids to receive H2020 research funds and build the projects that will shape the future of the IoT in Europe.
Related: IoT Alliances, IERC