Thinfilm is an Oslo based company looking to use printed electronic techniques to add intelligence to objects that have not been possible (or cost prohibitive) to connect in the past using traditional electronics.
Using roll-to-roll printing Thinfilm can produce electronic labels with built-in rewritable memory (up to 100,000 times), sensors, a display, and embedded wireless communications including RFID and NFC capabilities.
These printed smart labels promise to open up a range of new types applications:
Food packages that can provide a freshness indicator based on if it has been exposed to higher than recommended ranges over its storage life.
Product pricing that can adjust itself dynamically over time.
Medical labels that can track their products lifetime safety and authenticity.
The creation of labels that can monitor and record other environmental data (light, pressure, humidity, even toxic gases) or other physical properties to be accessed by a consumer using their smartphone or displayed directly on the packaging.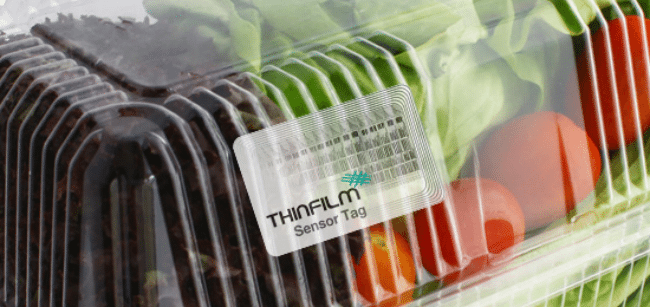 Thinfilm's current printable memory system is commercially available in sizes up to 20 bit, with plans to increase it to 96 bits within the next few years. The companies wireless SmartLabel line is expected to be launched in late 2014 with the help of a $1.2 million dollar grant from the Norwegian Industrial Innovation Program ("IFU") and a partnership with the Beemis Company.
More details about the company and technology can be found at: Thinfilm.no or by watching ThinFilm CEO Davor Sutija explain their product in the context of the Internet of Things in this overview presentation.