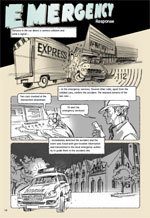 "We need to branch out. We need to engage the general public, public authorities and business stakeholders that will be the contributors and end users of the Internet of Things. We need a new medium to communicate the idea of the Internet of Things, its challenges, its problems and its benefits; encouraging people to think about this new disruptive technology. There are few things better than telling a story with pictures. This "comic book" is aimed at everybody."
Spoken by Mirko Presser a Research and Innovation Specialist at the Alexandra Instituteand editor of the recently released IoT Comic book as an introduction of how they took scenarios and survey results from other EU IoT initiatives and packaged it in a new easy to understand comic explaining the topic and its potentials.
The final product opens with a foreward from Gérald Santucci praising its ability to "illustrate the narratives of the many facets of the Internet of Things – in particular society, technology, industry, etc" and interspersed with interviews from industry leading thinkers Alessandro Bassi, Harish Viswanathan, Jan Höller and Stephan Haller.
Covered within the comic are illustrated IoT scenarios for emergency response situations, commuting, and product management (total of 15 illustrated situations) combined with brief overviews of many subtopics including privacy, ethics and safety.
You can download an electronic version of the comic book to check out for yourself at:www.alexandra.dk/uk/services/Publications/Documents/IoT_Comic_Book.pdf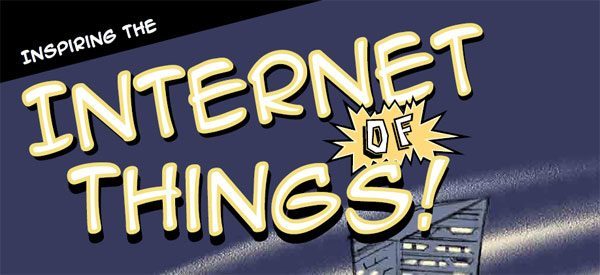 The Comic Book was produced by a number of organizations and people including:
Alexandra Institute:
The Alexandra Institute is a non-profit company that works with application oriented IT research. Our focus is pervasive computing, and we activate the business potential of our members and customers through research-based user driven innovation.
Partially funded by:
FP7 ICT 'Internet of Things Initiative'. The contributions came from the Internet of Things Initiative (IoT-i) coordination action, contract number: 257565. Thanks and acknowledgements go to the European Commission, the IoT-i project and participants. The comic book also used and re-mixed scenarios from the following 6th and 7th framework projects: • FP7 ICT SmartSantander • FP7 ICT SENSEI • FP7 ICT EXALTED • FP7 ICT FLORENCE • FP7 ICT PROSENSE • FP7 ICT LOLA • FP6 IST e-SENSE • FP6 IST MIMOSA

Editor: Mirko Presser, the Alexandra Institute
Illustrator: Michael Skotting, Raaskot Visuel Kommunikation
Graphic Designer: Tine Raun, the Alexandra Institute
IERC
The aim of the European Research Cluster on the Internet of Things is to address the large potential for IoT-based capabilities in Europe and to coordinate the convergence of ongoing activities
Internet of Things International Forum
Via: IoT Council
Image Credits: IoT Comic