The railroad was one of the hallmarks of the industrial revolution, but has largely been left behind by the technologies of the Internet age. That's due in part to the environmental stresses that train cars are subjected to, as Bernhard Bihr, president of the Bosch Engineering Group, explained in a recent blog post.
"[A]ny technology used on trains has to be particularly robust and simple, due to the high demands placed on it in terms of vibration, temperature, dirt, and moisture," Bihr wrote. He then described how his company has drawn on sensors and hardware designed for automobiles to create a remote monitoring product that can stand up to life on the rails.
Bosch's Asset Monitoring for Railway Applications (AMRA) system can retrofit existing train cars or be built into new ones. The sensor hardware is bulky by IoT standards, weighing in at 700 grams (about 1.5 pounds), but is durable and packs in enough batteries to last up to six years. It can monitor temperature, vibrations, and GPS location. Additional sensors can be wired to it, or connected via Bluetooth. An on-board processor can handle some of the data analysis, and the device connects to the cellular network to report the train car's condition and receive over-the-air software updates.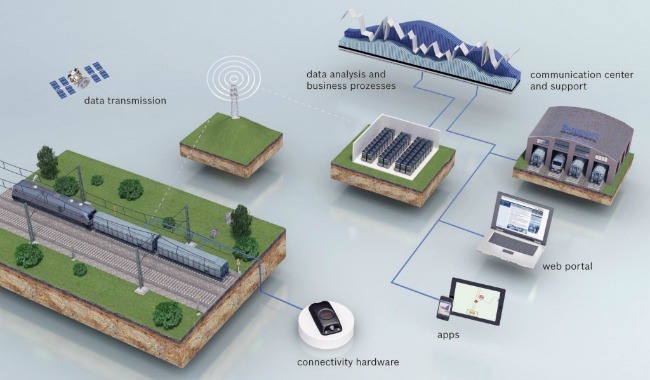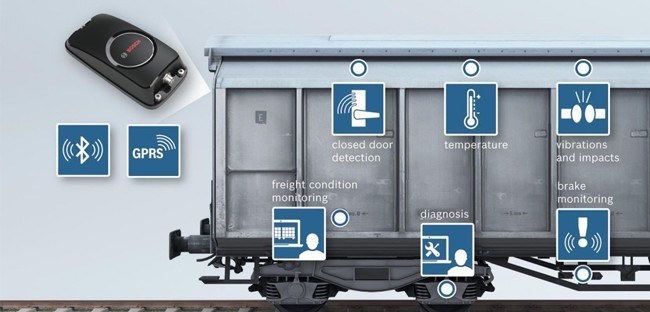 Related: Connected Car Devices, Traxx EKG