O Watch is a 3D-printed, programmable, build-it-yourself smartwatch designed for kids — by a kid. Though 8-year-old Omkar has had the support of his tech-industry parents and other mentors, hand-drawn design sketches show that he is ultimately the one driving the project.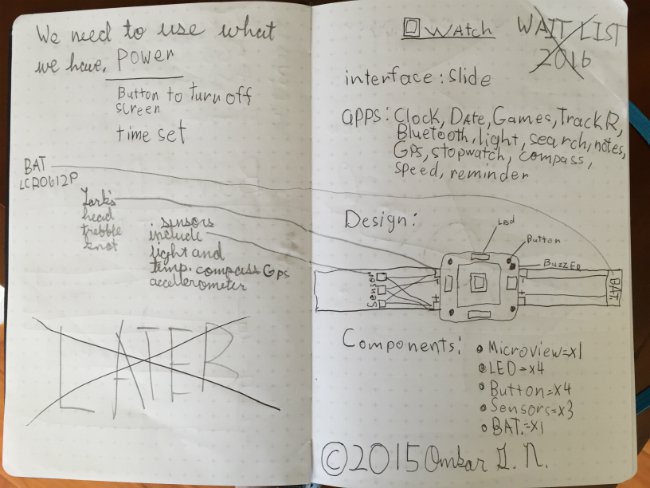 Inspired by another child entrepreneur (Quin Etnyre of Qtechknow), Omkar set out to create an open-source smartwatch kit that would get other kids excited about electronics. Along the way he partnered with TinyCircuits, which has adapted its TinyScreen module to create an Arduino Zero-based board with a color OLED screen and micro USB port for charging and uploading programs. That forms the core of O Watch, while a second board adds temperature, humidity and barometric pressure sensors, plus a 3-axis compass.
Assembling and programming the watch are both relatively simple procedures. The parts snap together into a 3D-printed case, and users can add a touch of customization by making their own watch strap from a variety of materials. Programming is handled through the Arduino development environment. The O Watch website will offer downloadable case designs and example code for basic apps like telling the time.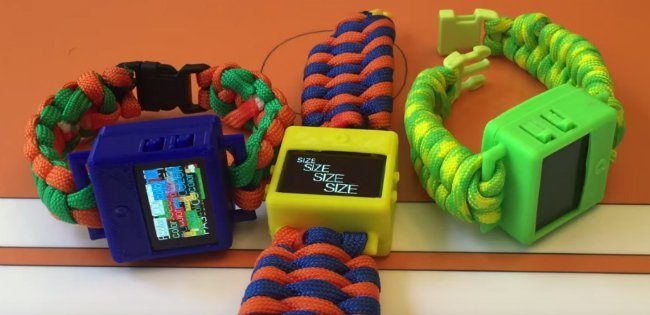 As part of the TinyDuino ecosystem, O Watch is compatible with lots of existing software from the developer community — and with additional hardware modules from TinyCircuits and other sources. So anyone who wants to make it a "true" smartwatch by adding Bluetooth or Wi-Fi connectivity will be able to do so pretty easily.
More and more companies are realizing that kids have an integral role to play in the development of the Internet of Things. On the one hand are retail products that package connectivity and intelligence in a developmentally-appropriate form factor and UI — including kids' smartwatch like Filip and Jumpy, as well as social or educational toys like Toymail, StoryHome and the CogniToys Dino. On the other are DIY kits that make prototyping and coding fun and accessible, such as Flotilla and Jewelbots.
But the fact that an 8-year-old can not only use, but actually invent and direct a project like O Watch is a true testament to the democratizing power of these increasingly affordable and accessible technologies — and to the ingenuity of the youngest among us.
"Omkar is the smartest 8-year-old I've ever met," says TinyCircuits president Ken Burns, in a promo for the O Watch crowdfunding campaign. "He has a true understanding of technology and a passion for helping kids learn."
O Watch can be pre-ordered on Kickstarter through Oct. 3, and kits should start shipping in February 2016. Watch the video below to learn more from Omkar himself, and check out his previous technology projects at IoT4Kids.com.