Perhaps you've thought about dipping your toe into the realm of the "quantified self," using gadgets to collect detailed data about your health, habits, and activities. Why not just jump in with both feet? WithBoogio, a pair of pressure-sensing shoe inserts from Seattle-based Reflx Labs, you can literally do just that.
Boogio is a thin layer that sticks to the insole of each shoe, with a small dongle that hangs outside the shoe and clips near the ankle. Three extremely sensitive pressure sensors — under the heel, the ball of the foot, and near the big toe — plus an accelerometer in each insert allow Boogio to take detailed measurements of gravitational force and acceleration for both feet. Data streams to a paired smartphone over Bluetooth Low Energy, which lets Boogio run all day on a single charge while providing real-time analysis of the wearer's movements.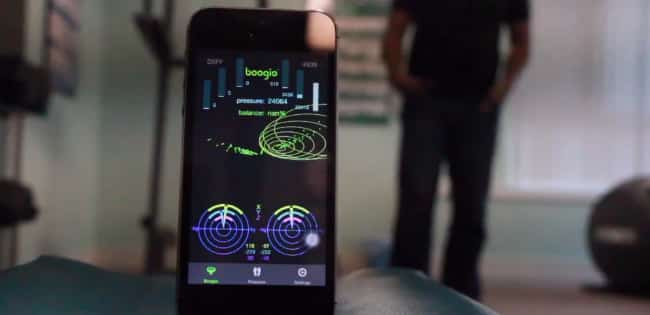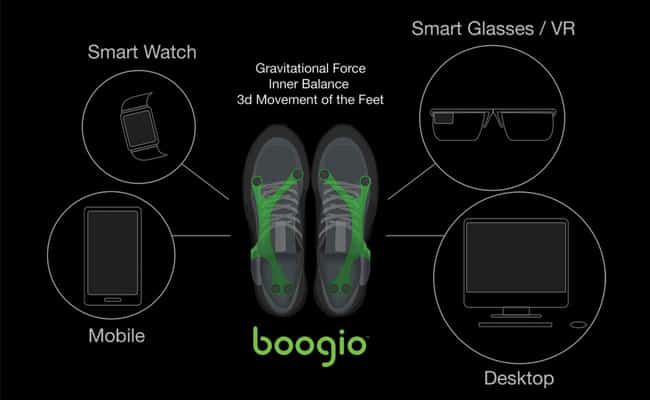 Designed as a developer kit, Boogio is the hardware that other apps and products will use as a stepping stone to integrating gait, balance, and other foot-based data into games, fitness software, and other user interfaces.
The Boogio app displays raw data from each insert, and by combining data from both feet it creates a wireframe representation of the user's center of gravity. In more developed projects, that data will disappear into the background as the wearer's movements are translated directly into the motions of an in-game character or quietly recorded and analyzed for detailed feedback on sport performance.
In one demo video, Reflx co-founder and CEO Jose Torres says the team was surprised by the detail Boogio captures about a user's movements. As he demonstrates, the system is sensitive enough to capture small changes in the wearer's center of gravity caused by upper body movements alone.
Developers can pre-order Booigo to get access to software development kits and receive hardware when the first production run ships, which is slated for May 2015. Check out the video below to see Boogio in action.