Semiconductor manufacturers NXP and Freescale will merge, the companies announced today. The combined business will be one of the world's largest chip suppliers and will be valued at $40 billion (For reference, Intel is currently valued at just over $160 billion, and TI is valued at just under $63 billion).
On paper NXP, which is headquartered in the Netherlands, will absorb Austin-based Freescale by offering shareholders cash and NXP stock amounting to about one-third of the new company. NXP chief Richard Clemmer will be president and CEO, overseeing tens of thousands of employees at more than 50 corporate, research and manufacturing locations worldwide. The newly combined company will maintain a heavy debt load of some $9.5 billion, of which $1 billion is new debt to finance the deal.
Both companies have built leading positions as suppliers of high-performance, mixed-signal microcontrollers for smart cars, home computers, healthcare equipment, and industrial networking. Previously they were both parts of much bigger corporations themselves. NXP is a former division of the Dutch giant Philips, and Freescale was part of Motorola until both companies were purchased in separate deals in 2006 by private equity firms.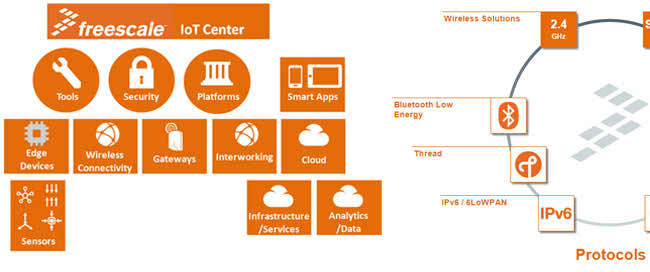 NXP and Freescale have each had their sights set on the Internet of Things (See their IoT pages hereand here respectively), which represents a still largely untapped potential market for embedded computing. The merger puts their resources in combination, instead of competition, to supply components for the billions of new connected devices expected by the end of the decade.
Related: IoT Investments, Billion Dollar IoT Companies