Next week the first edition of the Solid Conference is happening in San Francisco, exploring the implications of the ongoing collision of software and hardware.
The folks over at O'Reilly Media have done a great job of bringing together speakers and product demos that touch on all aspects of creating a newly networked physical world from the IoT, robotics, to new lean manufacturing techniques.
This year's schedule includes Emile Petrone speaking on "Platforms Accelerating the Hardware Revolution", Timo Arnall on "Designing with Invisible Materials", Peter Bihr waxing on "What Can IoT Entrepreneurs and the Mittelstand Learn from Each Other?" and Keynote sessions by Tim O'Reilly and longtime industry veteran and visionary Neil Gershenfeld from the Center for Bits and Atoms at MIT.
We were given a chance to catch up with co-chair Jon Bruner for a conversation on the event. Below is a snippet of our conversation: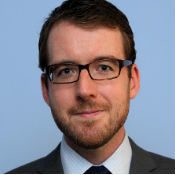 Solid is taking a very broad view of this space and covering a lot of ground with its scope, demos and speakers. Have you run into any unexpected themes or convergences while planning the event?
I think Solid will be all about convergences: In putting the program together, we've had in mind the idea that hardware and software are converging into a single discipline — they're both part of the stack. Hardware is a way to extend software into the physical world, and software is becoming a crucial part of machines that used to operate strictly as physical devices. That invites another convergence, between lots of different kinds of people and companies. Big industrial companies have plenty to teach tech startups, and vice-versa. They're all working on the same intersection between real and virtual, whether they're building cars or wearables.
With O'Reilly's thought leadership spanning from the Industrial Internet to the Maker movement, how do you see this event helping to promote communication across these divergent communities?
The software community includes lots of different kinds of people with different kinds of expertise, and the hardware community that's emerging is similar, but draws even more broadly from different industries and different perspectives. The value in Solid is going to be in interdisciplinary cross-pollination: industrial CTOs, designers, startup engineers, investors, artists, and academics will all have a chance to talk about the problems they're working on and hear how people from other backgrounds are approaching similar problems.
Solid is more than just a conference, though; we've got a lot of great books, videos, and papers in the pipeline that'll start to become available this summer. There are a lot of people from the formerly-separate disciplines of software and hardware who want to learn about this new environment, and we'll be there to support them.
Do you see O'Reilly's Big Data-focused Strata conference and Solid collaborating in the future?
Yes, absolutely. A lot of the excitement around hardware has to do with the fact that it can harvest data from the physical world, make it available to software that can understand it and suggest optimizations, and then act back on the physical environment with real-time adjustments. That has huge implications for everything from industrial operations to individual health monitoring. Big data and hardware go hand-in-hand.
Is there a particular demo or speaker you are looking forward to seeing next week?
On Thursday morning we have a talk from Rick Isaacs, who is the chief mechanical designer for a pipe organ builder called CB Fisk. He designs these massive musical instruments that rely on physical mechanisms even though electronic replacements have been available for decades, and he'll be talking about why they've returned to using mechanical systems — the same sort J.S. Bach would have known in the early 18th century — in their instruments. I hope his talk will make the audience think about the importance of understanding first principles, context, and history.
Thanks for taking the time to talk to us.
For a complete speaker line-up of the event you can visit Solidcon.com/solid2014/public/schedule/full/public, and for more from Jon you can follow him on Twitter at @JonBruner or at his O'Reilly Radar blog.
---
Below are details on our ticket giveaway from last week.

To win is simple:
Step 1) Come up with a short new name, saying, or comment that captures the new space being created at the intersection of physical + digital, or software + hardware for you or your company.
Step 2) Send out Twitter post starting with #IoTTickets, and include your answer along with the handles @oreillysolid and @postscapes so that we can track the entries.
For example:
"#IoTTickets: Physical + Digital = Physical Graph @smartthings // @oreillysolid @postscapes "
"#IoTTickets: Software + Hardware = I for one welcome our new bitcoin trading kitchenette overlords // @oreillysolid @postscapes"
– The Tweet that has the most favorites/retweets by tomorrow at 5:00 PST May 12th wins the Solid conference ticket. We'll announce the winners shortly after 5:00 on the 12th on this page and on our Twitter account.
If you don't end up winning you can still get a 20% discount when you use the code "POST" when registering.
Update 5/13/2014 – Congratulations to @devopod for winning the ticket this year.

Entry rules: Please only participate if you are actually available to attend the conference. The winner is responsible for his/her own travel and other expenses.