Aylya Networks, an IoT Platform-as-a-Service (PaaS) company announced that it has raised $60M in Series D financing.
The round was led by Run Liang Tai Fund (RLT) and Sunsea Telecommunications Co. Ltd.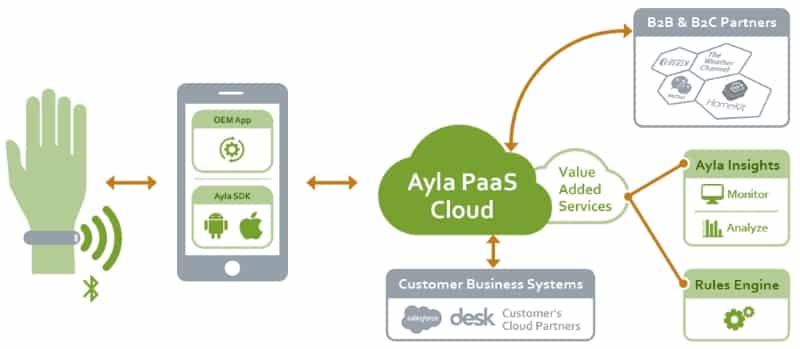 PaaG Architecture Diagram
The company doubled down on the funding path as it previously raised $39M Series C in June last year. The current financing brings Ayla Network's total equity funding to approximately $124M since its launch in 2010.
The company will use the latest proceeds to expand platform capabilities and to grow the ecosystem which includes application providers and channel partners.
Ayla focuses on the leading product manufacturers enabling them to make their products internet-connected via Ayla Network's PaaS. Its end-to-end software runs across devices, the cloud, and applications to provide internet connectivity and device analytics. The Wi-Fi modules of leading hardware vendors have pre-built Ayla embedded agent. The Ayla Cloud provides a managed service where customers can track their 'connected deployments'.
"Ayla has amassed more than 100 large enterprise customers by solving their challenges regarding how to securely connect, manage and apply intelligence to all of their connected devices and sensors."David Friedman, Ayla CEO and co-founder

Ayla has adopted a 'mobile-first' approach. The company offers mobile application libraries containing APIs. The APIs can be used to create iOS and Android apps for Ayla-enabled products.
Another 'platform-based' company connecting consumer products to the internet is Evrythng. It raised $24.8 million Series B funding in March this year. You can view of overview of Ayla and other platform providers here.