Controlling your home with a wave of the hand — sounds like magic, right? Sure, the Internet of Things is making it possible to connect and control nearly every household object through an app or mobile device. But Al Baker, CEO and founder of Reemo, a mobility assistance startup, says that the "smart home" industry is missing opportunities to make a more meaningful difference in people's lives.
"There's a lot of fluff out there that isn't really helping people," Baker tells Postscapes. Instead of creating yet another wearable gadget, Reemo set out to address a specific need: making life easier for people with mobility challenges. "We can help people live more independently, which has always been our goal since the beginning," he says.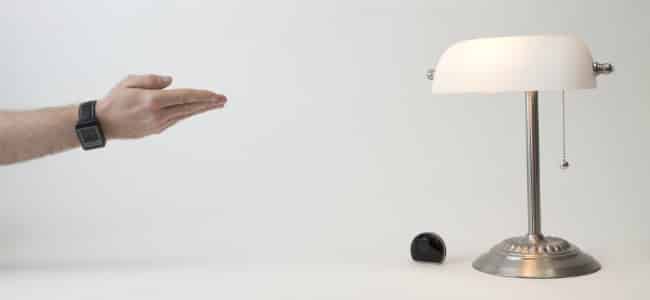 Baker describes Reemo's technology as "an ingredient" — a solution that can be added to existing wearables and smart home systems. The team realized that a user-friendly gesture recognition system could be designed around the simple 9-axis sensors already found in many smartwatches — the sensor data just needed to be integrated with connected devices around the home. A smartwatch with the Reemo app could then become a unified smart-home interface based around a handful of intuitive gestures.
Other gesture-recognition wearables have gonegranular, measuring muscle activity in the arm or wrist to interpret a variety of intricate finger movements. But Baker says that's overkill for the basic controls users need most often. Reemo includes just seven gestures: an activation command, followed by gestures to toggle things on and off, raise and lower outputs like brightness or volume, and swipe between items in a menu or list.
The "swipe" gestures are used to cycle through the available devices, so commands are aimed at the right gadget. Reemo also sells "pods", which are essentially Bluetooth beacons that can be set up around the home to act as proxies for groups of devices. When the "living room" pod is activated, for instance, Reemo's cloud software might send preset commands to half a dozen different devices in the room to adjust the lighting, music, television, window blinds, and door locks all at once.
Last month Reemo launched a pilot project with a senior living community in Ohio. So far, Baker says, the main challenge is keeping up with user expectations, which escalate quickly once people get a taste of the technology. He says Reemo is working to add compatibility with more devices and services as quickly as possible, and is looking for developers and other technology partners who share the company's vision of "value-based healthcare."
Eventually, the hand-wavy magic that happens when gesture recognition meets home automation will be commonplace. But for now, Reemo's primary customers will be hospitals and assisted living facilities where mobility assistance can have the biggest impact.
"Our focus in the near-term is bringing this to the people who need it the most," Baker says. "Long-term, I think this is a technology that everyone should and will enjoy."
Check out the video below to see how Reemo works.
Related: Deus Ex Aria, Armband Controllers, Nymi, Ring