Fashion-forward tech startup Ringly announced last week it has raised $5.1 million in Series A funding to support new product development and form partnerships with other designers.
Andreesen Horowitz led the round and was joined by High Line Venture Partners, Silas Capitaland PCH (which owns Highway1, Ringly's incubator alma mater). Ringly has also received follow-on funding from early investors First Round Capital, Mesa+, Social+Capital and Brooklyn Bridge Ventures.
Ringly's first product is a chunky ring that receives Bluetooth notifications from a mobile device. It vibrates and lights up a small LED that only the wearer is likely to notice, while everyone else is distracted by the setting's large semi-precious stone. The ring launched last year and all gemstone varieties are currently back-ordered.
Founder Christina Mercando describes her approach to wearables as putting "fashion first, and technology at the core". As sensors and other components become smaller and cheaper, she believes the traditionally separate design worlds of fashion and technology will naturally converge — and that will produce an explosion of creativity.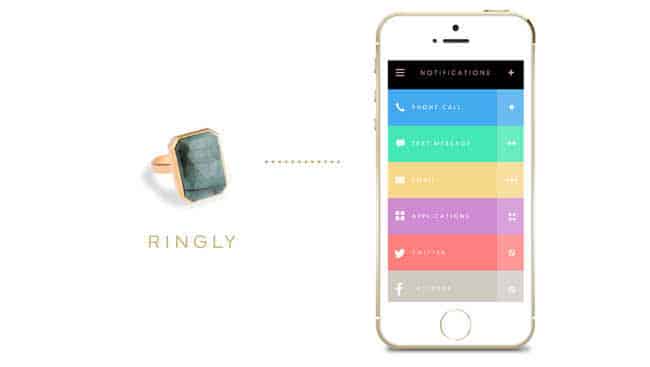 "As we start shifting the conversation from gadgets to clothing and accessories, the wearables industry, like fashion, will thrive on a diversity of offerings," Mercando wrote in the funding announcement. "So this year, we'll be expanding our collection, adding new features and introducing partnerships with fashion brands and designers to create a wider variety of new designs — all with the technology embedded and invisible."
Related: Bluetooth Ring