Calling itself the "world's first commercially available cyborg" the RoboRoach uses microstimulation of a cockroach's antenna nerves and a combination of your smartphone and a Bluetooth control unit to wirelessly control the insects movements.
Developed by Michigan based Backyard Brains the creators of the company Greg Gage and Tim Marzullo both have Ph.D.s from the Neuroscience Program at the University of Michigan and their hope was to create an accessible tool for students to learn about nature and become interested in how brains work using the project.
Setting up the RoboRoach requires a bit of surgical precision on the cockroach and includes an anesthetic ice-water bath for the operation. Cockroaches use the antennas on their head to help them navigate their environments and the RoboRoach design exploits this process by having users insert wires into the roach's antennae to receive small electrical pulses from the Bluetooth control unit located on their backs. When the pulses are triggered this causes the insects neurons to fire and trick them into thinking they have hit a wall or object and signal them to start moving in the opposite direction.
Ethical questions of the project? The team has a thread on their website addressing some of the common concerns and criticisms of the project but for the most part the effect of the experiments on the insects are mild, they can regenerate their antennas and can go back to living their normal day to day roach lives (up to 2 years) after the temporary electronics have been removed.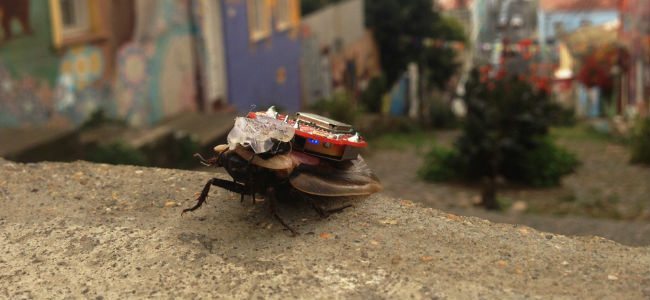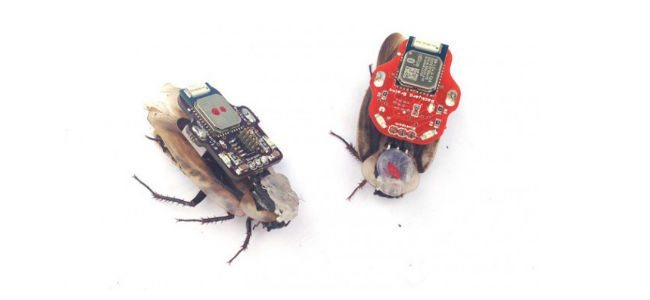 You can learn more about the project at: Backyardbrains.com/products/roboroach_beta or by listening to Greg Gage explain the project's inspiration in more detail in the video below.
Related: BrainGate, Twitter Cockroach, 'rat multiborgs'

Additional: Kickstarter page, Mashable, Discovery, Wired