Sight Machine, a "Big Data" platform for real-time manufacturing analytics, today announced $5 million in new venture capital. Taking their total funding to $11 million since their launch in 2011.
Investors include Mercury Fund, Michigan eLab, Huron River Ventures, Orfin Ventures, Funders Club, and previous backers IA Ventures and O'Reilly AlphaTech Ventures.
As manufacturers embrace the Internet of Things, their factory floors become wellsprings of data capturing everything from machine performance to quality control.
In an interview with the Wall St Journal Co-founder and CEO Jon Sobel says their team "routinely runs into companies with 20 to 50 factories, not counting their supply chains, that may still be using Excel spreadsheets, thumb drives, white boards or "whatever tech they can get their hands on" to track their manufacturing data".
Sight Machine's software platform funnels that torrent into a web interface where it can be viewed — and, more importantly, understood — in real time as a selection of charts, graphs, percentages and other analytics.
The platform currently integrates with a range of sources and formats, including sensor-enabled robots, Ethernet Cameras, and traditional Serial Connections, Modbus, and TCP/IP connections. Its cloud based approach and image processing capabilities for automated visual inspections and online storage of images tied directly to product quality data.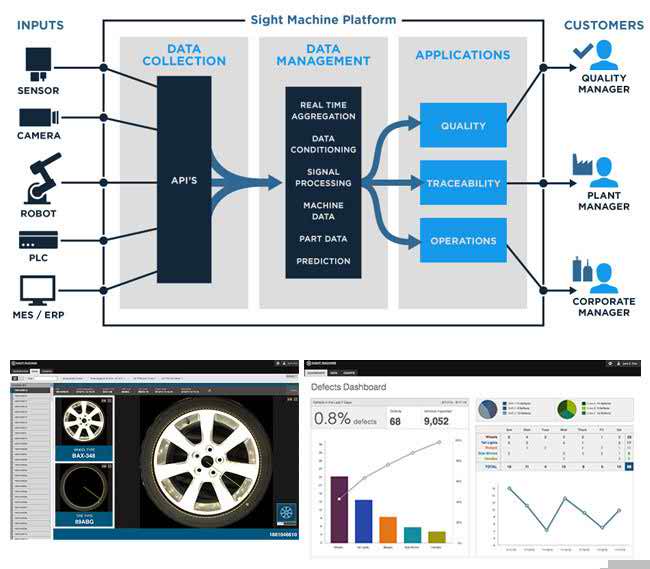 Sight Machine plans to use the new cash to continue developing its technology and recruiting new customers, and to hire new employees at its offices in California, Michigan and Taiwan.
Related: IoT Machine Vision OpenMV