Created by Hong Kong-based HAPILabs and designed by French engineer Jacques Lepine the HAPIfork (pronounced happy fork) wants to help users lose weight and decrease digestive problems by reminding them to eat a little bit slower. Using a capacitive sensor and a built-in vibration motor the fork will send out gentle physical notifications or small indicator light flashes when it measures that you are eating at a difficult to digest pace.
All of your eating data is transmitted via Bluetooth to your smartphone and an online tracking dashboard where over time you can monitor when you started and finished your meals, the amount of "fork servings" taken per minute and per meal, and the specific duration of each "fork serving" interval.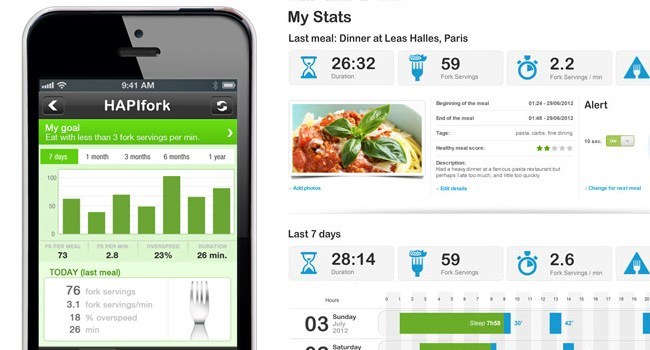 Following its launch at the 2013 CES Show, the HAPIfork plans to launch on Kickstarter in March of this year. The company hopes to then make the device available to the public for a cost of $99.
More details about the device and service can be found at: Hapilabs.com/products-hapifork.asp
Additional: Discovery, Dezeen, LaptopMag, Slashgear, Engadget, Salon, ABC, Verge
Image Credits: HAPI labs