Enevo is a Finnish startup looking to disrupt the waste management industry using wireless sensors.
At the moment most municipal and private waste management systems use regular schedules and routes to pick up containers. The result of this is far too many trips taken to empty already empty bins and a very inefficient use of labor and environmental resources in aggregate.
Offering an end-to-end service Enevo wants to change this status quo by installing a sensor into every type of waste container and by using a a GSM cell connection and their cloud service One Collect to provide real-time stats on containers and feed this information back into local waste management system workflows.
Some of the features available using the sensor system and cloud service including details on container fill levels, service needs predictions, fleet management integration, and notification alerts if unusual movements or temperatures are detected within the container. Enevo touts a reduction in collection saving costs for providers from between 20 to 40% once the system is installed and providers are charged on a pay-as-you-go subscription fee per measured container.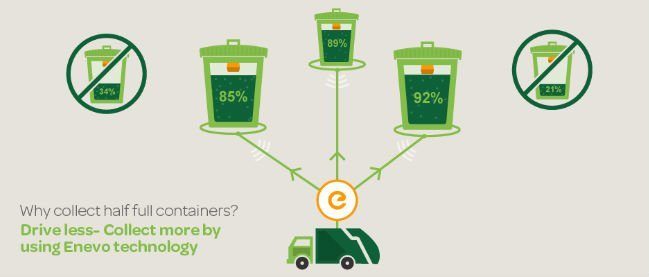 More details about the system can be found at: Enevo.com or by following their latest news @enevo
Additional: BusinessInsider, GigaOM
Related: BigBelly, TrashTrack
Via: Christoph Möller @_trendspotter