Smartwatches seem to be pretty good at liberating us from constant co-dependency with our phones, by putting lots of common notifications and controls right there on our wrists. But with one arm strapped down as the watch-bearer, using a smartwatch is still a two-handed process. Deus Ex Aria is a new gesture-sensing accessory that hopes to change that equation and allow a smartwatch to be controlled entirely by the hand that's wearing it.
The trick is accomplished by putting sensors in the watchband, against the inside of the wrist where finger movements can be interpreted from activity in the tendons. Instead of tapping and swiping a screen or fiddling with buttons, users can make tapping and flicking motions of their thumb against different fingers.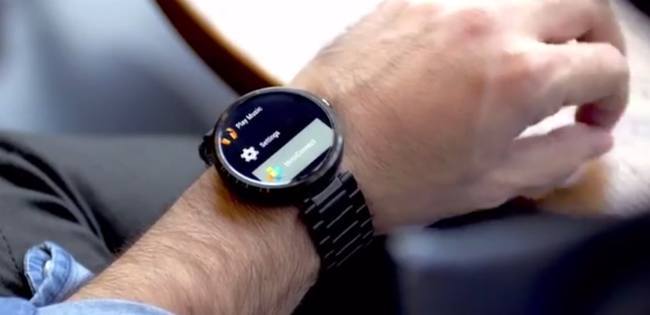 Aria comes in two form factors depending on whether it will be used with Android Wear or Pebble Time watches. The Android version clips to the inside of the watchband, has its own battery (more than 24 hours of "continuous activation" per charge), and connects to the watch indirectly, via a Bluetooth Low Energy connection with the user's smartphone. The Pebble version takes advantage of the direct serial connection those watches offer to third-party developers — it's a wholesale replacement for the original strap and draws power from the Pebble's battery (reducing life-per-charge by about 15 percent).
With either model, the actions tied to each gesture are fully-programmable and the gestures themselves are calibrated during the Aria's initial setup for user-specific reliability. The team at Deus Ex has already produced code for things like menu navigation, interacting with calls and email notifications, and controlling music and cameras. An open-source software development kit will be released soon so that the developer community can start integrating Aria's gesture controls into more apps.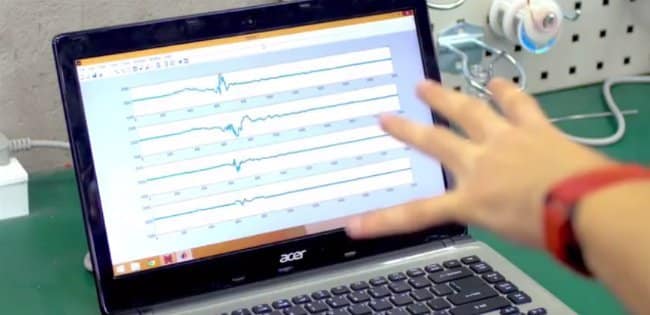 Deus Ex is raising funds for mass production on Kickstarter through July 19, and has a comfortable production schedule that should see Aria shipping by June 2016.
But aftermarket accessories are only the beginning of Deus Ex's vision for smartwatch gesture control. "We believe that to realize its full potential, Deus Ex Aria needs to be fully integrated within your smartwatch," the designers wrote in their Kickstarter pitch, which sounds like a hint that they'd welcome acquisition or partnership offers. It will be interesting to see whether any of the major smartwatch makers take note.
Learn more about Deus Ex Aria in the video below.
Related: IoT Mashup #002: Armband Controllers, NailO, Ring