No sooner have "selfie sticks" become a worldwide phenomenon—and garnered their fair share of haters—than a product comes along to destroy them. Meet Podo, a small Bluetooth camera that sticks to just about anything, giving you greater freedom to frame your glamour shots without looking like a goober.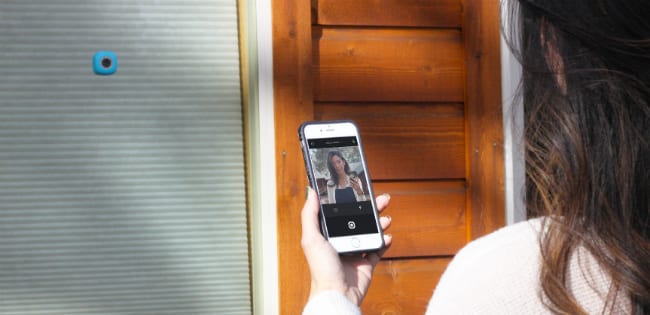 About two inches square and one inch thick, Podo's rounded and brightly colored plastic housing gives it the aspect of a wide-eyed cyclopean cartoon character. The back of the camera flips up to reveal a swivelling cover with both a magnet and a "microsuction" sticky pad. It's hard to over-emphasize how cool this reusable adhesive is. Essentially made up of a zillion tiny suction cups, it's hard to dislodge with bumps or jostling but is easy to lift off with your fingertips. And it can cling even to fairly rough surfaces like concrete.
Flip that back cover around, and the microsuction pad is tucked away where it won't stick to the inside of your pocket. And that's where you'll want to keep Podo, because the device is designed to go from zero to photo faster than you can say "Duck face!"
Tap Podo twice to wake it up, then slap it against a convenient surface. Open up the app to frame your shot—the same accelerometer that sensed your taps will make sure the photo is oriented correctly, unless you turn that setting off—then tap your phone's screen to take a photo, swipe to start a timer, or select from recording modes including time-lapse and video.
Podo's sensor captures images at up to 8 megapixels and videos in 720p HD, and transfers them straight to your phone where you can edit and share them as you see fit. The internal Lithium-ion batteries can last for two hours of filming, or for more than a week of occasional photos (Podo "sleeps" between captures).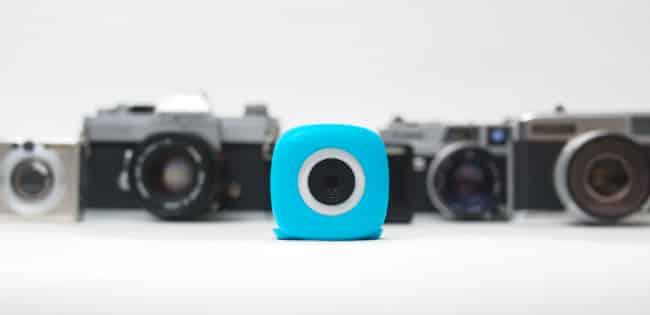 A small, inexpensive, wireless camera might seem like a gadget for spies or stalkers, but Podo has been designed to discourage its use for invading others' privacy. In addition to requiring a paired phone within Bluetooth range, Podo is hard to conceal because of its bright colors and LED ring, which always glows when the camera is in use (and serves as a powerful flash for dimly-lit scenes).
Podo is raising funds on Kickstarter through April 20 and will ship in August. Learn more in the video below.