Urban cyclists should keep an eye on MindRider, a project from Arlene Ducao and Ilias Koen of DuKode Studio in New York City. Still in the prototype stages, MindRider mashes up commercial EEG chips — that's electroencephalograms, brainwave readers, like the ones made by NeuroSky — with LEDs and mapping programs to create a bike helmet that can decode your mental state while you ride.
Let's say right up front that MindRider helmets don't read what you're thinking — just how you're thinking. Is your brain highly focused, maybe a little stressed? That gives a high score on the EEG's 'attention' algorithm. Are you relaxed, comfortable, taking in the scenery? The EEG will give you high marks for 'meditativeness.'
With each version of the prototype, Ducao and Koen are experimenting with different hardware and software to collect more and better data, and find creative and useful applications for it. Early versions could translate mental states into an LED display on the outside of the helmet. Feelings from 'calm' to 'agitated' to 'stressed' are reflected in traffic light-style green/yellow/red lights, with blinking red for 'panic.'
It's an innovative safety tool that lets riders 'talk back' to nearby motorists and other bikers, and is more resistant to theft than frame-mounted head and tail lights.
"Our accessories kept getting stolen off our bikes," Ducao tells Postscapes, "but on our helmets they were safer."
Newer versions of the helmet connect to GPS to map the rider's mental state at every leg of their route, revealing stressful intersections and easy-riding streets in paths of red and blue. Eventually, DuKode hopes MindRider users will share data with one another and with city planners and community organizations to create mental maps of the biking experience in their area.
"It's kind of like social media for brainwaves," Koen says.
The data could indicate where to place bike lanes or tweak traffic patterns, and could even integrate with navigation apps to provide biking directions that avoid stressful areas. Koen says they're planning a weeklong test in which a handful of beta testers will attempt an initial mapping of Manhattan, but it's been delayed by winter weather.
In the meantime, DuKode is holding lots of informal conversations with city planners, cycling clubs and scientists to collect feedback on the project and explore new ways of putting the helmets to use. Comparing MindRider maps with accident locations is one possibility; another is gathering data on the bike-sharing programs that have hit the road in cities from Denver to London. Ducao says there's a group in Nairobi that's very interested in the project, and she's also been approached by horseback riders and other helmet-sport enthusiasts.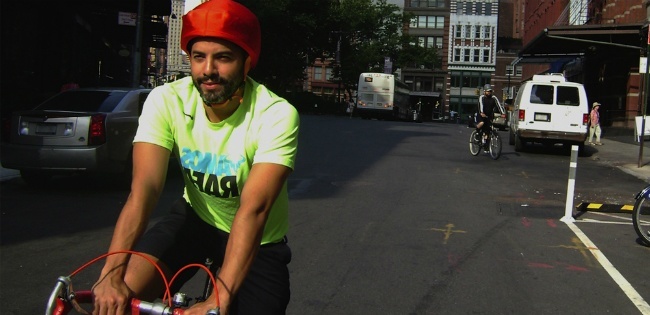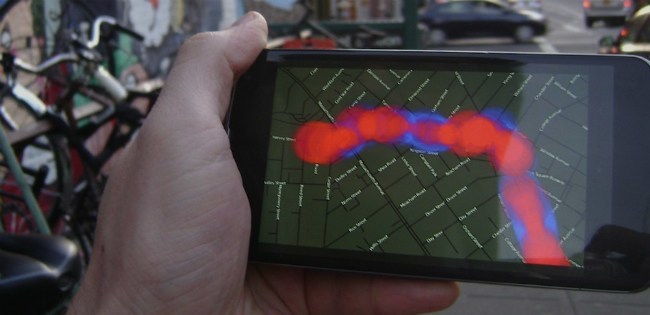 So far the MindRider prototypes have been made by retrofitting off-the-shelf helmets with the small EEG readers, rechargeable lithium-ion batteries, and other components — which are so small and lightweight, Koen says, that "you don't even know you're wearing a heavier helmet." But the goal is to design commercial MindRider helmets from the ground up, with integrated components, and have a final version worked out by summer 2014. DuKode is exploring funding options and may run a crowdfunding campaign to accelerate the process.
Hit the MindRider website to sign up for updates, and a chance to win a helmet when the design is complete.
Related: Bio Mapping by Christian Nold, Testing, Testing, Kala Nagar, Citizen Sensing