Our favorite little Wi-Fi rabbit is still trying to find that perfect place to call home. Originally called the Nabaztag and manufactured by the company Violet (Rafi Haladjian and Olivier Mével) the rabbit was then acquired by Mindscape and rebranded as Karotz.
That was until this week when it was announced by Maisonnier Bruno, CEO of Aldebaran Robotics(the makers of NAO the 57cm tall programmable humanoid robot) that they will be taking over the rabbits day to day activities and hutch cleaning.
From their statement: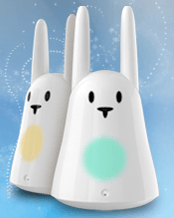 "We have been following since long the little rabbit's evolution and we are very fond of it. We have chosen to improve the evolution of our robots by using a wide range of rich applications.
We will invest our energy to develop them.
Your community will be at the heart of this development. We will always be delighted to welcome your contributions. Together we shall go on with this wonderful adventure… " "
So far the CEO has released that statement and a short video below (In French) talking about the future of the rabbit and how it will affect the existing community of users.
Learn more about NAO and other Aldebaran Robotics offerings by visiting http://www.aldebaran-robotics.com/