---
Ring U also known as a "Mini-Hug Ring" is a project by Adrian David Cheok and others at the Mixed Reality Lab at Keio University in Japan.
Using a combination of Bluetooth 4, vibrations, an LED, and an accompanying smartphone app this little device can give "your boyfriend, girlfriend, or best friend a remote hug no matter how far you are from each other. Anywhere you are, just hug the ring on your finger and at the same moment your significant other will feel that hug."
The project is currently seeking funding on the Japanese version of Kickstarter – Camp Fire and I think the Google Translate description is quite poetic:
The device also gives you the ability to customize your hug and convey another layer of information to your partner/friend through 5 different color choices (green, blue, yellow, red, orange) that you can decode using the app. (Ex, yellow means I will be home in 15 minutes, or show them what kind of mood you are in) and also three different types of vibrating "hugs": Intense (vibrates for a long time), Urgent (quick succession of vibrations) and Mini (a short vibration).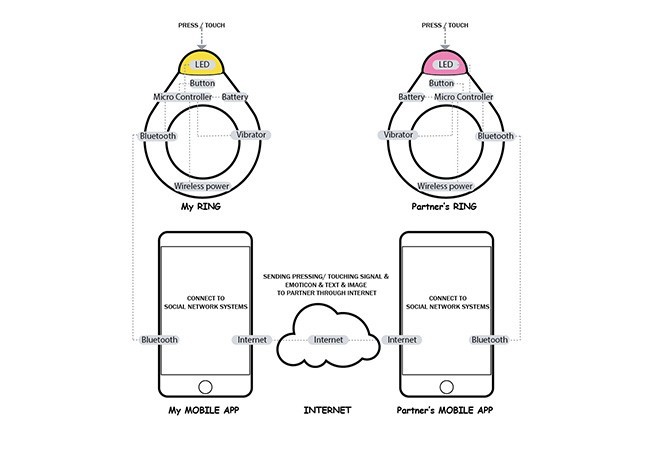 The team has plans to release the much of the product software and 3d models under a Creative Commons license as well as eventually having a developer SDK for the rings.
More details about the project can be found at: http://ringu.mixedrealitylab.org/ or by watching the video below.
Additional: Crowdfunding Page, Promo Video