In 2013, the U.K. government launched a series of Catapult Centres — independent, non-profit collaborations between the public and private sector designed to spur innovation in a variety of industrial, research, and policy areas. This is the first in a series of articles covering projects and other developments out of the Catapult programs that relate to the Internet of Things.
Since June 2013, the U.K.'s Future Cities Catapult has been driving efforts to imagine, plan and build the systems and infrastructure that will transform urban life in the coming decades. According to the program's description, this involves "promoting healthy cities, building resilience in urban infrastructure, and designing strategies to help cities adopt and finance smarter technologies."
Projects out of this innovation center have taken a variety of forms, from collecting and analyzing urban data to creating design fictions around different ways to use and navigate city streets.
In the cities of Milton Keynes and Manchester, the Catapult has worked with city leaders to begin sensing municipal infrastructure and opening city data sets for public use. The City Standards Instituteand Smart City Forum have brought industry and government stakeholders together to define the lexicon of the "smart city" and work out how to start deploying connected infrastructure. And in London, five neighborhoods have been turned into "living labs" with sensors monitoring a variety of environmental conditions and human activities — test cases for how this data can be collected and made available to the public in useful ways like air quality warnings and traffic routing.
Meanwhile, Connected Streets is documenting, experimenting, and imagining ways that new technologies can reshape the experience of city streets. It has so far looked at three aspects of life at street level: signage and displays, housing, and urban cycling. Here's a closer look at two of them.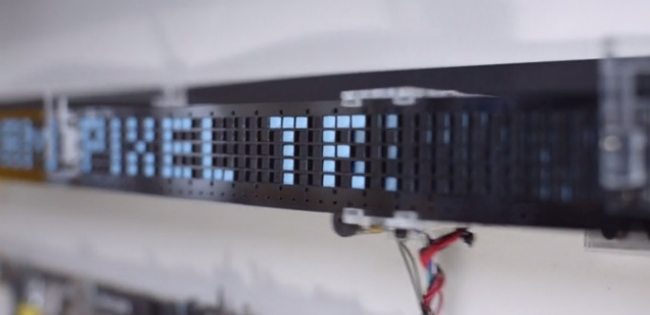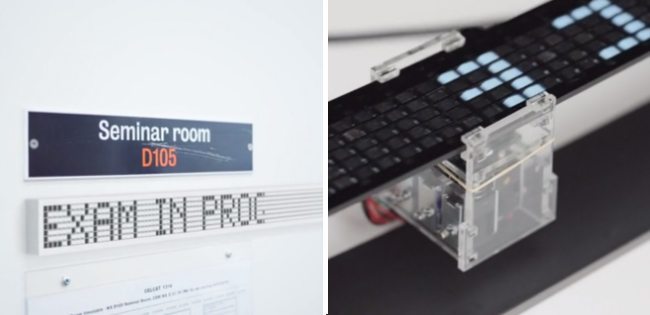 Pixel Track, a collaboration with (sadly, now defunct) technology firm Berg, brought a minimalist approach to connected, programmable signage. While modern cities are often awash in the light of massive, multicolor LCD billboards and other electronic displays, Pixel Track is an example of how in urban design, less can sometimes be more. The prototype display resembles a stock ticker, but with flippable two-tone blocks instead of LED pixels. A robotic "scanner" runs like a tiny train car along the back of the display, mechanically flipping the pixels to create messages according to instructions from a cloud-based service. The chunky format is perfect for communicating no-nonsense info like upcoming train schedules or a restaurant's daily specials, and the physical pixels will neither ruin your night vision nor get washed out in sunlight. Plus the display is very energy-efficient, since it has minimal on-board computing needs and draws most of its power only while the scanner is moving.
Connected Cyclists is a design fiction centered around five prototypes that use digital connectivity to subtly improve the safety, navigation and accessibility of biking through a city. Heads-up displays could be integrated with smart eyewear like Google Glass to provide wayfinding guidance, either by highlighting the route ahead or by superimposing destinations as graphical landmarks on the skyline. Connected indicators on a bike frame could provide even simpler compass-like guidance, or could indicate air quality to encourage biking on back roads instead of congested thoroughfares. And safety systems could be added to buses and other municipal vehicles to sense the presence of approaching bicyclists and project blind-spot areas on the road in highly visible laser light.
"The Internet of Things will change the everyday experience of our streets just as technologies through history have changed how we move, navigate and map our street network," said project lead Claire Mookerjee in a news release about the Connected Cyclists film. "IoT will support increased interactivity with our surroundings. We'll be living in fully responsive streets."
Learn more about the Future Cities Catapult at futurecities.catapult.org.uk.
Related: Anatomy of a Smart City, Government and the Internet of Things