Nascent Objects, the platform for creating 3D-printed gadgets with swappable modular components, finally has its first full product. Unveiled today at CES, Droppler is both a household water usage monitor and the first step in building an ecosystem of remixable smart devices.
Inside Droppler's tapered porcelain housing is a 3D-printed plastic scaffold that holds the electronics modules: a microphone, an LED light strip, and a Linux-based computer. Unlike most existing water monitors, Droppler doesn't need to be attached to the plumbing; a pattern-recognition algorithm listens for the sound of water flowing through a tap or faucet, and provides immediate visual feedback on how much water is being used.
Take the whole thing apart, however, and Droppler's components can be combined with other modules to create a nearly endless array of smart devices. At the start, consumers can augment their Droppler kit with either an HD camera or a speaker. Together with Droppler's computing module, one of those extra components can fit into a separate 3D-printed housing to become a smart home security camera or an Airplay-enabled wireless speaker.
Nascent Objects' founder and CEO, Baback Elmieh, tells Postscapes that making a water monitor the centerpiece of this first retail product "seemed like a really great fit for the mission of the company" — and was a way to target two relatively niche audiences. Water monitors may appeal to consumers in drought-stricken states like California, but don't have the broad market appeal that would draw the heavy hitters in home electronics; Elmieh says this makes them an ideal product for a smaller company to design and manufacture using Nascent's made-to order platform. And for the technology design crowd, Droppler kits will be the first chance to play with the modules hands-on.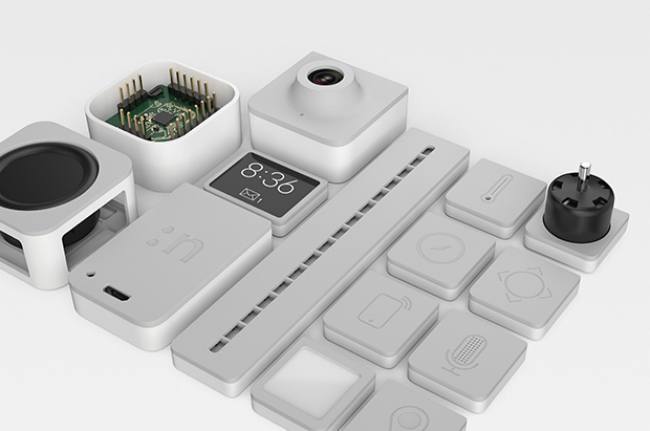 By the summer, Nascent plans to make use of a wider variety of swappable components as it releases a handful of other products, including a drone and a bicycle gadget. And because the modules are all cross-compatible, customers will be able to expand the range of products they can assemble for "a fraction of what they cost as standalone products," says Elmieh. (Editor's Note: An earlier version of this article quoted incorrect pricing estimates for future products.)
Nascent has already spent a lot time tuning its design and printing processes, and has made sure to "over-spec" certain components (like the computing module), so that the platform can give designers an unprecedented amount of flexibility in both form and function.
"Products aren't fixed anymore. They're what you want them to be," Elmieh says. "You change the shape and it becomes something brand new."
Droppler is available for pre-order on Indiegogo starting today. See the video below to learn more.
Related: Nascent Objects, Oasys, HydroPoint 360