Alvio is a Bluetooth peripheral that encourages respiratory health through breath training. It's targeted at asthma patients, especially kids, and uses a "gamification" model to make breathing exercises appealing and fun (or at least more fun than they would be otherwise).
Several doctors and respiratory experts are advisors to Alvio, which lends some weight to the medical legitimacy of the product. There is limited but increasing evidence that breath training does have a clinically significant preventive effect, which medications like inhalers cannot provide.
In practice, Alvio functions like a game controller and even looks a little like Nintendo's oblong, white Wiimote — except users use their breath, not their thumbs, as input. Alvio pairs to a mobile device over Bluetooth Low Energy, and offers several adjustable levels of resistance. Users breath in and out through the device, which controls the motions of a puffer fish mascot in several different game modes.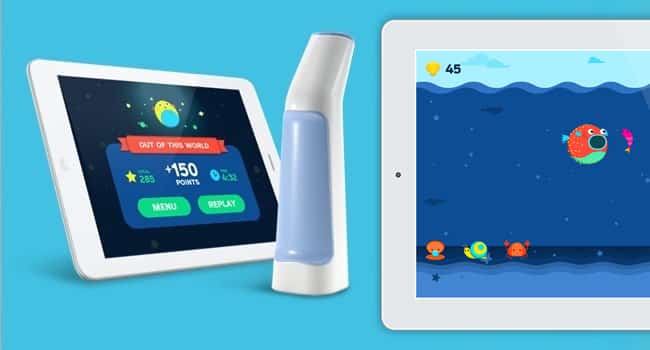 Through play, users not only strengthen their respiratory muscles but also collect data about their progress that can be used to guide therapy. One game involves carefully timed inhales and exhales to help the puffer fish collect objects; another asks users to exhale as hard as they can, with the goal of puffing the on-screen character into low Earth orbit. The resulting scores can be shared immediately with parents and doctors.
Alvio is an inaugural alumnus of the R/GA-Techstars accelerator, and in June received a grant fromPilot Health Tech NYC to begin clinical testing at The Children's Hospital at Montefiore in the Bronx.
Alvio is available for preorder through the contact form on the company's website. Learn more in the video below.