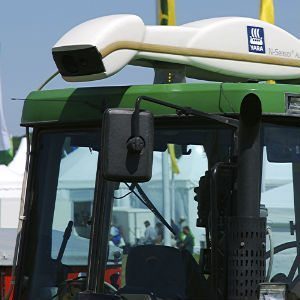 Filter and discover IoT Agriculture Resources. View smart farm case studies, sensor applications and potential resource and labor saving dashboards, tools and apps.
The following Channel Guide will help you:
Better understand the opportunities of and resource savings og using wireless sensors and remotely monitoring devices on your farm.
Filter and compare IoT Ag data platform vendors and alerting services.
Investments and Acquisitions
For a more complete list download our industry report
Investments
AGTECH COMPANIES
Looking for more companies in the smart agriculture industry?
Smart Orchard
Robotics / Material Handling
Drones
Mapping
End-to-End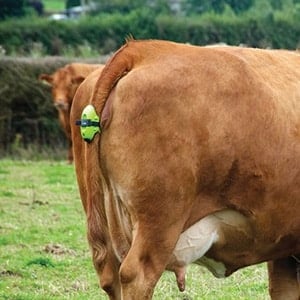 Moocall: Wireless Calving Alert Sensors
Ah, the miracle of childbirth. For cattle farmers and ranchers, every healthy calf represents a piece of their future livelihood — so it's important to pay attention to pregnant cows as they near their due dates. But a farmer can't always be with Bessie 24/7, which is why Moocall was invented.
Moocall's noninvasive wireless sensor can detect when a cow is going into active labor. It straps to the tail, where it can monitor movement for the patterns of activity that mean a calf is on the way. Then Moocall uses the 3G mobile network to send a text alert to the farmer, who should have about an hour to prepare for the arrival of the latest addition to the herd.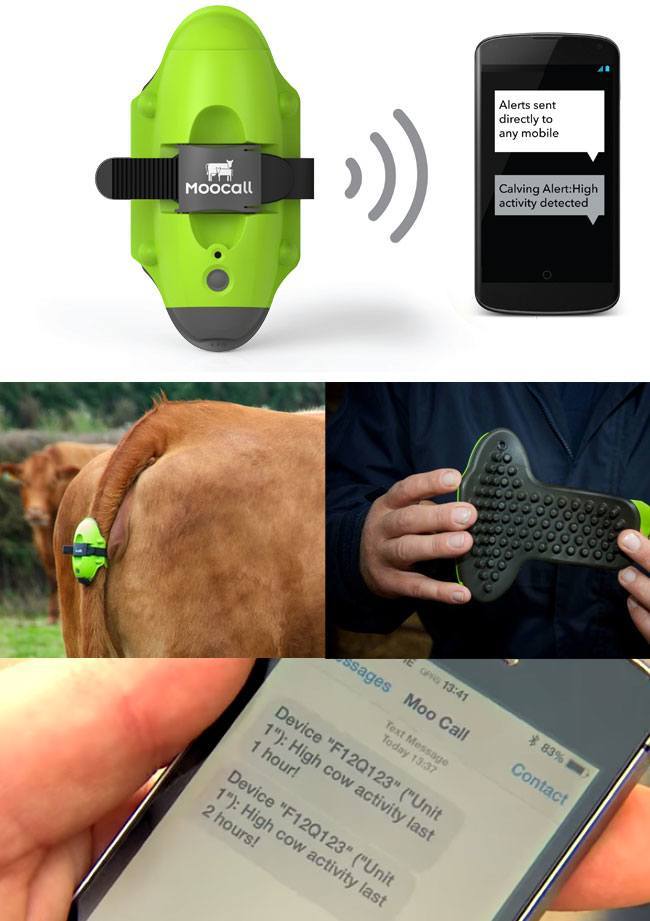 The sensors are water-resistant and designed with a teardrop shape to prevent snagging on fences or other objects. With battery life of up to 30 days per charge, Moocall provides "set and forget" monitoring that works almost anywhere in the world, even where mobile coverage is poor.
Moocall won a Best New Product award at the U.K.'s 2015 LAMMA agricultural equipment expo as well as being nominated for the UK Design Museum – Designs of the Year in their Product category.
Learn more in the video below.
Phytech: Wireless Farming Sensors
In the land of agriculture, the Internet of Things is blooming. From home garden sensors and sprinkler controllers to industrial-scale farming applications, there are now dozens of ways to wirelessly measure the health of soil, automate irrigation to reduce over-watering, track equipment and monitor weather conditions.
The one thing nobody ever seems to slap a sensor on? Plants.
Phytech, an Israeli company, may have been the first to realize the untapped potential to gather data directly from plants themselves.
"Your plants hold a world of knowledge – they 'know' how much water, nutrition and light they need, they know when they are 'stressed', and they know exactly what they need to create the optimal conditions for copious crops," the company's website reads.
Like flowery Fitbits, Phytech's patented sensors attach gently to a growing stem or fruit to directly monitor the plant's vital signs. They measure micro-variations in the diameter of the plant's parts, which indicate growth as well as hydration as the plant sucks water in or loses it to sun-baked air. Combined with other sensors to detect moisture in the soil, local weather conditions, and the exact amount of water being delivered by the irrigation system, this provides a detailed window into the health of a crop.
Data from a group of sensors is collected by a hub out in the field, which sends the encrypted information to Phytech's cloud servers over the cellular network. Farmers can view real-time data and analyze trends through Phytech's mobile app and website. Armed with precise quantification of their plants' wellbeing, they can start to make better-informed decisions and potentially automate plant care through other smart farm systems.
The most direct benefit is cutting down on water use through a more carefully targeted irrigation schedule, which provides precise amounts of moisture to plants at the first sign of stress instead of in large daily deluges — reducing water consumption by 20-30 percent while increasing crop yields. That should be especially interesting to farmers in drought-stricken regions like California.
Phytech systems are in use at hundreds of orchards, fields and greenhouses around the world, and can be configured to the needs of dozens of crops.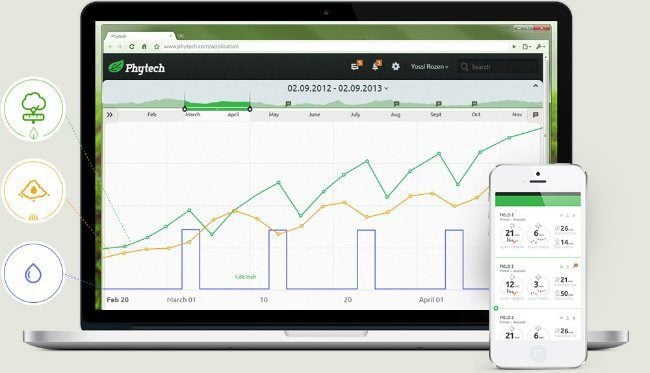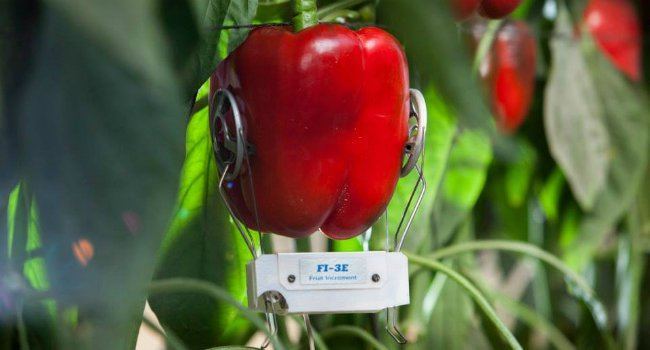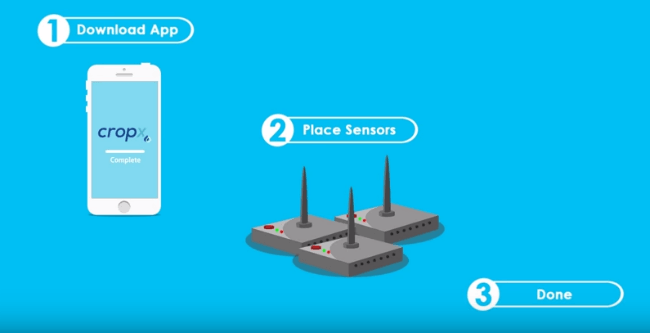 CropX: Irrigation Soil Sensors
Outfitting a 100-acre field with an intelligent, Internet-connected irrigation system might sound like a complex industrial endeavor — but Israeli startup CropX aims to make it as simple as sticking a soil moisture sensor in your lawn.
In a 2013 survey of U.S. farms and ranches, the Department of Agriculture found that only 10 percent of farmers use technology in making irrigation decisions. Michael Dowgert, CropX's VP of sales and marketing, tells Postscapes that low figure is due in large part to the complexity of the measuring instruments that have been available.
"If you're going to have to bring in a scientist to help you analyze the data, you might as well go out and feel the soil with your hands," he says. And that's no slight to farmers' fingers, which can tell a lot from touch — it just means that for technology to take root, it has to be easy to use.
CropX's system starts with soil maps. These are available from government agencies like the USDA and USGS, but Dowgert says many farmers already have their own, more detailed surveys of their fields — sandy over here, more clay-like over there, and so on. By uploading the soil type data to CropX's cloud servers, the company's algorithms can combine it with other factors like topography and sun exposure. "How water will behave in the soil really depends primarily on those three things," Dowgert explains. "You don't manage your water from above, you actually manage your water from below."
Once the field has been analyzed, all a farmer has to do is plant a handful of soil moisture sensors in the ground according to a zoning map generated by the software. Saturating the soil during installation lets the sensors self-calibrate: They compare the actual drying rate of the soil to what was predicted by the algorithm, and adjust for any differences.
From then on, the system can provide a watering plan that is tailored to the specific needs of the soil in each zone. The sensors take readings every 20 minutes, so they can account for rainfall and other changes, and make sure that farmers only add as much water as the crops need. In a basic setup, a farmer might refer to the CropX app when setting a manual watering schedule; for a more wired-up farm, CropX's software could be fully integrated with the irrigation equipment to control watering automatically.
Each sensor is battery-powered for up to two years with either a pair of AAs or a rechargeable battery pack. Data is transmitted through the cellular network, and CropX handles the data plans as part of a user's subscription package, with fees based on acreage.
Although CropX was initially designed for pivot-style irrigation systems (in which a boom rotates to spray water around a circular field), Dowgert says farmers have also been clamoring for compatibility with drip- and flood-based irrigation systems. "Anybody who wants to manage their water better has had a very positive response to the technology," he says.
In June, CropX closed a $9 million Series A funding round that included Finistere Ventures, Innovation Endeavors, GreenSoil Investments, and previous CropX investor OurCrowd. As the company looks to expand its team and bring its product to market, Dowgert says the primary opportunity is in retrofitting the hundreds of thousands of irrigation systems currently in use on American farms. CropX will also seek partnerships with distributors and manufacturers, so its product could be included with sales of new equipment. And future versions of the CropX hardware could include different sensors to collect data about soil fertility or other aspects of crop health, allowing the company to tap into markets beyond irrigation.
"The Internet of Things is only going to grow on the farm," Dowgert says.
Vinduino: Open-Source Soil Sensors
As California continues to face drought forces farmers to cut back on water use, even those who grow crops with relatively low water needs — like wine grapes — are feeling the pinch. And while the Internet of Things has brought a number of water-conscious smart irrigation products into the agricultural market, one California vineyard-owner has taken a DIY approach to creating a sensor-driven water conservation system.
Vinduino is Reinier van der Lee's open-source solution to the challenge of cutting back on water use by 25 percent — a voluntary measure that, for Van der Lee Vineyard, amounts to savings of 42 million acre-feet per year, more than five times what an average residential household uses.
The project so far includes instructions for making your own soil moisture sensors (based on the gypsum mineral found in plaster of Paris); building a handheld Arduino-based device for taking sensor readings; and creating Arduino-based irrigation valves, water pressure sensors and data loggers for controlling and monitoring the vineyard's irrigation system.
In prototype stage is a networked, solar-powered sensor reading station that can report Vinduino sensor data via the Thingspeak platform. Van der Lee's future plans include designing a network hub for collecting readings from multiple sensor stations, and creating software that will be able to read and interpret the data and feed it back to the irrigation valves — closing the loop on fully automated watering.
Van der Lee says that one of his primary motivations for building Vinduino was to innovate on commercial soil monitoring systems that typically rely on readings from a single sensor. Vinduino uses three sensors at different depths to get a better handle on the way water moves through the soil at each measurement point. It also doesn't hurt that Vinduino can be built cheaply, out of readily available components.
"As a small vineyard owner, I needed something low cost and flexible," van der Lee explains at the project's GitHub page. "The open source Arduino platform, together with low cost gypsum soil moisture sensors, provides all that."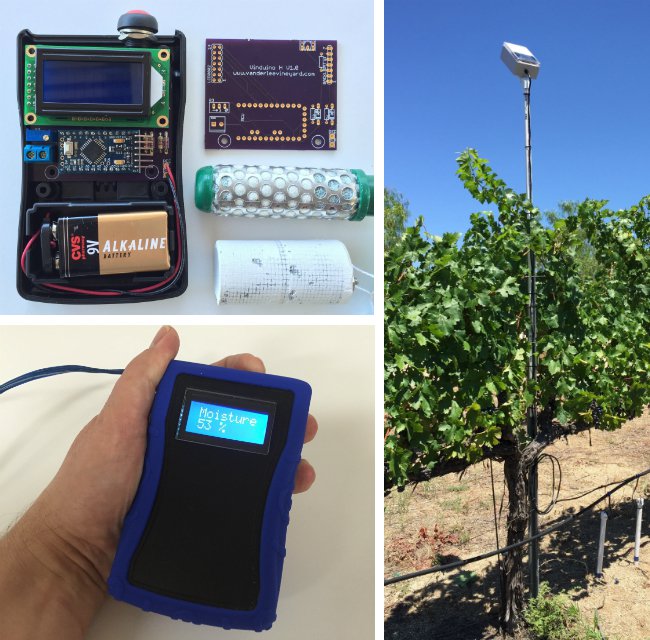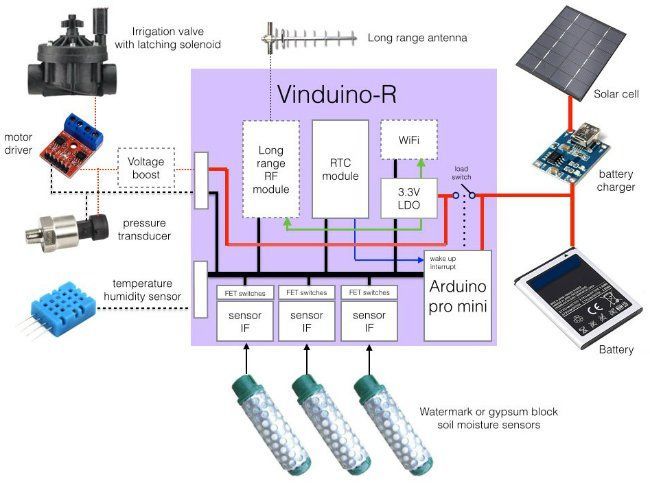 "The quality of asparagus depends heavily on the temperature of the ground in which it's grown. To control the temperature, farmers use a two-sided sheet of foil: the black side draws in sunlight to increase the heat of the asparagus bed, and the white side reflects light to cool the bed down. In order to make the right "black or white" decision, the farmer needs to measure the temperature of every field at least once each evening. That's where we come in. Our IoT system frequently measures the temperatures of the bed at different levels and stores the data in the cloud. Then we provide this information plus additional analysis in a front-end interface, accessible anywhere, anytime."
TCS to help farmers detect crop diseases
Farmers in Uttar Pradesh and Punjab will be able to detect late blight disease in this season's potato crop through mobile phones, thanks to Tata Consultancy Services. In a pilot project being run by the IT major across a few villages in these states for the past two years, agricultural experts are able to gauge the crop's susceptibility to disease based on soil and weather (humidity, temperature and rainfall) parameters.
The agri-experts gather the information from a wireless sensor network spread across the farms and are able to determine the disease risk. "Now we will introduce a mobile application that will involve farmers in disease detection," says Dr Bhushan Jagyasi, a scientist at the TCS Innovation Lab in Mumbai. - Full Article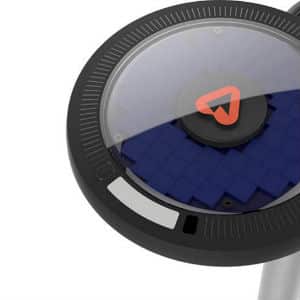 ARABLE PULSEPOD
Measures rainfall, crop water demand, water stress, microclimate, canopy biomass & chlorophyll.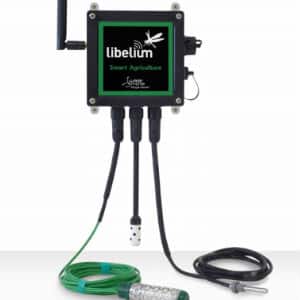 LIBELIUM AGRICULTURE WASPMOTE
"The Smart Agriculture models allow to monitor multiple environmental parameters involving a wide range of applications. It has been provided with...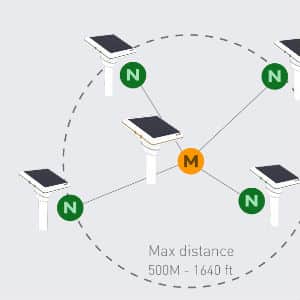 PYCNO
"Our wireless sensors provide a revolutionary simple and low cost way to collect real-time weather or soil data from a field or greenhouse,...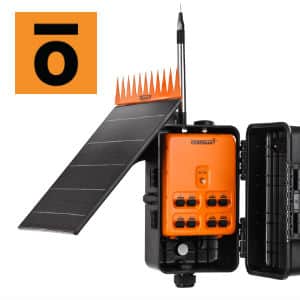 OBSERVANT
"Our multi-award winning products are designed from the ground up to provide the most reliable, easy to use and functional platform for all your...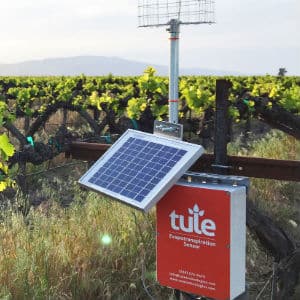 TULE
"Tule ET sensors are the only technology that can measure the Actual ET from your field. The Tule Actual ET sensor is a hardware device installed...
Who is funding this smart ag revolution?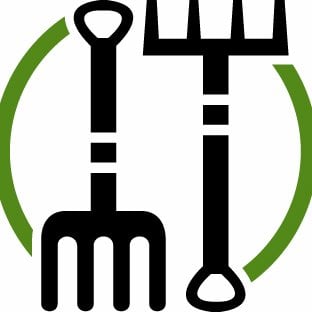 Better Food Ventures
Portfolio Includes: LumiGrow, FarmHub and Mavrx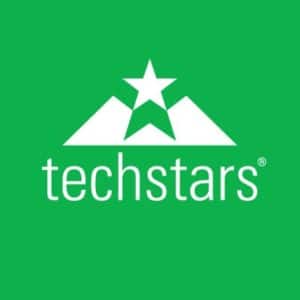 TECHSTARS
Their Farm to Fork program has funded companies like EIO Diagnostics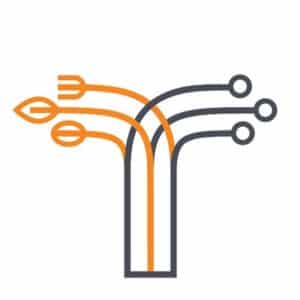 TERRA
Portfolio includes arc-net, ImpactVision, Pycno and others.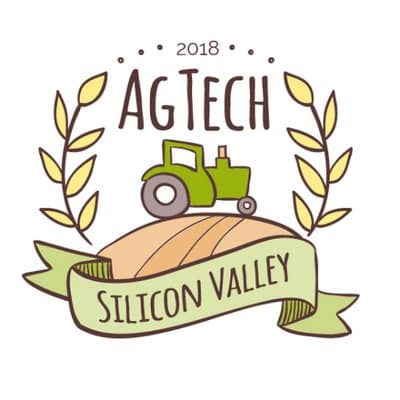 AgLaunch
Portfolio companies include: Cowlar, GroGuru and Kilimo
AGTECH ACCLERATORS
What startup accelerator programs are out there and what are they funding?
Background Articles
Research / Reports
Presentations
Small Scale / Home Food Production
Now that we have gone over how sensors are impacting large scale farm production, we will dive into how this same technology is reshaping how individuals are growing their own food.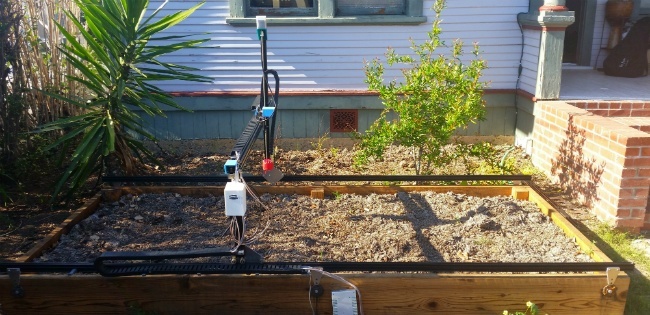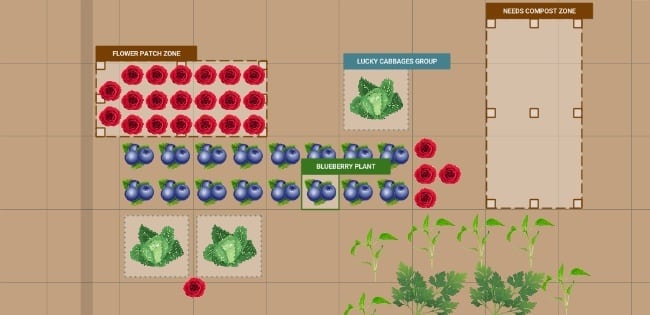 FarmBot: Open-Source Agriculture
From cash-crop farmers to planter-box gardeners, people who choose to grow their own food tend to be fairly committed to the do-it-yourself mentality. The Internet of Things offers plenty of opportunities for DIY-ers to automate food production — and while most home gardeners won't have reason to build a self-driving tractor, any small-scale agricultural project could benefit from assembling a FarmBot.
Created by Rory Aronson, FarmBot is an open-source automatic gardening system that resembles a 3D printer. Installed over any rectangular garden plot up to 20 square meters, the rail-mounted machinery can handle planting, watering, fertilizing, applying pesticides, and collecting sensor data on the health of plants and soils. As it zips back and forth over the crops, FarmBot automatically swaps between magnetically mounted tools designed for each job.
The entire contraption is made out of weather-resistant aluminum, steel and 3D-printed plastic parts. It's controlled by a Raspberry Pi and an Arduino Mega with a RAMPS shield, which was originally designed for the RepRap self-replicating 3D printer project.
Once the system is installed, FarmBot essentially takes care of itself. Instead of getting their hands dirty, gardeners use a web app to design the layout of their garden, choose which plants to grow, and set how they should be cared for. It's a lot like a farm simulation game, minus the simulation — come harvest time, your "score" is measured in actual home-grown food.
Every bit of FarmBot's hardware and software is open-source, and there's a growing community dedicated to sharing ideas and iterating on the design. Aronson plans to run a crowdfunding campaign in 2016 that will put FarmBot kits on the market; if you plan to build a FarmBot for yourself in the meantime, expect to spend between $1,500 and $4,000 depending on the size of your installation.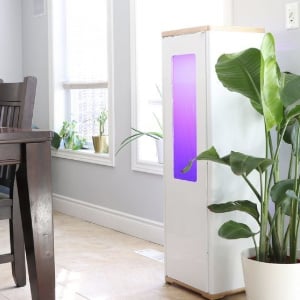 Automated Grow Boxes
Automatically grow your marijuana plants at home.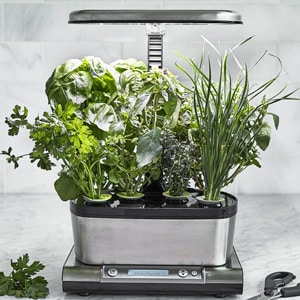 Smart Herb Gardens
Grow your herbs indoor automatically.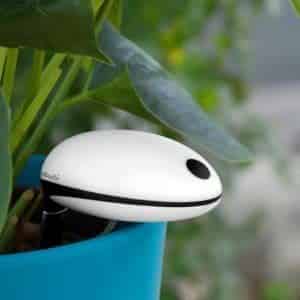 Plant Sensors
Get alerts when your plant is needing water or nutrients.