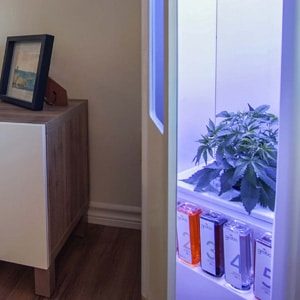 Looking for a set it and forget it hydroponic system for your home? Here are your options for cloud connected automation.
Take the stress out of your personal grow system. These "smart" systems will monitor everything that your plants need to grow, including nutrients, ventilation, light levels and pH of the soil.
Activated carbon filters keep the smell down
Monitor and control your plants from your Android or iOS device
Chose growth recipe and let the controller manage the rest including in some devices drying and cleaning
This is an emerging class of products with many of the newcomers in the space still taking pre-orders and finalizing shipping. Because of that we are highlighting the Grobo One as it is available to purchase now.
Grobo One
Highlights
Grobo automatically grows up to 3 high quality ounces every 3-4 months.

Includes built-in security lock

150 watt grow light with expected energy costs below $5 a month
Smart Grow Closet Overview
Don't have a yard or much space or time to manage a bigger grow tent?
You are in luck, a new crop of products are making an appearance that automate almost the entire process from nutrient and light management to drying settings. Outside of adding water and adding nutrients after your grow cycle has ended you should be able to average 3-4 ounces every three to four months with any of the systems listed below.
These new devices include features like:
Video cameras on the crops for check-in and time lapse of your grow
Alerts on your phone when your water levels get low and needed to be added to (If you have a water and sewer line even this can be automated)
Automatic lighting and other adjustments based on your specific strain
View the video below to get a cheesy overview of their features and compare the different model specs below.
How do the specs stack up of the current best automatic grow closets on the market? LEAF vs Grobo One vs Seedo?
Recommended number of plants

Expected Yield (3-4 Months)

Sensors

Industrial pH
Industrial TDS (ppm) 
Air temperature 
Humidity 
Plant height 
Water level 
Water temperature 

Size

62" Tall 25" Deep and 27" Wide

Power Consumption

$15-20 a month of electricity

Additional Costs

Nutrients will cost $39 and Carbon Filter $39 as well.
Recommended number of plants

Expected Yield (3-4 Months)

Sensors

Air temperature
Water temperature
EC
Humidity
Light
Nutrients

Size

69.75" Tall 30.75" Deep and 29.50" Wide
Recommended number of plants

Expected Yield (3-4 Months)

Sensors

EC

PH

Main Water Level Tank

Secondary Water Level Tank

Water Temperature

Air Temperature

Humidity

Fan Status

CO2

Door Status

Size

40" Tall 24.4" Deep and 24.4" Wide

Power Consumption

Power Consumption 0.24 kWh

Additional Costs

Costs of additional CO2 Bottles, etc are not available yet.
Recommended number of plants

Expected Yield (3-4 Months)

Sensors

pH
Temperature
EC
Water Level
Humidity

Size

48" Tall 14" Deep and 14" Wide

Power Consumption

Typically less than $5/Month