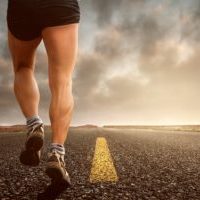 Smart Shoes & Smart Socks
A new range of running shoes, socks, and insoles that tell you what happens when the rubber meets the road. From run analytics to navigation.
Performance tracking connected shoe devices
Attachments (Socks, insoles, etc)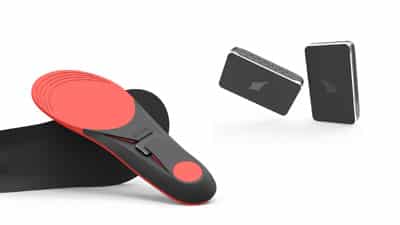 Lechal Pods are designed to be installed in an insert in your insole or use a clip to attach to your laces. The sensors give you hands free navigation using haptic feedback along with analytics on steps, calories and distance travelled. Battery life is around 15 days.
$69.95 - Amazon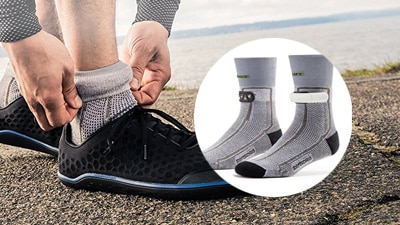 Sensoria Anklet and Socks
Lechal Pods are designed to be installed in an insert in your insole or use a clip to attach to your laces. The sensors give you hands free navigation using haptic feedback along with analytics on steps, calories and distance travelled. Battery life is around 15 days.
$69.95 - Amazon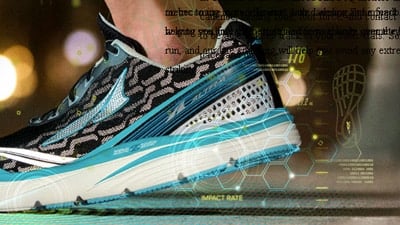 Using Bluetooth, your phone and individual footbed sensor in each shoe, the Torin IQ shoes provide onboard coaching while you run along with impact rate and cadence, foot strike, and contact time.
$198.95 - Amazon
Google Play - Itunes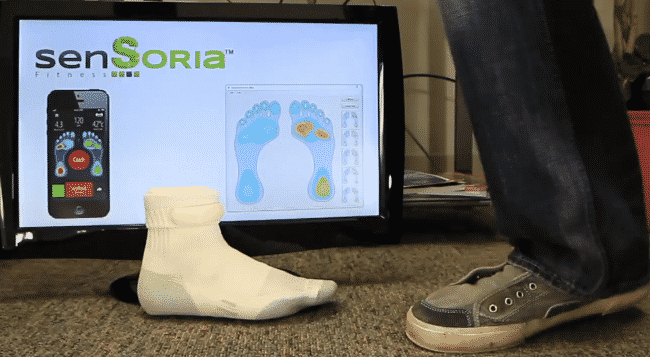 Smart Sock: Sensoria Fitness
The Sensoria Smart Sock is a product by Redmond based Heapsylon aimed at helping you become a better runner and prevent common injuries using a combination of Bluetooth connectivity, audio feedback mechanisms, and a suite of sensors.
At the core of the system are 3 pressure sensors embedded directly into a washable sock. A companion ankle device containing a 3-Axis accelerometer and altimeter attaches magnetically to the sock and transmits all of the captured data from the range of sensors to your smartphone for tracking and analysis.
Poor technique is often attributed to running injuries and the Sensoria system wants to help stem these issues by giving a user data on their particular running gait:
Cadence: Set a desired stride frequency range and you will receive audio cues when you are not matching up.
Foot Landing: The sensor devices can monitor in real time how your foot is landing on the ground and can detect if you are heel striking, running with a flatfoot, or in a way that could eventually lead to back pain, etc.
Social: The option to share and compare your running data with people that have similar running styles or goals.
The team will be expanding the sensor technology and algorithms to other sports and activities and will be working on releasing a developer API for the devices in the near future.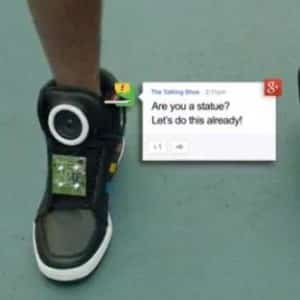 Talking Shoes
An experiment in connected objects
Launched at this year's SXSW the Talking Shoes project is one of Google's Art, Copy & Code experiments that is looking at how brands, advertising and technology can work hand in hand in the future in a world of connected objects.
The prototype and concept for the shoes was created by artist Zach Lieberman from YesYesNo and New York based Studio 5050. The shoes use Bluetooth for communicating to your smartphone and a range of sensors including an accelerometer, gyroscope and pressure sensor to monitor your current activity levels.
Project Description:
"The Talking Shoe translates the wearer's movements into funny, motivating and timely commentary. The things it says can be posted to Google+ by the user, sent to real-time ad units, if the user chooses to, and broadcast via onboard speakers. It can talk to the world and to the web.
By connecting a pair of sneakers to the web, we're creating unique opportunities between physical objects and digital ad spaces"
You can visit the Art, Copy & Code page here to see more of the project's experiments, or watch the promo video of the shoes below.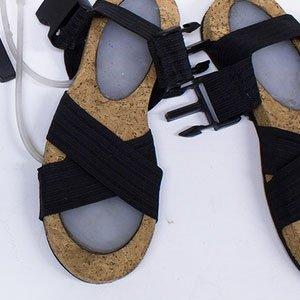 Stellvertreter Shoes
Is there anything more cliché than the adage about "walking a mile in someone else's shoes?" Maybe not, but the Internet of Things has finally made it possible. Well, sort of: It's more like "feeling what it's like for someone else to walk a mile in their own shoes...which are actually sandals."
Confused? Put your feet up and relax while we explain.
Stellvertreter Shoes (literally "Proxy Shoes") is an interaction design project from a trio of students (Lukas Gächter, Olivia Stadler, Ramon Marc) at Switzerland's Zurich University for the Arts. It comprises two pairs of shoes, which really are more like cork-soled sandals, each hooked up to a battery-powered Arduino Yún that straps to the wearer's leg.
One person dons the "input" pair and walks around. Pressure sensors in the soles record their every step, and transmit the footfalls back to the "output" pair. This second pair of sandals has silicon pads embedded in the soles under the heel and toe of each foot. As data streams in, air pumps cause these pads to inflate and deflate in time with the walker's footsteps.
Even though the two people may be far away, a connection is established that grounds both partners in their shared experience of every step they take. It seems like it would be an interesting, if not exactly comfortable, sensation—and it's certainly a new take on the use of haptic feedback for technologically-mediated long-distance interactions.
Check out the video below to see Stellvertreter Shoes on the go.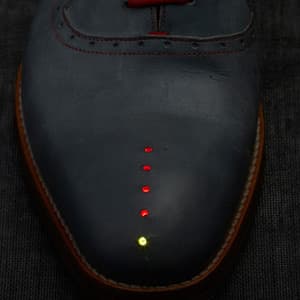 No Place Like Home
Click your heels three times in this pair of shoes and you'll find out there's no place like home.
Well, maybe there is. But these shoes will certainly help you get there.
London Designer Dominic Wilcox was commissioned by the Northamptonshire-based Global Footprint Project to create some custom shoes for them to highlight the regions rich history of shoemaking. He ended up taking an idea inspired by The Wizard Oz's ruby red slippers worn by Dorothy to prototype a pair of shoes that literally lead you on the right path home via GPS, some custom software and a few LEDs.
The idea is simple: Need to get somewhere? Simply input the address with the included software, plug in the pair of shoes via USB and wait for it to upload. Once complete, lace up your sleek pair of shoes and click your heels together to start your trip.
The heel of each of the shoes in hollowed out to hold most of the shoe's hardware and a trendy red tag extending out the back contains the GPS antenna. How do you know if you're heading in the right direction? On the toe of the left shoe there is a circle of lights that point you in the right direction. If the lights create a straight line, you obviously go straight. If they are pointing to the right, make a right turn, and so on.
When you begin, only one red light will be lit up. Once you've arrived at your destination, the final green light will light up and you can reset the system to your next destination.
Learn more about the projects inspiration and development at: http://www.dominicwilcox.com/gpsshoes.htm or watch the embedded video below to see it in action.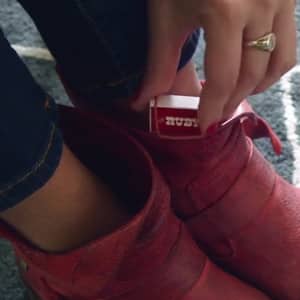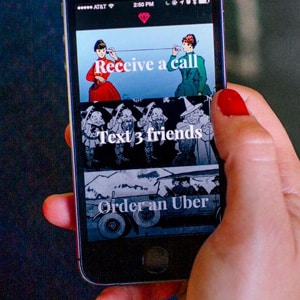 Dorothy
Dorothy is only a prototype, but the idea is long overdue: An app, paired with a little Bluetooth-connected motion sensor, that can turn any pair of shoes into the fabled ruby slippers worn by The Wizard of Oz's protagonist.
When the dongle, named Ruby, is attached to a foot, the user simply clicks their heels together -- three times, of course -- to trigger a preset digital action on their paired mobile device. For starters, the Dorothy app offers simple things like texting your location to a handful of friends or initiating a decoy incoming call to your phone, which are both great for inventing an excuse to extract yourself from awkward conversations. Of course, there's also the option to summon an Uber cab to your location, for those moments when there really is "no place like home."
In the future, it's easy to imagine that Dorothy could offer a wide variety of actions and tie into sophisticated automation rules like IFTTT.
Ruby makes clever use of the LightBlue Bean, a chip that combines an Arduino processor, accelerometer, and coin-cell battery into a tiny package. It's stuffed into a 3D-printed enclosure, complete with gemstone-like facets, which can be clipped to a shoe. Though the whole thing is only about an inch square, the creators at design and development firm iStrategyLabs hope future versions will shrink down to a third that size -- small enough to be built right into a shoe's insole.