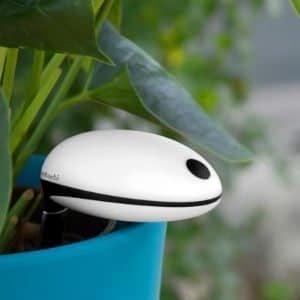 Wifi Plant Watering Sensor System
Find and compare Wifi and Bluetooth plant watering sensor systems. Set automatic timers and remotely monitor health using your Android or iOS phone.
The following Channel Guide will help you:
Determine the best system for your price and needs (DIY/Open Source, Indoor/Outdoor)
Get app reviews, and see if the sensors can work with your Android or iPhone or other smart home systems.
Complete Wifi Watering System
Looking for moisture sensors and automated water scheduling and control? These systems are a good place to start.
Edyn Garden Sensor Kit
Highlights
Tracks light, humidity, temperature, soil nutrition, and moisture

Integrates with solar powered valve to auto water
GreenIQ Controller
Highlights
Integrations with PlanLink, Parrot, Koubachi, Netatmo weather and TORO® Precision soil moisture sensor

6 irrigation zones Supports 24VAC valves

Integrates with Echo, IFTTT, Nest, Cresteon, Muzzley
PlantLink Lush
Highlights
Each Basestation can support up to 64 Link or Valves to meet your growing needs.

Scheduling and Valve Control

Plant specific algorithims and notifications
Flower Power
Highlights
Indoor / Outdoor use and database of 7000 plants
What if the planter you have your plant inside of could give you some information on when watering is needed or the plant is distressed?
Parrot Pot: Bluetooth Planter
Move over, terra cotta: The flowerpot of the future has arrived. Parrot Pot, unveiled earlier this month at CES, combines environmental sensors and automatic watering to create a sleek and happy home for indoor and outdoor plants.
The Paris-based company also revealed an update to its Flower Power sensor, which can be stuck in the ground near a plant to monitor temperature, sunlight, soil moisture and fertilizer levels; the new version allows almost any screw-top water bottle to be attached as a reservoir for automatic watering.
Parrot Pot includes the same sensor suite as Flower Power, and a 2.2 liter reservoir and water pump are built into the walls of the pot itself. It promises a year of battery life.
The pot connects over Bluetooth, and sensor data is available through a mobile app. A cloud-based decision engine helps the pot analyze your plant's wellbeing and learn its exact watering needs over time; it will also suggest gardening tips and remind users when the water tank needs refilling. Other than that, your plant will basically grow itself.
We don't often hear an Internet of Things product described as "dishwasher-safe". But considering that Parrot Pot is essentially a self-contained irrigation system, it's no surprise it can stand up to a thorough scrubbing. It's also hardy enough for outdoor use (though it might be a problem if the water reservoir freezes).
Smart Gardening Apps and Cloud Platforms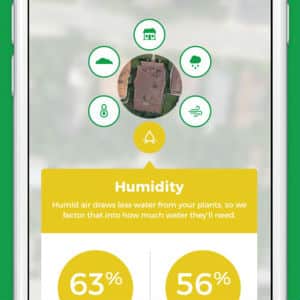 GRO (SCOTT'S)
"GRO – Grow Everything More Successfully With the First Connected Yard System."
DIY and Open Source Systems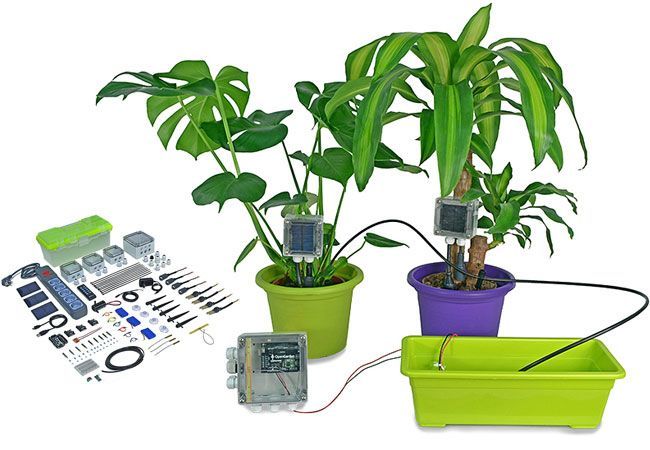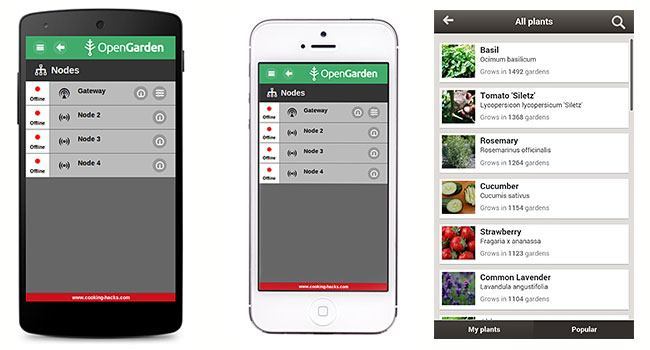 Cooking Hacks Open Garden: Open Source Wireless Garden Kits
Open Garden is an Arduino-based DIY kit that has everything you need to create a connected, automated garden. It's a product of Cooking Hacks, the online IoT component store and open source hobbyist community run by Libelium (See our interview with Alicia Asín Pérez the CEO and co-founder here).
There are three versions of Open Garden available, with sensors and other equipment customized for indoor, outdoor, or hydroponic growing. The core of Open Garden is a gateway that uploads the data to a web server by using any of the available wireless interfaces (WiFi, GPRS, 3G) and communicating to its remote nodes using license free 433MHz wireless radios. By attaching sensors to nodes, the user can collect data on air temperature, humidity, light levels, and either soil moisture or the temperature, pH and conductivity of the hydroponic growing medium. The systems includes an application to visualize real data of all your sensors in a web browser.
Each kit also comes with actuators — equipment to perform physical actions — such as a water pump (indoor), sprinkler valve (outdoor) or oxygen pump and growing light (hydroponic). With a bit of PHP code, these components can be programmed to operate on a schedule or in response to data from the various Open Garden sensors, so the plants can more or less take care of themselves.
Though they require a bit more technical know-how than some other smart garden products, the DIY and open-source approach of Open Garden kits means they can be as flexible as the user's imagination and abilities.