Best for budget minded

Best for Homekit / Apple Users

Best App & Remote Control

Fingerprint and Door Knob Replacement

Model
August Pro 3rd Gen with Connect
Installation Type
Interior Deadbolt Replacement
Interior Deadbolt Replacement
Full Deadbolt Replacement
Handle or Full Deadbolt Replacement
Control away from home out of the box?
Best for budget minded

Installation Type
Interior Deadbolt Replacement
Control away from home out of the box?
Best for Homekit / Apple Users

Model
August Pro 3rd Gen with Connect
Installation Type
Interior Deadbolt Replacement
Control away from home out of the box?
Best App & Remote Control

Installation Type
Full Deadbolt Replacement
Control away from home out of the box?
Fingerprint and Door Knob Replacement

Installation Type
Handle or Full Deadbolt Replacement
Control away from home out of the box?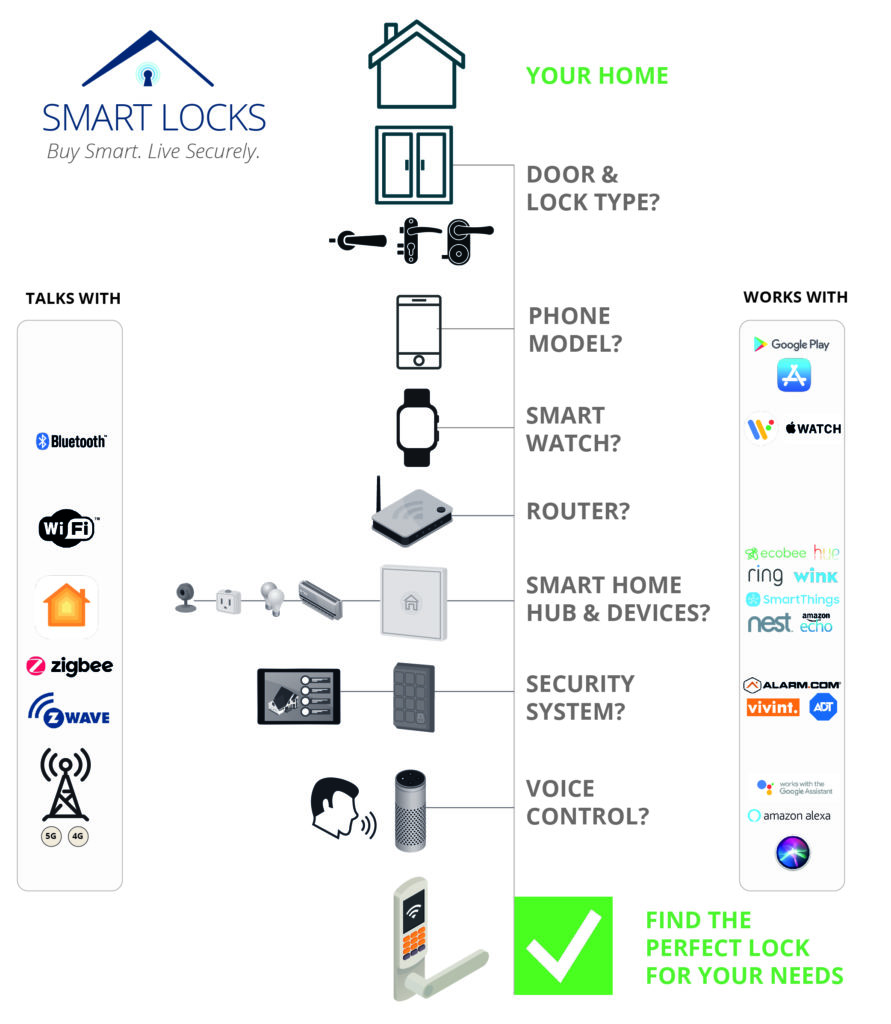 We based our recommendations on:
Cost

Basic pricing or any monthly fees?

Features

From remote locking to access codes

Connectivity

Does the lock connect via Bluetooth, Wi-Fi or Z-Wave?
Integrations

Does it have integrations with Homekit, Siri or Amazon Alexa?

Style and Design

Our database includes finishes and design styles

Installation

How hard is it to install based on your door type?
Smart Lock Features & Benefits
Smart Locks provide you with another layer of control and visibility to your home.
Once connected via some type of communication technology (Wi-Fi, Bluetooth, Zigbee, Z-Wave) a smart lock can connect either to your smart phone, smart home hub, or your Internet router to allow you to access your door in new ways.
Here are several features of smart locks that make them a worthwhile purchase for your home with added convenience and peace of mind.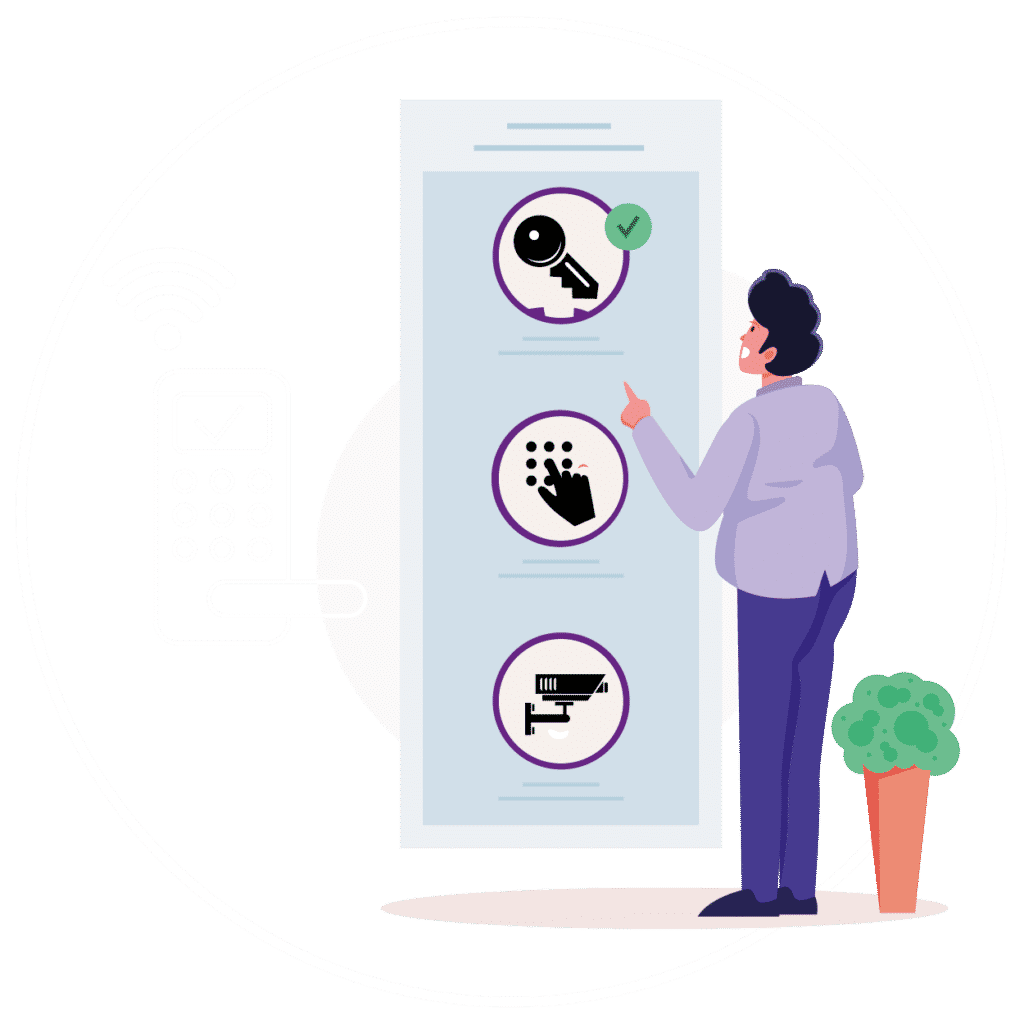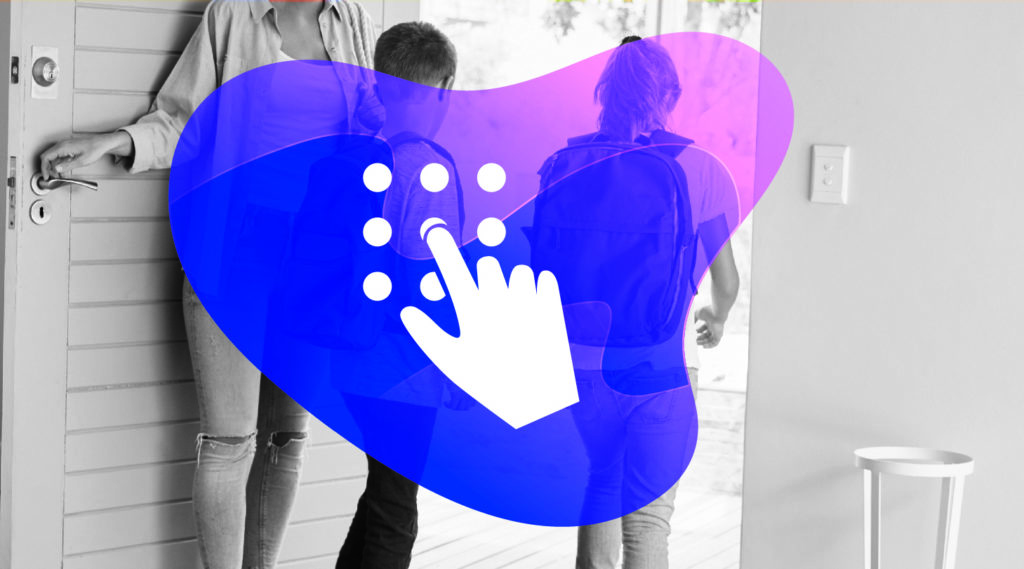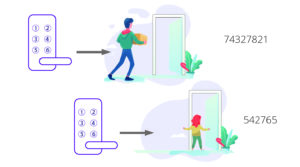 Door Access Codes
Need to provide delivery drivers one time access? Give your kids a specific codes, or for your visitor or Airbnb guest?
Smart locks typically provide more than one way to lock and unlock the door and provide access for others.
Via an app
All smart locks typically have this option where you download an app and then when you come into proximity of the lock can open and if authorized can control the door
Built-in keypads
Some smart locks come with physical buttons or touchscreen keypads so you can enter a code directly into the lock to open it from the exterior
Add-on keypad
Attached somewhere near your door these accessories talk to your lock directly so when an authorized code is added will open the lock.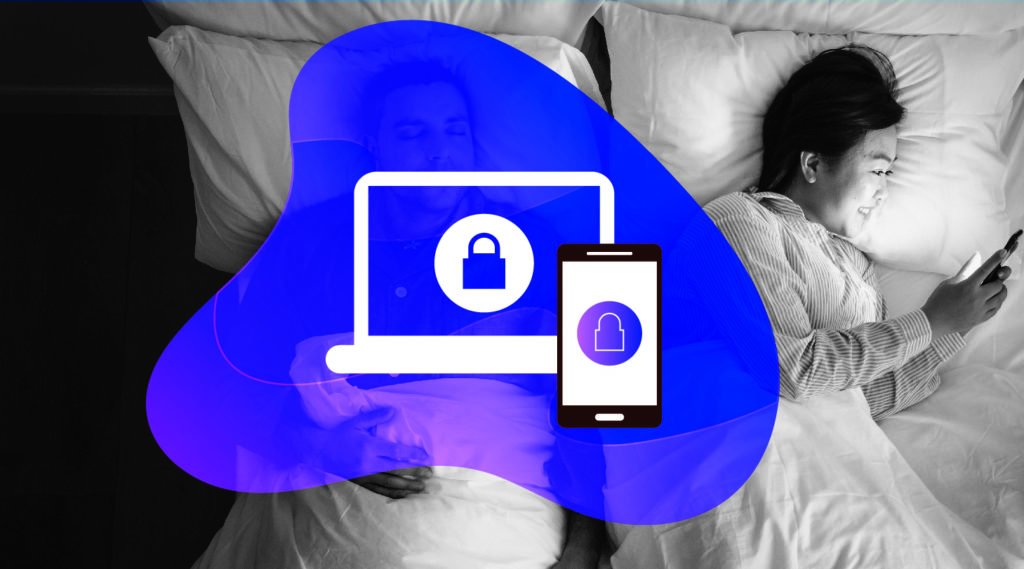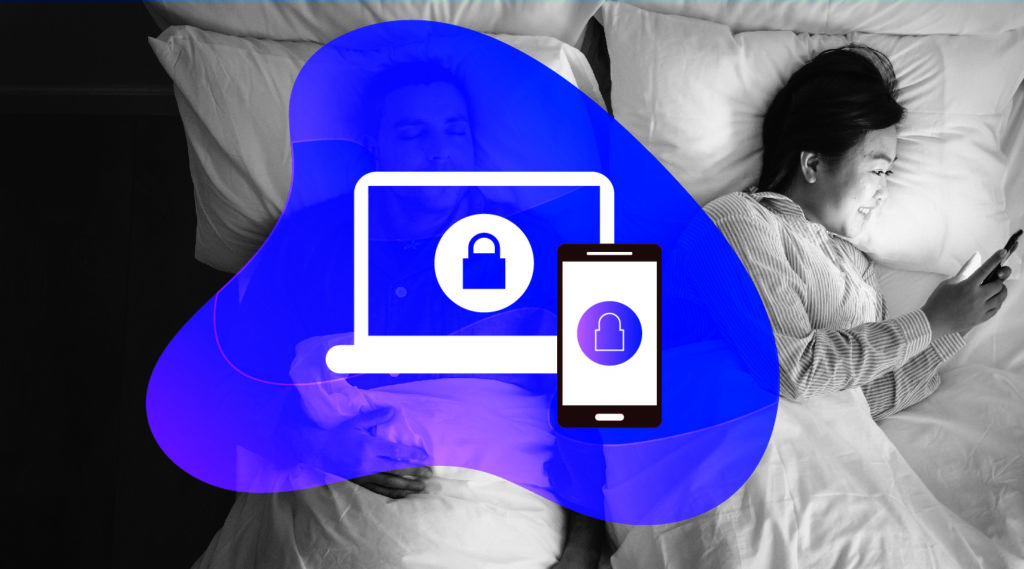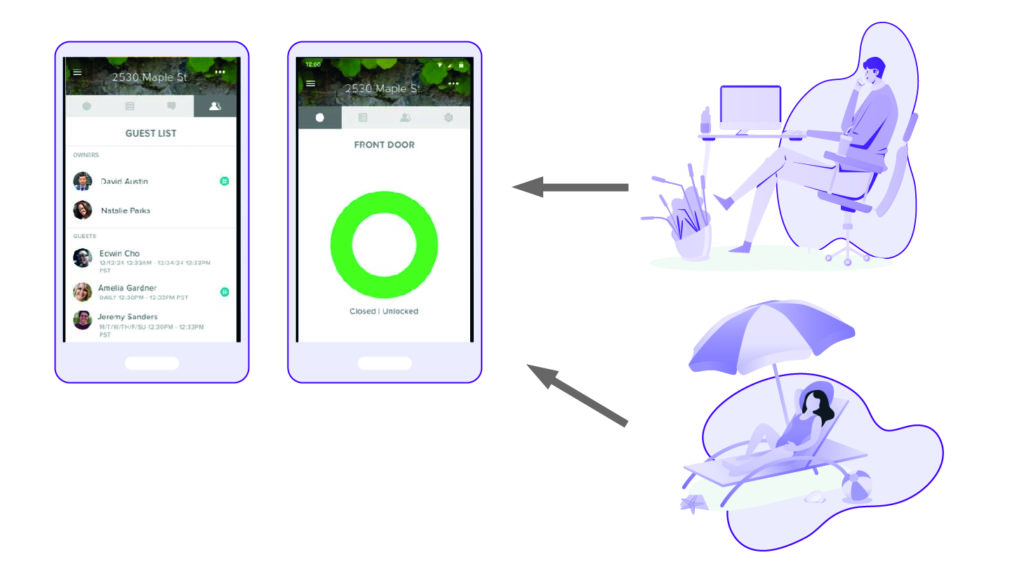 Remote Locking
Check on the door's status and also unlock and lock your door from the comfort your bedroom, or even when you are away from the house on vacation.
What kind of connectivity your lock has will determine what range your lock is able to be controlled from.
Bluetooth only:
Control and access basically within ear shot of the door.
Bluetooth + Wi-Fi hub:
Many locks have an add-on Wi-fi device that connects to your router. This will let you access for your lock from anywhere you have Wi-Fi and throughout a larger home.
Wi-Fi only:
Control from a large home as well as remotely from work or anywhere you have a Wi-fi connection.
Zigbee / Z-Wave:
These rely on smart home hub that is connected to your home router. This hub is not included with the lock and will be an additional cost. Once connected to your router you will be able to control from anywhere with Wi-Fi access.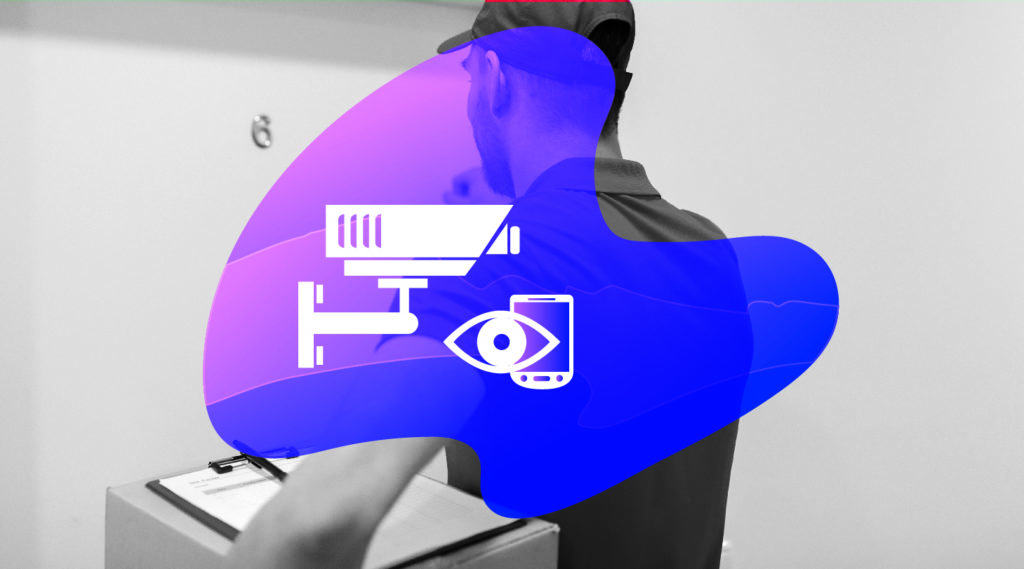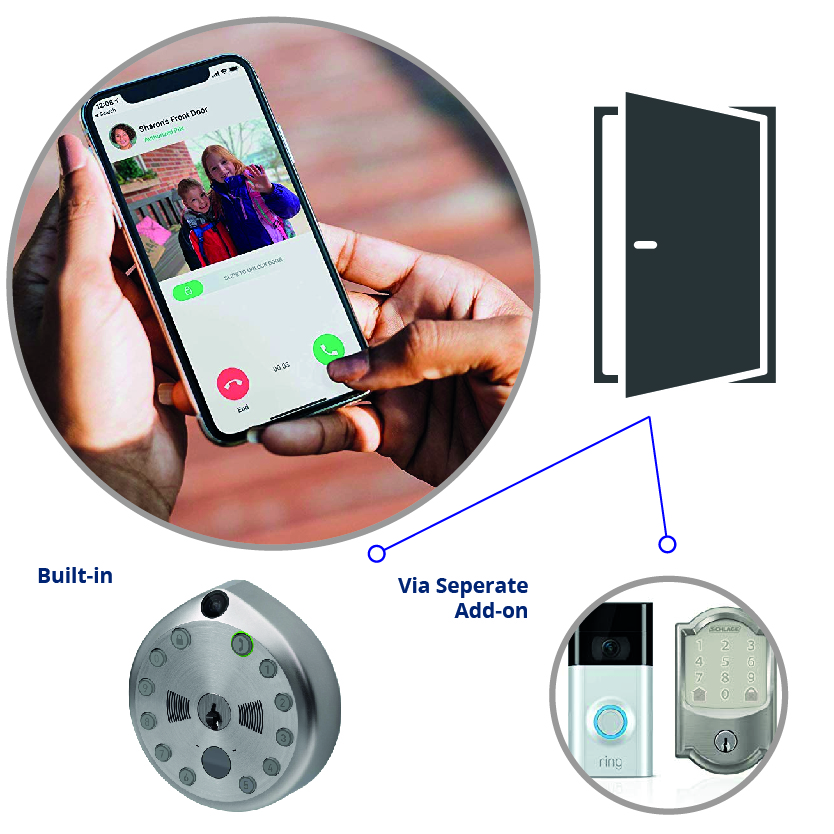 Video Camera / Doorbell Integration
Using HD security video cameras along with your new smart lock you can now get a complete awareness and control on what is happening:
Detect and record activity at your door.
Talk to your visitor using two-way audio.
Open the door remotely based on your interaction.
There are several ways smart locks get this capability.
Built-in video camera in locks
At the moment only a few locks have a built-in video camera.
Separate camera
Most locks on the market integrate with their own stand-alone video cameras using their app to manage both camera and lock.
Separate camera from another company
If the company does not produce their own video security camera systems they will often integrate with 3rd party providers like Ring or Arlo and show you the video stream via connecting the two services inside the app.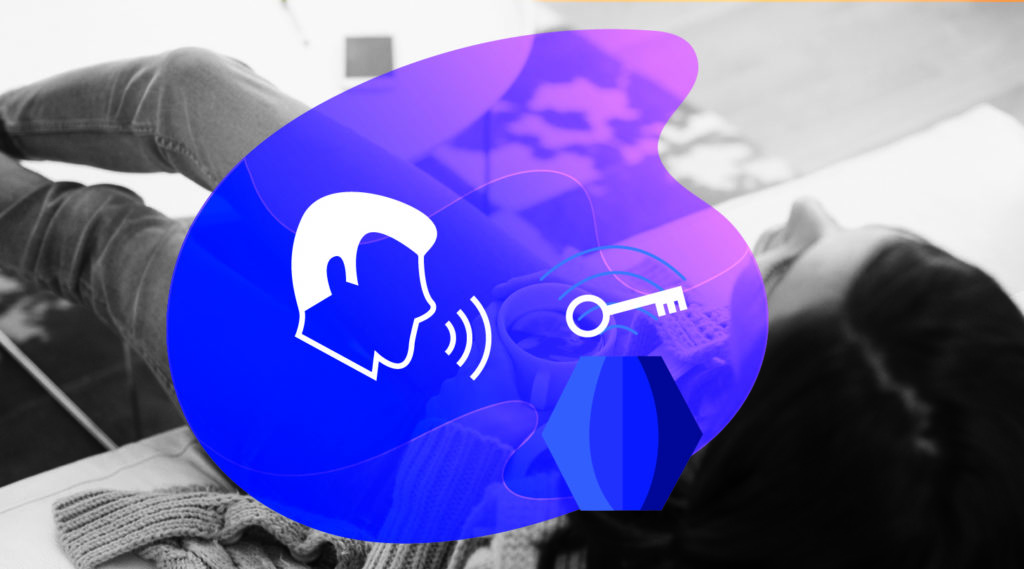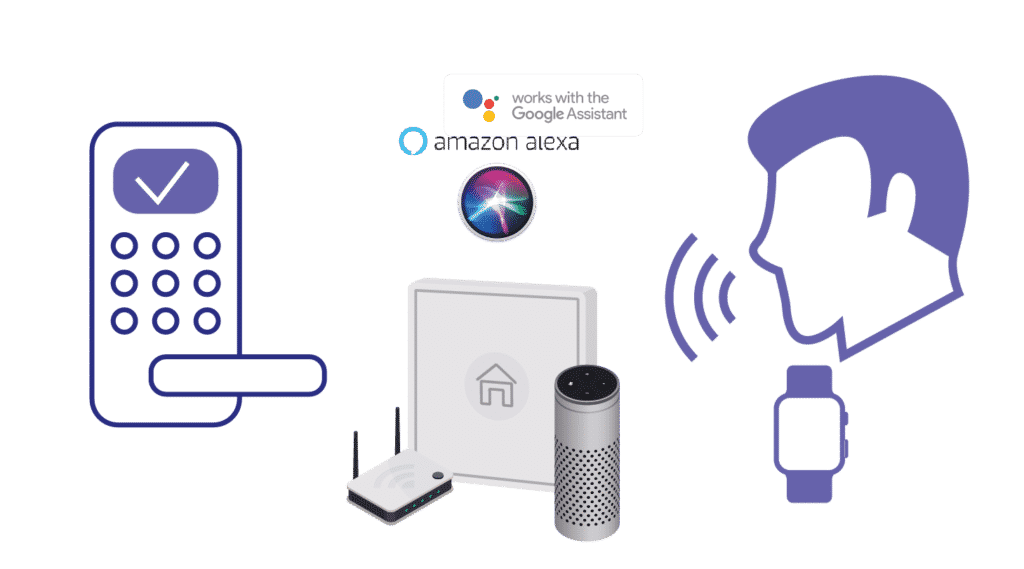 Smart hub integration and voice control
Tell Siri, Amazon Alexa, or the Google Assistant to lock or check the status of your door from your phone, smart watch or smart speaker.
If this is an important feature for you there are a few things for you to look out for:
Many smart hub companies will market their product as "Alexa enabled" but oftentimes will require an additional Wi-Fi hub to be purchased for this functionality to work.
This feature mostly comes down to the connectivity type of the smart lock you choose and if the company has made a voice assistant "skill". In general:
Bluetooth only
Can offer voice control but only in close range.
Bluetooth with Wi-Fi add-on / Wi-Fi
This should offer you voice control out of the box. Make sure to look for if the lock maker has an Alexa Skill or Google Assistant Action developed. (Note: We have added links for these on each specific lock page if they are available)
Z-Wave and Zigbee
Will work with voice controls using your smart home hub built in integrations or app. See here for how SmartThings interacts with Alexa for an example.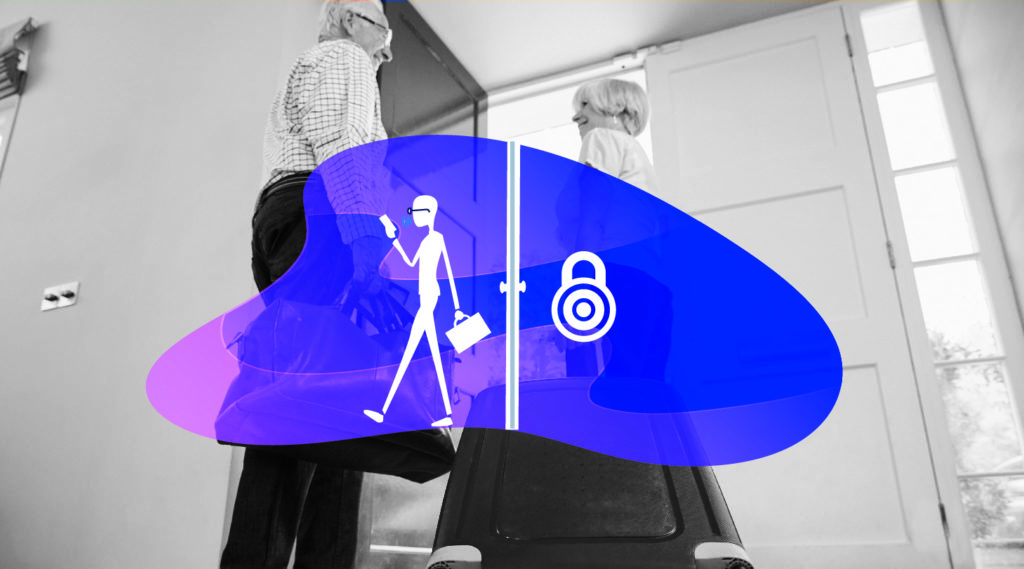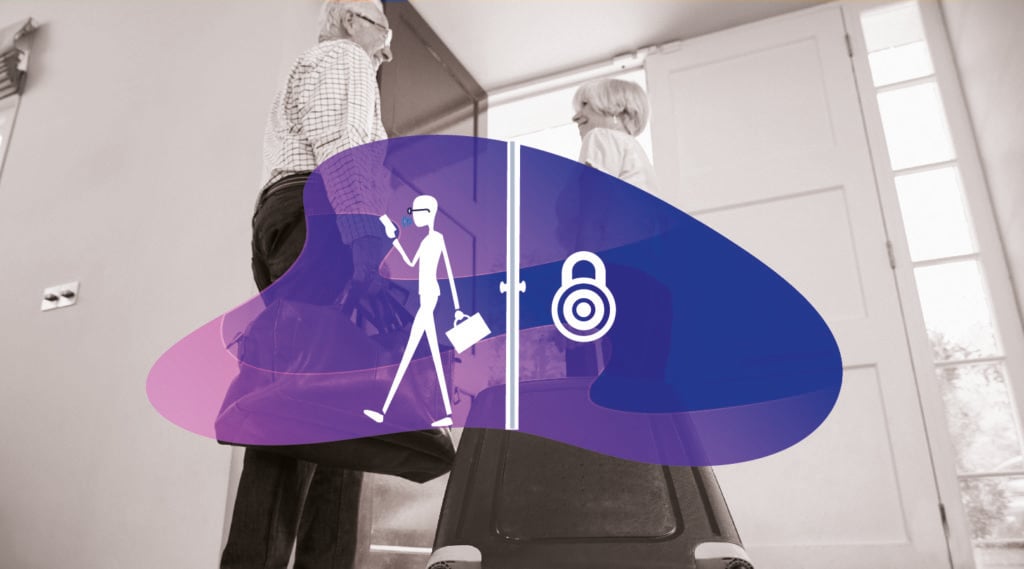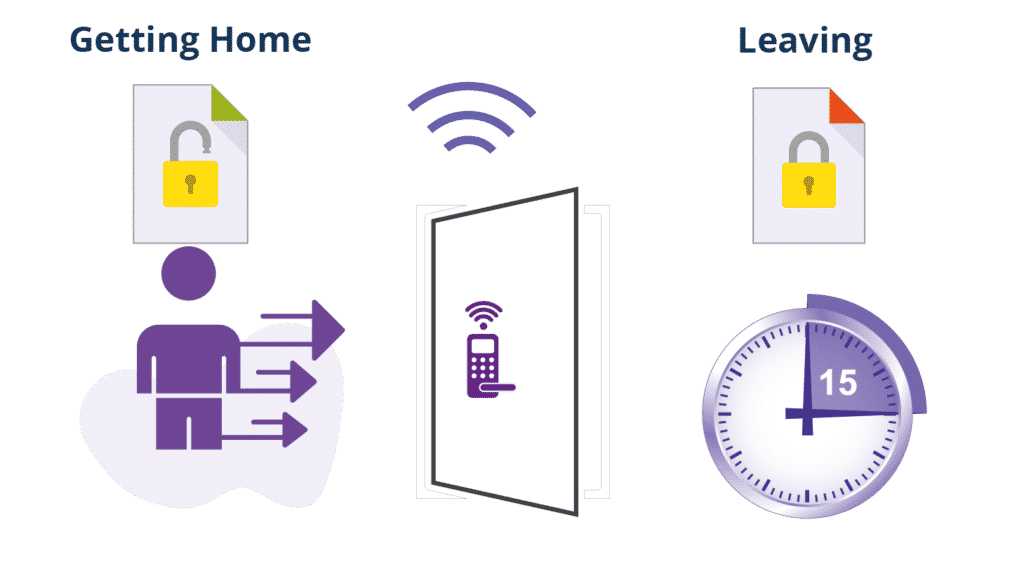 Auto Lock & Geo-fencing
Smart locks can provide two different features for unlocking and locking when you arrive and leave.
Hands Free Unlock
Juggle more grocery bags. Many locks give you a touch or proximity unlock feature as long as you have the app running on the background of the phone and have access.
Auto-lock when leaving
Peace of mind. Almost all smart locks come with an auto-locking feature that can be time based to lock behind you as you leave. The typical default time for most lock is 30 seconds but can usually be adjusted in the settings.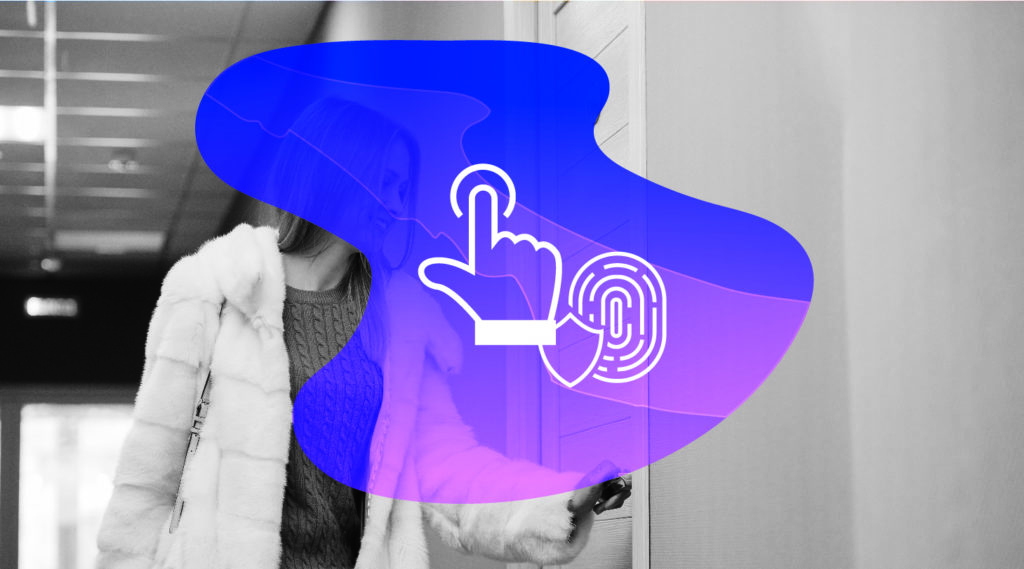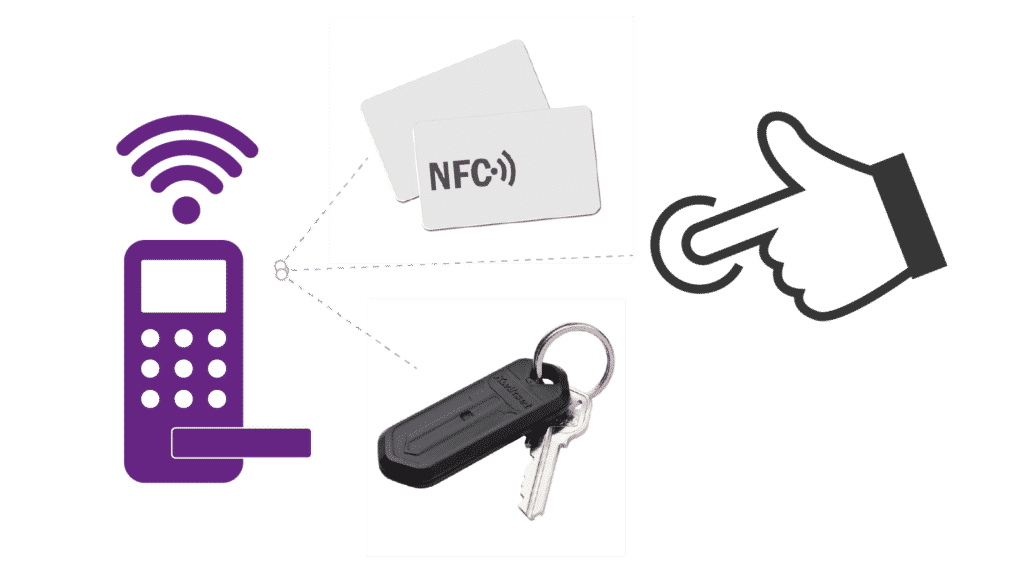 Other Unlock Options
Don't want to deal with access codes or keys?
Smart locks can offer several other ways to access your home without a physical key.
They include:
Fingerprint Access
Key Fob
Typical uses Bluetooth to communicate with your door
NFC or RFID Card
Uses a more traditional control access technology to tap the door with the card to open.
App
Covered in earlier section
Voice Control
Covered in earlier section
Keypad (Button and Touchscreen)
Covered in earlier section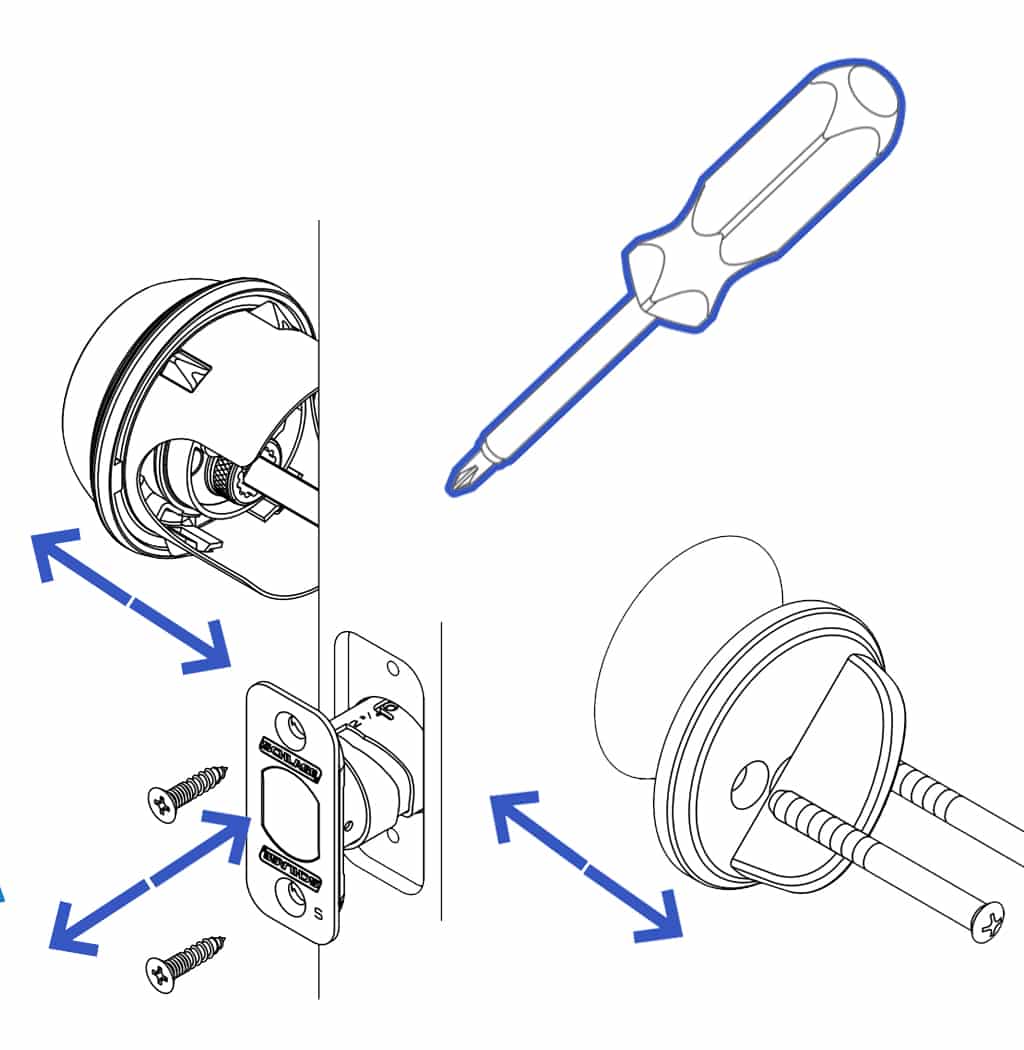 How hard are smart locks to install?
Smart locks are no harder to install then a regular deadbolt or handle lock.
Typically the only tool you need is a screwdriver and will take you around 20 minutes.
Below is a sample installation of the Schlage Connect lock to show you the steps:
Security of using a smart lock?
The security of your home is paramount.
Smart locks almost always use bank level encryption for storing access code information.
If you have some concerns on the security of enabling voice control, etc on your door lock please view our FAQ for a deeper dive into these questions.
How to choose your smart lock?
Ok, excited about the convenience and features of having a smart lock installed for your home?
Now we can dive into how to select a lock based on your specific situation and requirements.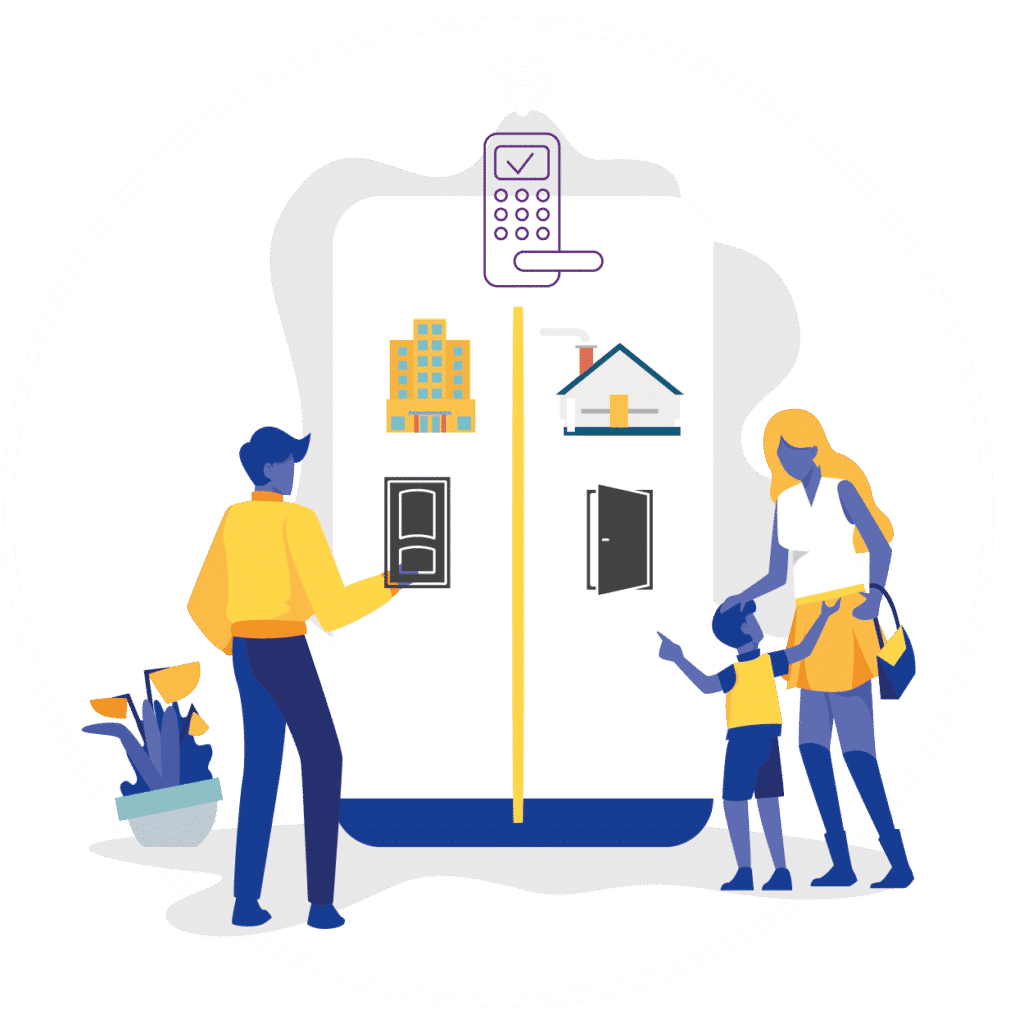 Do you live in a home or apartment that you own, renting, or are renting out on a vacation rental service?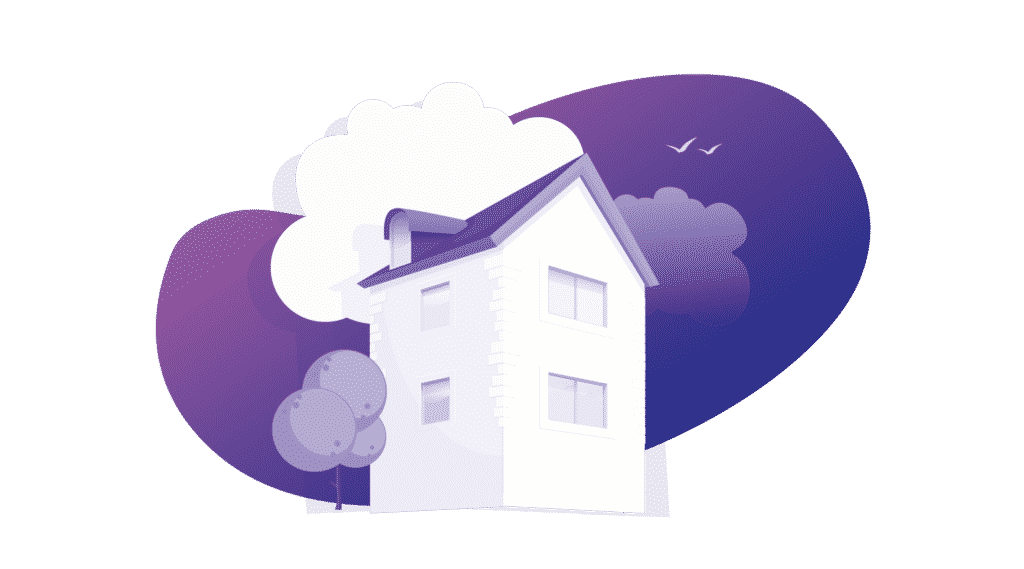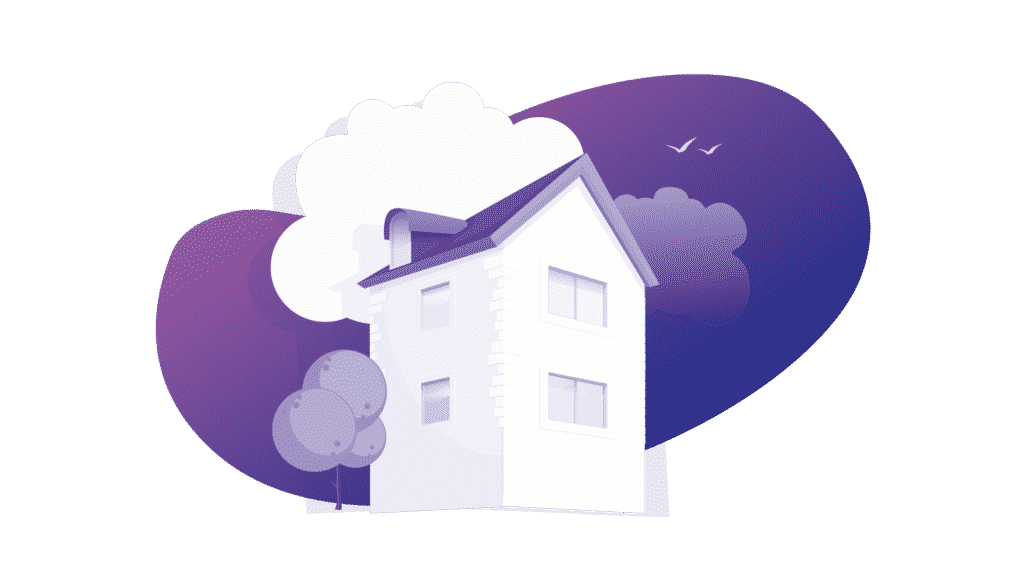 I Own:
You should not have any issues here and should be able to use any smart lock that fits your particular door.
Continue to the door type section below to find a lock that fits.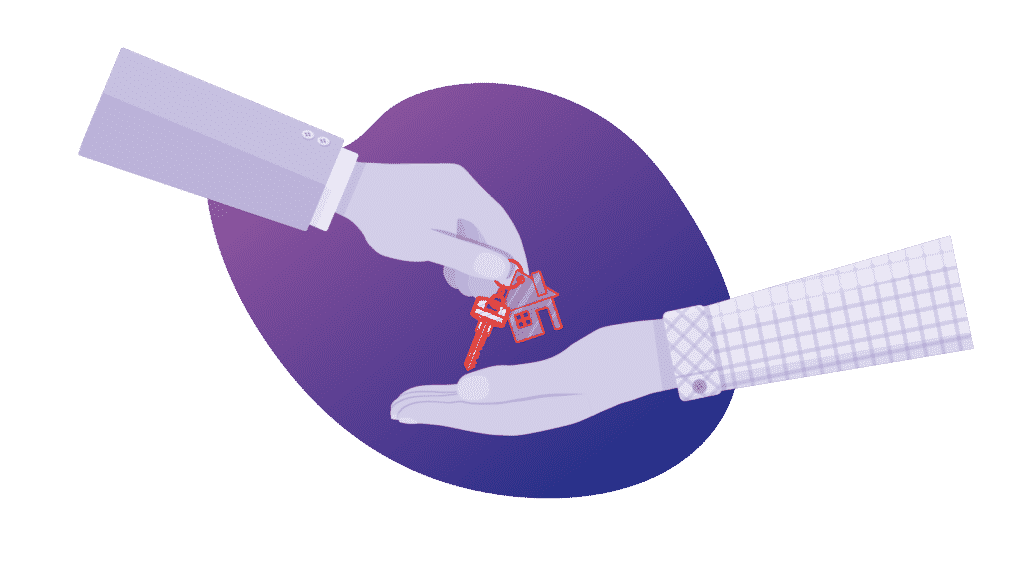 I Rent:
In this case you need to look at some very particular locks that will keep your existing key, and not modify the outside appearance of your door and locks.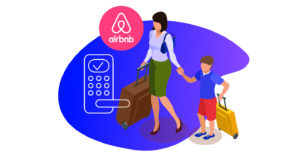 I run a vacation rental:
If you need a smart lock for your vacation property there are options that allow you to automatically create specific access codes for each guests and be alerted after they successful check-in.
Keep Existing Keys or Replace?
Are keeping your current keys important
The majority of the smart door locks on the market are going to provide you with a new set of keys with your purchase.
That being said there are a few options where the locking mechanism is placed on top of your existing deadbolt lock or only the interior section of your deadbolt is replaced letting you keep your current keys.
These locks have an additional positive security benefit in it doesn't announce to anyone walking by that you have a smart lock installed as your lock looks the same from the exterior.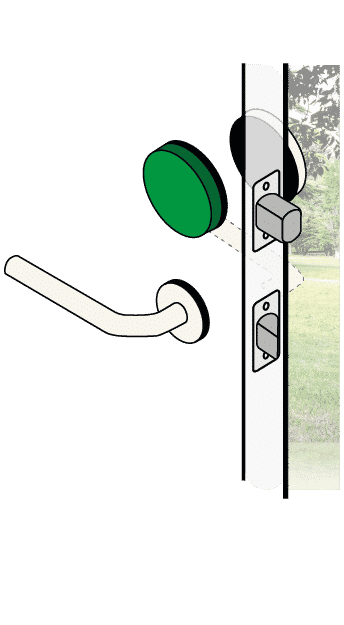 Interior Replacement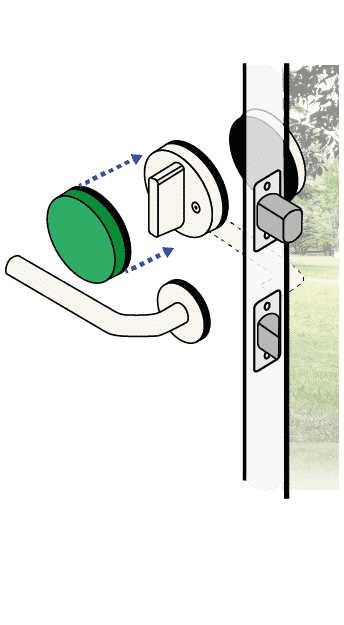 Interior Attachment
What door are you installing the lock on?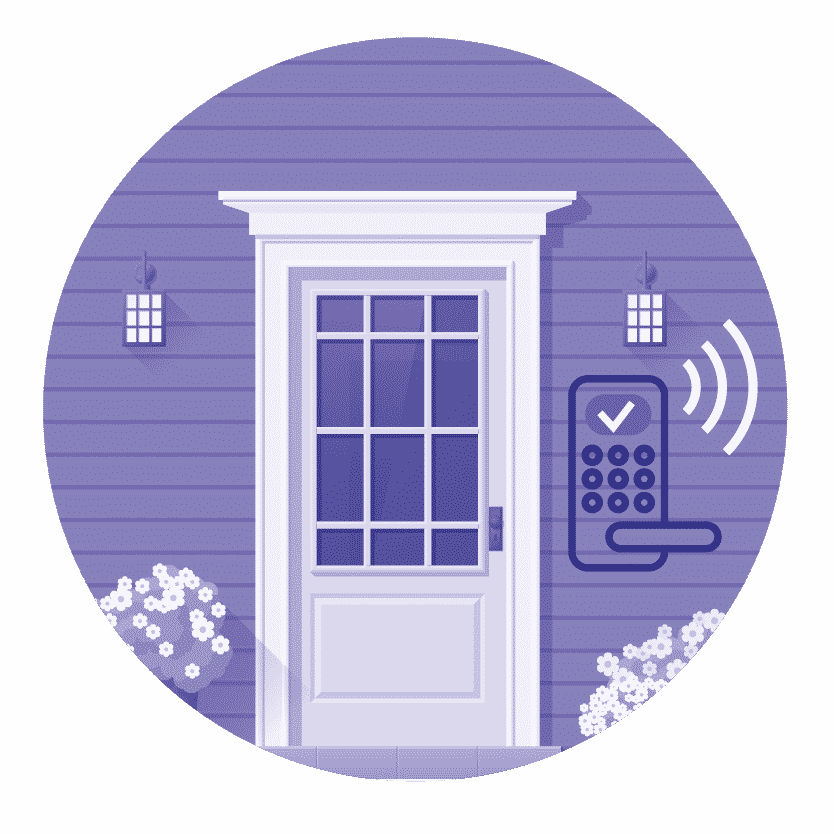 This includes:
Front/Back Door
Side Access Door
Sliding Glass Patio Door
Please proceed to the next question to select your door type below.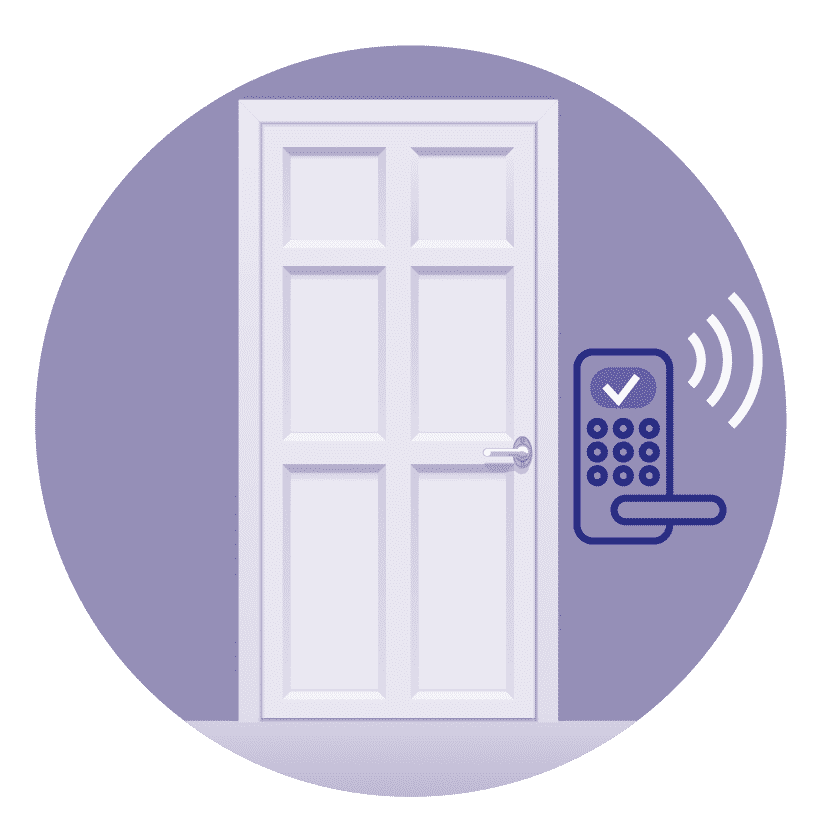 Interior Door
Sometimes you need to keep someone (or roommates) out of a specific part of your home.
There are a number of internal smart door locks that should work for you.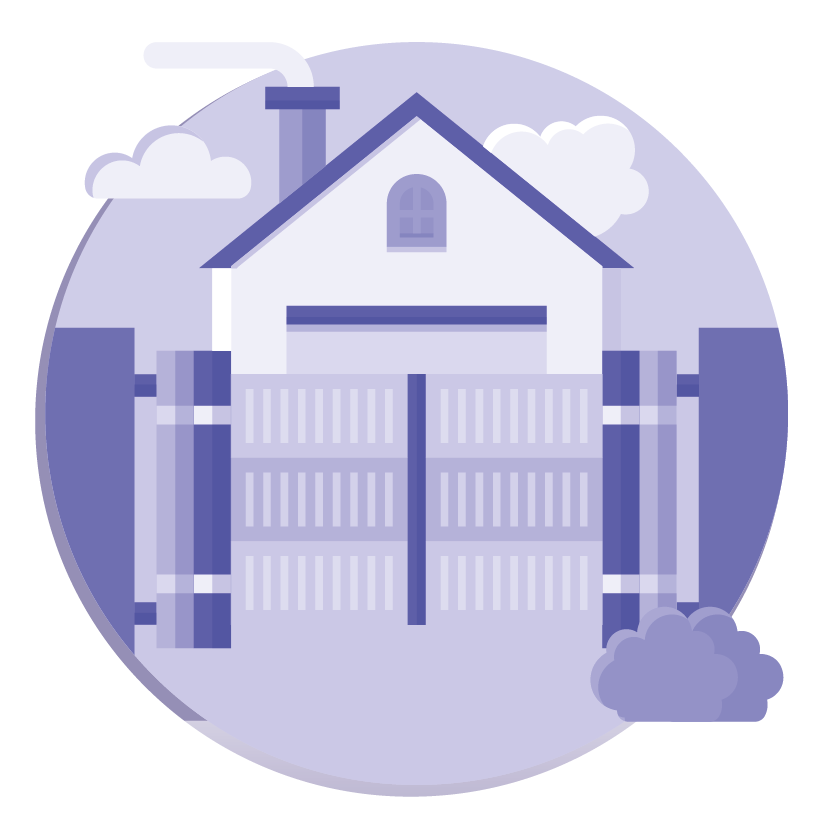 Outdoor Gate
Need some additional control and security for a side outdoor access or driveway gates?
Access Door: What type of door do you have?
OK, for your front or side access doors? Do you have a deadbolt and a handle hole, just a deadbolt, or is this for a sliding door?



Lever / Knob / Handle
I have just one hole in my door.

Deadbolt
I have two holes in my door. One for the deadbolt and one for a handle or knob.

Mortise Style Locks
I have a longer/larger locking mechanism.

Sliding Smart Door Lock
I need a lock for a sliding glass or patio door.
How important is cost when making a smart lock purchase?
The average price of a smart lock is a little higher than a standard door lock. For a budget lock expect to pay between $100 and $150 and for more features expect the price to go into the $200-$400 range.
Something to look out for is some of the lower base models will say they offer some features like Alexa support and remote locking but neglect to explain that it only works with the purchase of an additional Wi-fi bridge device (typically an additional $50-75 dollars)
Not a primary concern
I am looking for only the highest grade of finishes to match my front door style.
Important, but not critical
Budget conscience, but also want to make sure you get a high-quality lock? In this case, we recommended using our door type section to get the best match for you.
Very Important
If budget is your primary filter please use this section to find latest sales and filter the most budget friendly options (Currently starting at under $179)
Android or iOS/Apple User?
These days most smart lock companies create apps for both of the main mobile phone ecosystems today.
That being said there are a wide range of app quality for each lock maker and we have highlighted top-rated and most reviewed apps for each ecosystem below and then for controlling your devices using a 3rd party app.
Stand-alone smart lock apps
The following are a few of the most reviewed and top rated apps for Android users.
Stand-alone smart lock apps
The following are a few of the most reviewed and top rated apps for Apple users.
Integrated Apps
If you are looking for an app to integrate your lock along with a home security or smart hub system these are the top apps..
XFINITY Home
ADT Pulse
ADVANCED SMART LOCK SELECTION
Filter locks based on specific communication protocols that fit your need.
Not sure on which one you need? Here is a high level overview and where each protocol shines for smart locks and how they will fit in your overall smart home system.

| Communication Type | Range | Remote monitoring & Control | Connects with smart phone? | Good For | Links |
| --- | --- | --- | --- | --- | --- |
| Bluetooth | For most products think in the same room of your device | No, needs additional hub | Yes | Don't have a Wi-Fi router | Bluetooth Locks |
| Wi-Fi | Think in your house and outside your house to 100 feet or so | Yes | Yes | Don't want to buy a separate hub and want remote monitoring | Wi-Fi Locks |
| Zigbee | Think in your house and just outside | Needs additional hub connected to cellular or Wi-Fi | Yes, via additional hub | Already have smart home hub | Zigbee Locks |
| Z-Wave | Think in your house and outside to 100 feet or so | Needs additional hub connected to cellular or Wi-Fi | Yes, via additional hub | Already have smart home hub | Z-Wave Locks |
| Homekit | Uses Bluetooth or Wi-Fi typically | Yes with Apple TV (4th Gen & above) or HomePod | Yes, iOS devices | Already have Apple TV (4th Gen and above) or HomePod | HomeKit Locks |
Bluetooth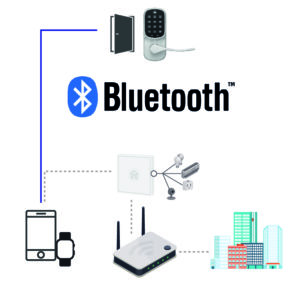 Overview
With Bluetooth already enabled on your smartphone, Bluetooth locks seem like an obvious choice to monitor and control your lock from.
The downsides compared to other connectivity options is sometimes a reduced range and the fact that you can't control them past Bluetooth range without an additional Wi-Fi add-on that connects to a Wireless network.
Good for: If you are living in an apartment or don't need remote control and access monitoring.
Wi-Fi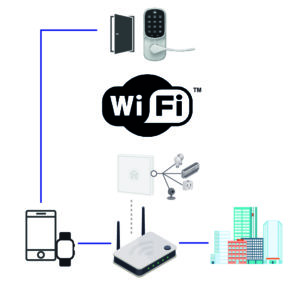 Overview
As the most ubiquitous of protocols Wi-Fi stands alone in terms of being able to easily connect to your home network and stay online.
Once connected to your home router your smart lock will be able to add access codes while you are away while also getting the option to monitor your door.
There are not too many locks with built-in Wi-Fi (most use an additional hub)
Good For: Need long distance monitoring, have a large home, or you don't want to deal with a full smart home system.
Z-Wave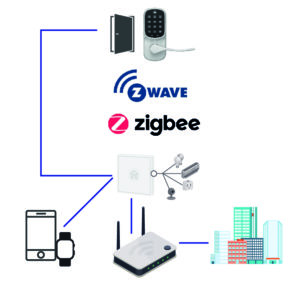 Overview
Zigbee, Z-Wave and Z-Wave Plus are all protocols associated with complete smart home systems.
If you already have a smart home hub like SmartThings, Wink or voice controlled devices like Alexa or Google/Nest Hub than a lock with them enabled will be a perfect fit.
Create new recipes and sequences for your smart home system with your lock included or manage the lock from existing devices and apps.
Good for: Those already with a smart home hub controller of some kind
Homekit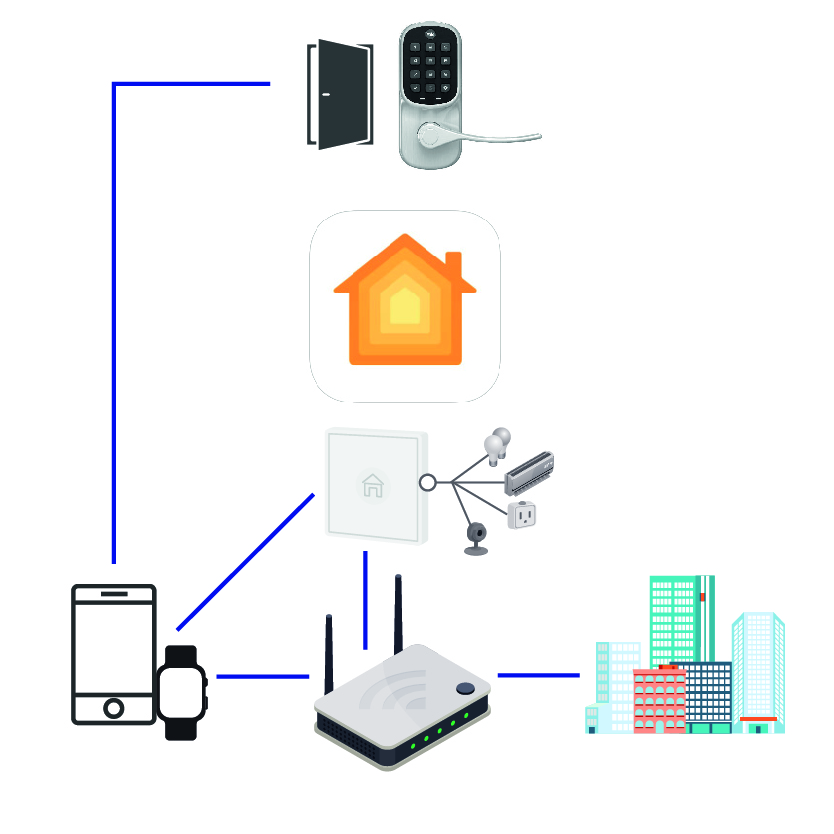 Overview
If you are all in on the Apple ecosystem having a Homekit enabled lock is key.
Although not technically a communication protocol on its own (it rides on the back of Bluetooth and Wi-Fi) it allows you to connect to your lock locally from your Apple Watch or using Siri and if you have an Apple TV (4th Gen and up) or a HomePod will give you additional remote long distance control and monitoring capabilities.
Good for: Those all in on Apple products and want Siri and Apple Watch integration.
Additional: Cellular and NB-IoT Smart Locks
In this section you can use our filtering menu to narrow down based on style, finish and features.
We also have a section on head-to-head comparisons like the difference between August and August Pro.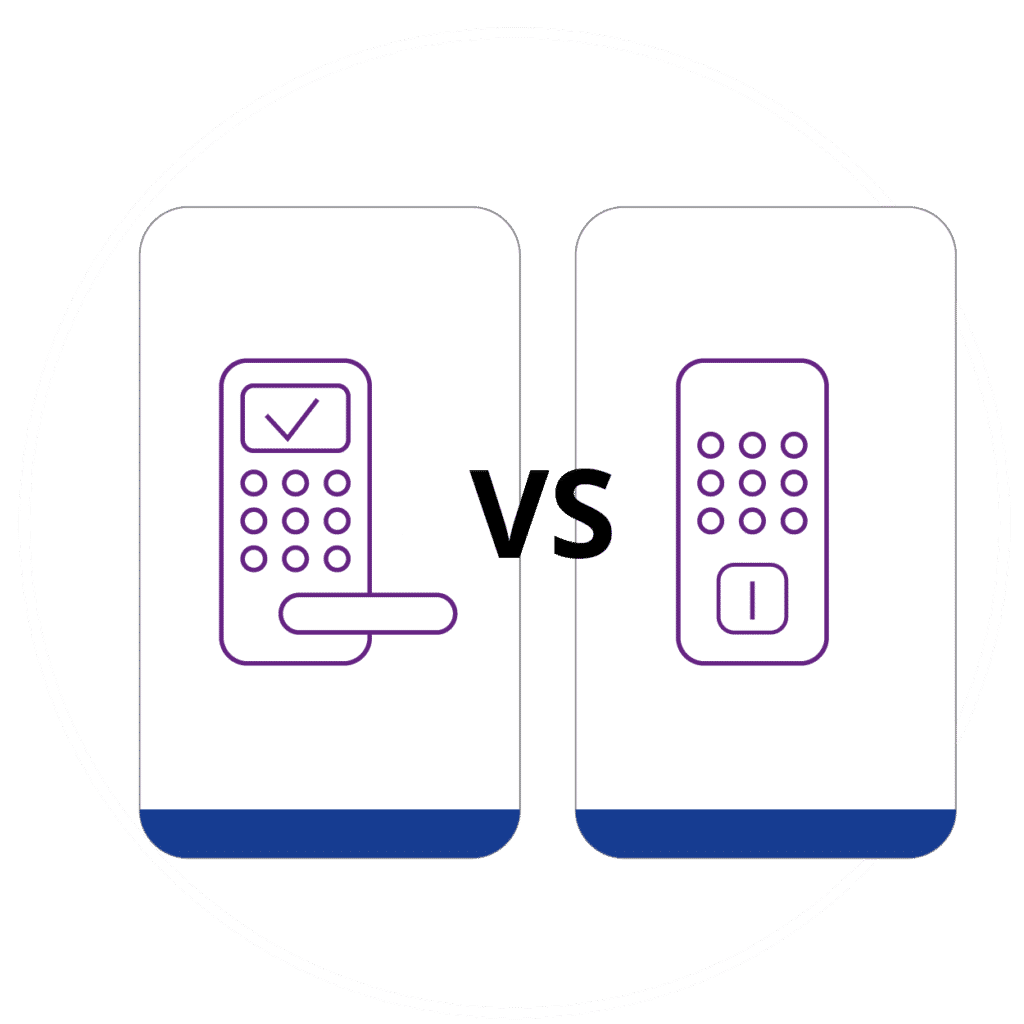 Model
August Pro (3rd Gen) with Connect Wi-Fi Bridge
August (3rd Gen) with Connect Wi-Fi Bridge
Lock Type
Interior Deadbolt Replacement
Interior Deadbolt Replacement
Complete Deadbolt Replacement
Complete Deadbolt Replacement
Complete Deadbolt or Handle Replacement
Complete Deadbolt or Handle Replacement
Connectivity
Apple Homekit
Bluetooth
Wi-Fi Via Bridge/Hub
Z-Wave Plus
Bluetooth
Wi-Fi Via Bridge/Hub
Apple Homekit
Wi-Fi Via Bridge/Hub
Z-Wave Plus
Zigbee
Siri / Homekit Integration

Model
August Pro (3rd Gen) with Connect Wi-Fi Bridge
Lock Type
Interior Deadbolt Replacement
Connectivity
Apple Homekit
Bluetooth
Wi-Fi Via Bridge/Hub
Z-Wave Plus
Siri / Homekit Integration

Model
August (3rd Gen) with Connect Wi-Fi Bridge
Lock Type
Interior Deadbolt Replacement
Connectivity
Bluetooth
Wi-Fi Via Bridge/Hub
Siri / Homekit Integration