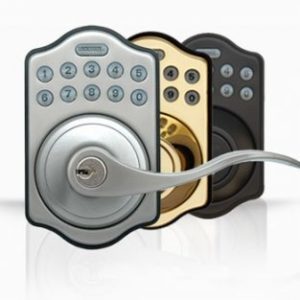 Best WiFi and Bluetooth Smart Door Locks
Find and compare the right digital deadbolt for your home. Remotely lock and control access to your door from your Android or iPhone.
Smart door locks offer sophisticated "access control" features to any home or business. Proximity sensors like Bluetooth and NFC can enable a door to unlock whenever an authorized user's smartphone approaches. Users can also remotely lock and unlock the door, or share access with any number of others, using mobile apps. Physical keypads provide a backup with many locks, but are no longer the main way to let yourself in.
The following Channel Guide will help you:
Determine which connectivity type you need? (WiFi, Bluetooth, NFC, or Cellular)
Get app reviews, and see if the lock can integrate with your smart home hub and other connected devices.
Filter based on monthly fees, or if the handle has electronic key code capabilities.
We have tracked down the reviews and integrations from around the web and featured top locks based on home hub integrations, app reviews and pricing.
 By Publication for best overall and Editors Choice:
*WiFi Bridge and remote locking capabilities:
One thing to note is that if you want to have remote access, and integrate with Alexa you are going to need an extra WiFi bridge device.
Below are the corresponding devices and their additional costs for each of the popular smart locks:
Many companies are active in the smart door lock market, including traditional lock makers as well as startups. Here are some options that are currently available for purchase for this upcoming 2017 Holiday season.
August
Highlights
Auto lock & auto unlock, no more fumbling for keys. - Keep your existing hardware
Stop hiding keys under the mat. Create virtual keys for family and guests.
Keep tabs on loved ones with instant notifications and 24/7 activity log.
Having trouble figuring out which one is best for you?
Use our bot to help you narrow down based on your exact needs...
Additional
Requires Z-Wave Hub like SmartThings, Wink
Electricmagnetic Strike Lock
Cloud Integration Platforms
Closed / No Longer Available
Example Installation
Still not quite sure how these smart locks are installed on your existing door? Take a look at the video embedded below to get a better idea.
With Video Camera Support
The combination of a video camera and smart door lock makes perfect sense from a security point of view.
Currently you have three options when trying to tie your lock to video footage of who is at the door. 1) Built into the lock 2) Integrated with lock from manufacturer 3)  3rd party video doorbell
1) Built-in smart door lock and camera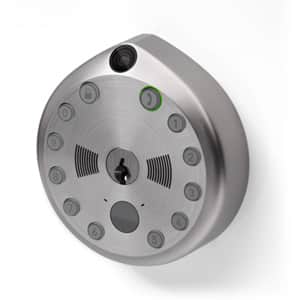 Gate Smart Lock
Price: $349
Features:
Two-way audio and video streaming
Paid monthly service for longer term video storage (24 hours is free)
Connectivity: Wifi
2) Built specifically for the lock
Your best bet here at the moment is the August Doorbell Cam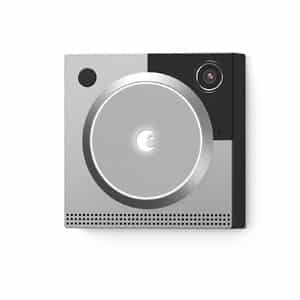 August Doorbell Cam
Price: $199.99
Features:
HD video with night infrared and two-way audio
Proximity sensors
24 hour video storage with subscription service to store one month
Replaces your mechanical door chime
3) Seperate smart door bells (integrated via smart home hub)
Smart doorbells add a few additional features to the typical smart lock, like providing streaming video of who's at your door and using facial recognition software to detect authorized users. Here are the options to integrate them with you smart home lock.
Pre-order
Chui - Chui is an intelligent doorbell that uses facial recognition to make your home keyless, secure, and individualized. Will include integration capabilities with other connected door locks
DIY
DIY & Open-Source Smart Door Locks
While the safekeeping of your home may best be left to professionals with expertise in digital encryption and other security tools, it's quite possible to create your own smart door locks that can be opened via Bluetooth, RFID or even a text message. Here are a few projects that will walk you through the process.
For owners of commercial and vacation properties, it may be worth investing in more than a standalone smart lock. Access control platforms make it easy to manage multiple locks at multiple locations, each with their own shifting set of users.
The market for smart door locks is rife with innovation, and many promising gadgets are launched via crowdfunding and pre-order campaigns. If the feature set you need isn't available yet, you may be able to support a project that will deliver it soon.
Background Information
There are generally two main categories of smart locks currently on the market. Many consist of devices you are able to attach to your current deadbolt, or replace only certain parts of your lock for it to work. The August Smart Lock is an example of this that replaces the interior thumb latch but not the entire deadbolt itself. The other category of smart locks require a complete deadbolt replacements. Most connected models allow you to remotely access your door's information from your smartphone or Desktop web app, while others require you to be physically next to the lock for the smartphone to verify your access and let you in.
Some things to look out for:
Does it require access to a 3rd party smart home hub like SmartThings, Wink, Alexa in order to work properly
What are the backup options for the lock when the power or Internet go down? Can you use a backup key to get into the house?