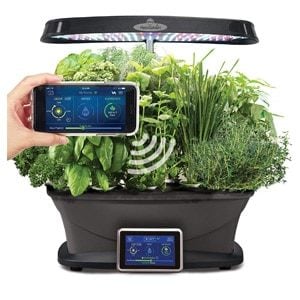 Looking to automate some indoor herbs for your kitchen? Monitor and manage your counter top crop from your iOS or Android phone
Use these WiFi enabled hydroponic gardens to grow fresh herbs, vegetables, salad greens, flowers and more in a smart countertop garden.
Get automated reminders and alerts when the system needs water or maintenance
LED lights provide for optimal growth
Many companies sell seed pods so the system is no mess
AeroGarden Harvest Elite WiFi
Highlights
Grow up to 6 plants in soil less pods

Most plants germinate within 7-14 days, are ready for harvesting in 4-6 weeks
All of these systems are designed for ease of use. Bringing fresh and pesticide free herbs and plants into your home takes just a small bit of space on your counter top and then:
Adding seed pods to system
Plugging in and connecting to your home Wifi network
Filling growing reservoir up with water (typically need to add water once a month from then on)
That's it. The device will then set an automated lighting and control schedule to grow your plant and you should have a fresh set of herbs for your next dish in a few weeks. If you have children it can also be a fun experiment watching the seeds sprout and grow over time.
Watch the video below to get a better idea of the system.
What are the best products that will allow you to grow fresh herbs and plants in your own kitchen?
AeroGarden Bounty Wifi
Highlights
Control features like turning lights on and off from your smart device
User Results & Plant Recommendations
Here are a few pictures from real users of these automated counter top herb and flower gardens and which plants seem to have a high success rate.
Plant type and growing tips
Plant and herb notes:
Cilantro
- takes up a lot of water and can hurt other plants in containers chance of growing
Dill & Basil
- "grows crazy"
- "My basils take over the whole operation every time and pretty much stunt all the other herbs.."
- "My first garden was a three pod with dill, basil, and parsley. I had so much dill I gave away bags of it. It grows insanely."
Cherry Tomatoes
- Tip "Trim regularity and don't let the plant get too tall"
General Care
Herbs and lettuce like cold water where Peppers and Tomatoes like room to a tad warmer water for best results.
"I would suggest cleaning it with vinegar and alcohol, then running it with distilled water a couple times before planting."
Note: Both Aerogarden and Click and Grow have good guarantees on their seed pod products so that if they don't grow you can receive a refund.
Crowdfunded Products
Articles & Resources
Pre-order / International