Eve, the first creation of Plaid Systems, may not be the genesis of the smart irrigation controller market — but when paired with their Adam soil moisture sensor, has nicely filled a gap in the market where others have aimed their focus solely on providing connected controllers.
Intelligently designed as a drop-in replacement for dumb irrigation controllers, Eve consists of both a hub to which you'll attach the wires from sprinkler valves around your property and wireless moisture sensors that you can use around your yard to assign "zones" of association between each sensor and nearby sprinkler heads.
Soil moisture data and live weather forecasts form the branches of Eve's digital tree of knowledge, allowing it to optimize the watering schedule for each zone — even down to figuring out the best of all possible times of day to water for maximum soil moisture retention. Eve also supports manual scheduling, which can be useful in areas with water rationing or other restrictions.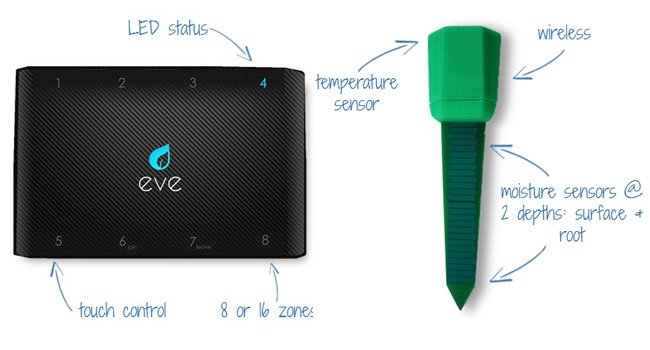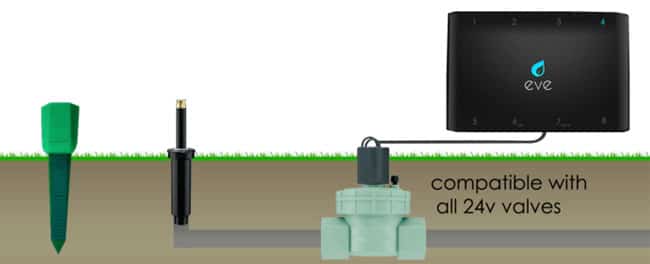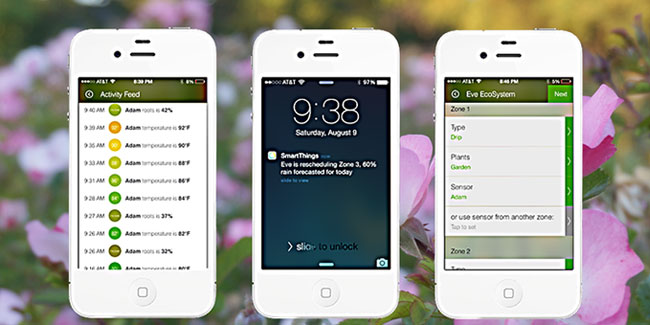 Up to 60 percent of a garden's water use can be saved with Eve as compared to timer systems, which activate regardless of whether the soil needs it and will even run during a rainstorm, causing flooding of near-biblical proportions. By tailoring irrigation to the specific, immediate needs of your garden, Eve avoids the deadly (to some plants, at least) sin of overwatering.
Adams and Eve connect over ZigBee and are compatible with the emerging Thread standard. Each Adam sensor runs for about a year on a shekel-sized coin battery, which can be replaced easily by removing the waterproof cap. The Eve hub is not water- and weather-proof, but the system has enough range that Eve can be placed indoors or in an outdoor enclosure (just make sure it's made of fig leaves, wood or plastic, as metal will interfere with the signal).
The snake in the grass is that Eve requires a SmartThings hub, which mercifully can be included in the kits for those who need it. On the one hand, this will increase the cost of the system for many users (and could be pointing towards some consolidation happening in the market); on the other, its compatibility with other smart products and the company's recent purchase by Samsung may pave the way for users to accept the hub fully into their hearts. No doubt many users will find themselves unable to resist the temptation of full-home automation once they taste Eve's convenient fruit, such as the ability to shut off sprinklers near the front walk when a door sensor detects someone leaving the house.
To buy your way into Eve's heavenly garden, visit the Kickstarter page — the campaign runs through Sept. 23.
Related: Smart Irrigation Controllers