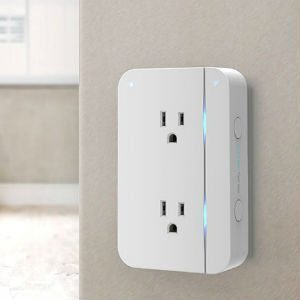 Best Smart WiFi Outlets and Plugs
Find and compare the right wireless power outlet for your home. Remotely control appliances, monitor usage and set timers from your Android or iPhone.
Internet-enabled electrical outlets, plugs, power strips and switches are a great way to start building a smart home. They add convenience to any appliance and can make a big dent in your electric bills by keeping unused appliances turned off and reducing "standby" consumption.
You'll be able to turn devices on and off remotely from anywhere with an Internet connection, set automation rules for intelligent home behavior that adapts to your own lifestyle and usage habits, and monitor power consumption in real time.
The following Channel Guide will help you:
Determine which wireless type you need (WiFi, Bluetooth, etc)
Get app reviews, and see if the switch can work with your Android or iPhone.
Filter based on additional energy saving or monitoring features.
By Publication for best overall and Editors Choice:
Off-the-Shelf Smart Plugs
Smart plugs were one of the first device categories to define the early Internet of Things market. Here are some options that are available for purchase today.
Ankuoo NEO PRO Wi-Fi Smart Switch
Highlights
Countdown / Anti-theft / Schedule Timer

Electrical rating: 120V/15A/60Hz/1800W
Additional
Questionable Future
Defunct:
Protocol-Specific Smart Plugs
These smart plugs are specific to a single company's smart-home ecosystem or wireless protocol. They're not as flexible as standalone options, but they do offer easy integration if you're willing to invest (or have already invested) in a unified smart-home solution. Most of these are Z-wave compatible and will work with popular smart home hubs on the market like SmartThings, Wink, etc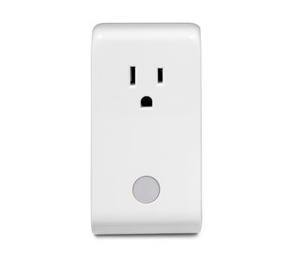 IRIS SMART PLUG
Lowes Iris $25 110 Volts Smart Plug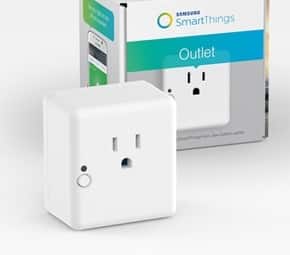 SAMSUNG SMARTTHINGS OUTLET
Samsung SmartThings Outlet "allows you to control lights, electronics, and small appliances from anywhere. You can also set things to...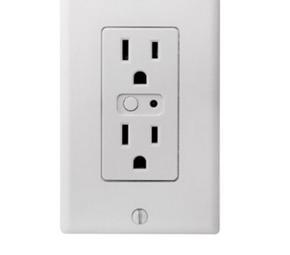 GOCONTROL WO15Z-1 (Z-WAVE)
$32 - "The WO15Z-1 Single Wall Outlet is wired in place of a standard duplex receptacle.This WO15Z-1 Outlet integrates with other Nortek Security...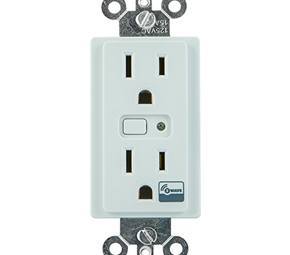 GE WIRELESS (Z-WAVE)
$38 - "The receptacle replaces your current electrical outlet, uses your existing wiring and provides a Z-Wave enabled outlet for the lamp or...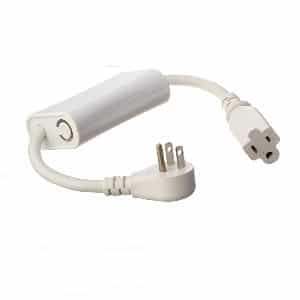 AEON LABS SMART ENERGY SWITCH
A popular option with 523 reviews and a 4.5 star rating. This Z-wave enabled switch includes a built-in meter to monitor energy consumption.
DIY & Open-Source Smart Plugs
If the amateur electrician in you rebels at the thought of a pre-made smart outlet, try building your own. Low-cost hardware like Aurduino and Raspberry Pi can get the job done for about the same cost as retail products, but with the freedom to design for your own needs. Here are a few projects that will walk you through the process.
Instructable by flashular "This project enables your Arduino to control real-world 120 Volt electrical appliances you have in your...
Multi-Plug Smart Power Strips
When one smart outlet just isn't enough, reach for one of these smart power strips. With options to control and monitor each plug separately, they're a great way to manage clusters of appliances such as a home theater setup.
"With the LockState Connect Wi-Fi Multi-Outlet Power Strip, you're able to monitor and control up to 4 outlets from anywhere in the world. Turn...
The Revogi smart power strip uses your home Wi-Fi to connect to your phone or tablet. The Revogi home app can control any of the 6 sockets...
Wi-Fi-enabled 7 outlets total. 5 schedulable and 2 always on, plus 2 USB charge ports.
These outlets replace your entire outlet (versus the plugs listed above that are plugged into your existing wall connection) and provide a much more integrated look than the plug options.
iDevices Wall Outlet
Highlights
Works well with Siri, Alexa and Google Assistant

Tamper resistant design and independent (2) outlet controls.

Energy Monitoring and custom night colors.
Coverage
Additional Resources:
Conor Klein's Outlet Regulator that spits itself out of the wall when it's done charging the gadget you've plugged in