Best GPS Bike Trackers and Smart Locks
Find and compare the best bicycle GPS tracking devices and smart locks. Fight theft, get sent an alarm alert, and increase your bike security.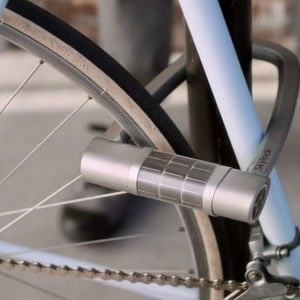 The Internet of Things is making a new breed of gear available to tech-savvy cyclists.
Anti-theft devices track a bike's location and send alerts if it leaves a designated area, while smart bike locks can be opened without a physical key and allow several riders to share access to a single bike. Many of these devices offer additional features like ride analytics and crash alerts.
Below we take a look at several options to help you keep track of your bike. Using connectivity embedded into locks, trackers, handles the following Channel Guide will help you:
Determine which connectivity type you need for best tracking and coverage (WiFi, Bluetooth, NFC, or GSM Cellular)
Get app reviews, and see if the device can work with your Android or iPhone.
Filter based on monthly fees, or if the lock or tracking device has additional social or safety features.
The Sherlock is our Featured Solution as it comes with both a cellular and GPS connection and is very discrete in the chance that your bike is stolen. This is a benefit to some of the other alternative bike locks and trackers where you would hide them on your bike.
Off-the-Shelf Smart Bike Locks
Digital bike security is available in a variety of forms, from smart accessories and U-locks to bikes with GPS trackers built right into the frame. Here are some options available on the retail market.
The market for smart bike accessories is rife with innovation, and many promising gadgets are launched via crowdfunding and pre-order campaigns. If the feature set you need isn't available yet, you may be able to support a project that will deliver it soon.

Additional
Questionable / Defunct
Bluetooth and Cellular Bike Tracking Devices to make sure your new expensive bike purchase is never stolen.
Additional:
GPS embedded in lights
Bluetooth Trackers
GPS Tracker not initially intended for bicycles
Pre-Order / Crowdfunded
Questionable / Defunct
Social Bike-Sharing Platforms
Can't wait for your city to create an official bike-share program? These tools will let you start a grassroots effort in your own garage or backyard. Smart locks and cloud platforms let owners share access to their bikes with specific friends and neighbors, or allow anyone to find and rent them via a mobile app.
"Social Bicycles uses wireless technology to enhance personal mobility. Our smart bike works with regular bike racks making our system affordable..."
"AirDonkey is a lock and a platform that, together, allows bike owners to rent out their (spare) bike in the simplest way possible and allows..."
Joyride helps bicycle fleet managers, city planners, and community advocates get tracking and analytics data they need.
DIY & Open-Source Bike Trackers
Serious cyclists often have a do-it-yourself approach to bike maintenance, so why not build your own smart bike-tracking device? Here are a few projects that will walk you through the process.
By Scott Bennett (stbennett) - This project requires around $225 in parts including an Arduino Uno and GSM shield.
"Our tutorial will show you how to build a realtime bicycle tracking application that collects position of a bicycle in realtime using the LinkIt..."
Smart Navigation and GPS Bike Accessories
These devices connect with your phone via Bluetooth or Ant+ to help you navigate, track your route and more.