Looking to create a connected Wifi or Bluetooth smart mirror?
The smart bathroom mirror is a signature detail of futuristic movies and advertisements. Want some visual shorthand for how far technology has come? Show your protagonist brushing her teeth, while over her reflection are laid her daily schedule, weather report, news headlines, incoming messages, and more.
So it's kind of surprising that, even though the technology has existed for some years now, we haven't seen a version of this product from any of the big names in touch-screen computers or the smart home (one early and expensive example, the Cybertecture Mirror, seems to have vanished from the market) — and it's equally surprising that several attempts to crowdfund a smart mirror have failed to hit their funding targets.
Fortunately, that hasn't stopped the DIY community from forging ahead and building what the market wouldn't provide.
My Bathroom Mirror Is Smarter Than Yours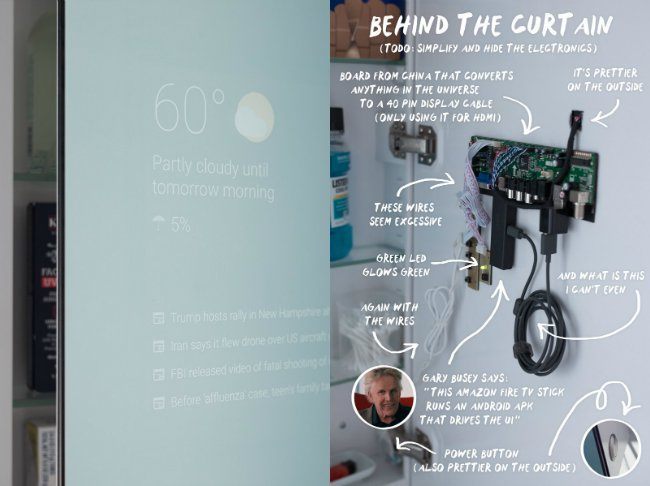 One of the slickest-looking examples was just posted earlier this month by Google employee Max Braun. It's built from a super-thin Asus monitor behind two-way glass, with a Fire TV HDMI streaming stick running a custom Android application. The screen shows widgets like time, weather and headlines, and Braun says it can be expanded to include basically anything that has a Google Now card.
Like the examples below, there's no touchscreen capability — and who would want all those fingerprints greasing up the mirror anyway? — but Braun's idea was to create a UI that presents a quick-glance overview of information and doesn't require much interaction. If he needs to know something that's not in one of the widgets, the mirror also can access Android's built-in voice search features.
Braun hasn't yet posted a full how-to with the complete bill of materials, but we estimate a setup like this would cost upwards of $500, with the monitor and the glass as the main expenses.
Magic Mirror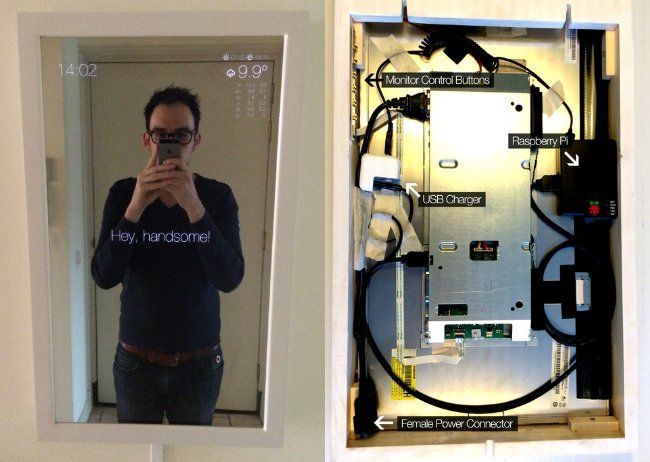 Another high-quality build is Michael Teeuw's "Magic Mirror" from 2014. He stripped a flat-screen display out of its case and built his own wooden frame, again with two-way glass overlaid. The brains of the Magic Mirror are a Raspberry Pi, which draws on APIs from OpenWeatherMap and iCal, as well as a news feed and a custom script that shows ego-boosting compliments.
Teeuw's blog has a detailed, multi-part description of the build and the Raspberry Pi code is available on Github. Again, it would probably cost a few hundred dollars or more to put together your own Magic Mirror, as plenty of folks have done.
MagicMirror² - "The open source modular smart mirror platform."
HomeMirror

If you're looking for a lower-budget alternative, check out Hannah Mitt's open-source HomeMirror project. To cut costs she used two-way mirrored plastic instead of glass, and designed the project around an aging Android tablet. That means the display area of the mirror is smaller, but it still gets the job done.
Using a tablet as both the display and the smarts also has a few other advantages. For one thing, Mitt was able to package up the software as an app on the Google Play Store to make installation easy. And the app can draw on the tablet's other hardware, like using the camera to detect a user's mood and display uplifting comments.
If you already own a tablet that you're willing to dedicate to this project, all you'll really need to buy is the mirrored plastic and some mounting adhesive. A small 6-by-12-inch slice of two-way mirrored acrylic like the one pictured in Mitt's build can cost as little as $12.
Build your own Smart Mirror
To build your own smart mirror, you will need some hardware:
1) A Glass or Acrylic two-way mirror where one side reflects light and has the appearance of a mirror and the other transmits light through it.
- Glass: 1/4" thick two way mirror glass - starting at $89.99 for a 12"x24" piece
- Acrylic: A cheaper 1-3 mm Acrylic two way mirror starting at $27 for a 12"x24" piece. Note: Some people have complained about the final finish using this.
2) Something to run the display on. This is really driven by how large of a display you would like. Would you like to have the information take up the entire mirror or just a small section?
- Option 1) For a full mirror display, a computer monitor in combination with a small computer (Typically a Raspberry Pi (a kit with power cord starts at $42)) would be a good option
For smaller displays or where you only want part of the mirror to display information  a cheap Android Tablet or one of your old smartphones will do the trick.
3) An enclosure to hold the glass and display you choose. This can be anything from baseboard trim, to a picture frame, to using an existing medicine cabinet.
4) Finally you will download one of the Android apps shown below and customize it for your needs.
Optional Accessories:
Voice Control: Some people have used their Raspberry Pi driven smart mirrors to add Alexa and voice controls. For this you will need to add a USB microphone and USB speaker. Approximate additional cost $20. If you use a smart phone with Google Assistant already installed this should work out of the box.
Motion Sensing: Using a PIR sensor for your Raspberry Pi you can have your display turn on only when there is someone in the room. Additional Cost: $10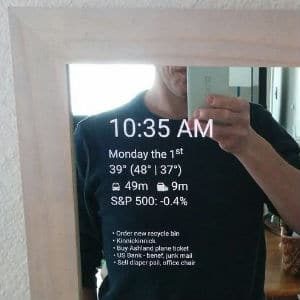 Wall Mirror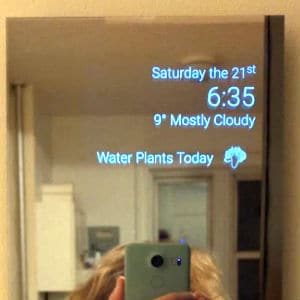 Home Mirror
A large number of DIYers like yourself have constructed their own smart mirrors. Here is a listing of them with a brief overview of the size and unique elements, etc.
Uses a Monitor
Uses a Smarthphone or Tablet