Smart Greenhouse Climate & Control Systems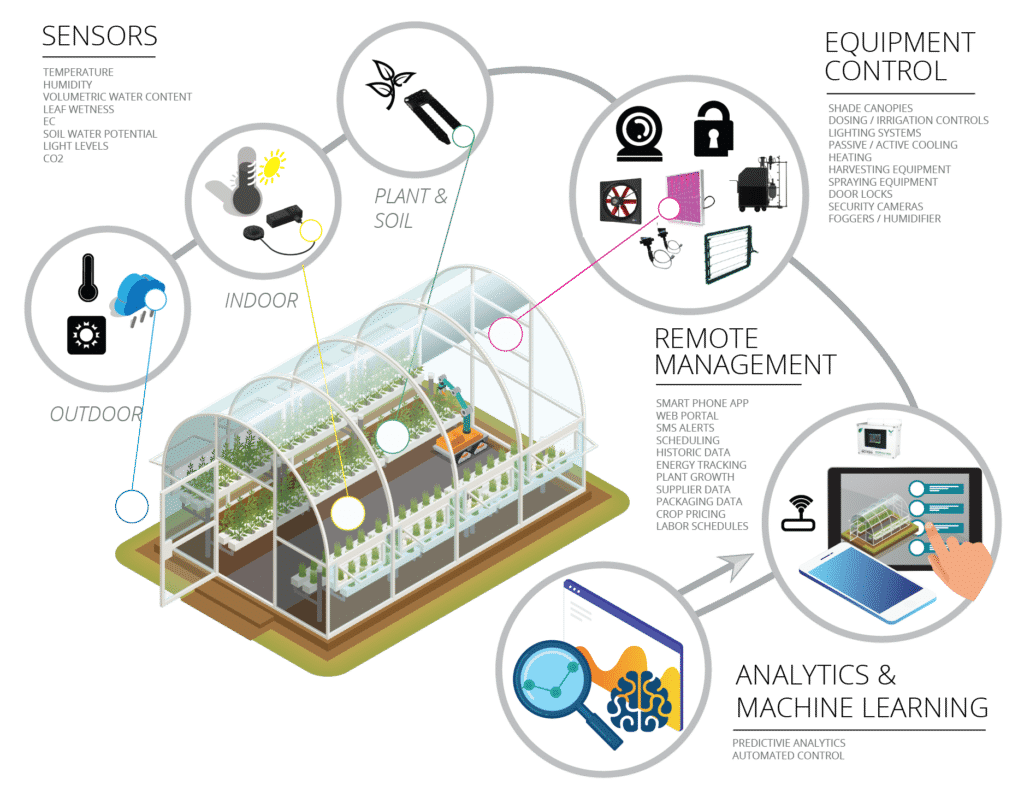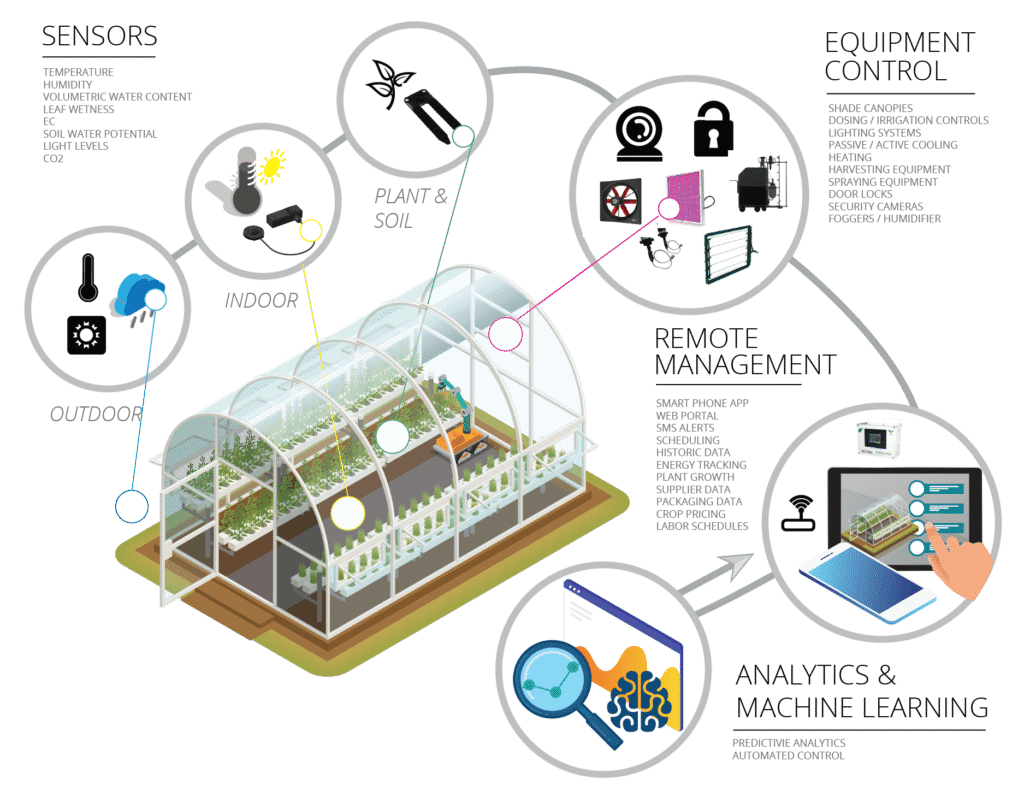 Your controller is the brain of your entire system allowing you to gather data and remotely control and monitor your critical equipment from your computer or smartphone.
Whether you are looking to replace an older automation system that is experiencing reliability issues or are intrigued by the new capabilities of new fully cloud connected automatic grow systems that help you to:
Improve labor efficiency by letting your team focus on higher priority tasks
Reduce energy consumption via dynamic temperature and irrigation control that only uses what is necessary for your crop
Improve crop quality and yield through fine grain adjustments in nutrients and LED light parameters.
Receive text or email alerts if the system detects something wrong
Analyze crop analytics and historic data that you can combine with other data such as labor, production, and plant data to optimize cultivation schedule, etc.
Use machine learning models to automatically adjust your equipment for optimal energy efficiency and growth
Even small changes in the climate, lighting and nutrient dosages can cause your plants stress which directly affects your plant's yield and quality so why not be proactive in getting real-time data about your greenhouse?.
Most systems use 3 main categories of systems to operate 1)Overall outdoor environmental data, 2) Indoor environmental data and direct plant and soil sensor data 3) use this data from the first two systems to control dosing and light schedules as well as actuators like shade screens and humidifiers to create the perfect energy efficient climate:
Environmental
Conditions
A sensor or sensors for monitoring overall internal and external greenhouse conditions.
Temperature
Humidity
Light Levels
CO2
Plant
Conditions
A remote sensor for monitoring plant:
pH
Moisture Levels
Nutrient Concentration
Equipment
Status & Control
Check in on system performance and control:
Ventilation
Cooling pad/wet wall
Fertigation (direct injection)
Heater
Dehumidifier / Humidifier
Extraction fans / Foggers
Dosing & irrigation systems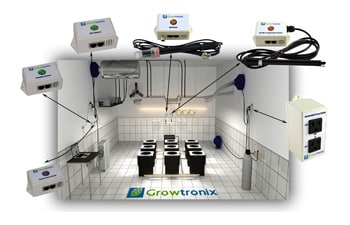 Growtronic
Basic Controller: $599 for basic package that includes  a Humidity/Temperature Sensor and Controllable power outlets unit (provides the software control of 2 devices)
Environment sensors: Yes
Soil Sensors: Yes
Irrigation / Dosing Control: Yes
Light Control: Yes
App: No, Web Portal
Analytics: Yes
Remote Power Control: Yes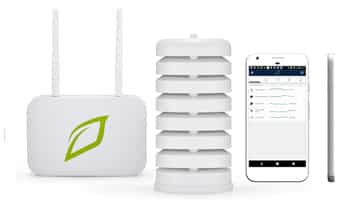 Growlink System
Basic Controller: $899 for basic Four sensor inputs and four relays (Can control other equipment with power control extension) and control up to 1000 controllers per grow operation.
Environment sensors: Yes $699 Relative Humidity, Barometric Pressure, Air Temperature, Vapor Pressure, Co2 and Light
Soil Sensors: Yes $139
Irrigation Control: Yes
Dosing Control: Yes
Light Control: Yes
App: Yes (Android - iOS)
Analytics: Yes, with additional subscription
Remote Power Control: Yes via addon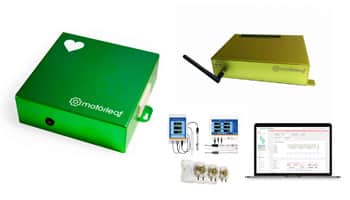 MotorLeaf System
Basic Controller: $Contact Sales Two outputs
Environment sensors: Yes humidity, temperature, total light (PAR) and the relative quantity of red, green and blue wavelengths of light.
Irrigation Control: Yes, uses Bluelab controls and sensors
Dosing Control: Yes uses Bluelab controls and sensors
Light Control: Yes
App: Via website
Analytics: Yes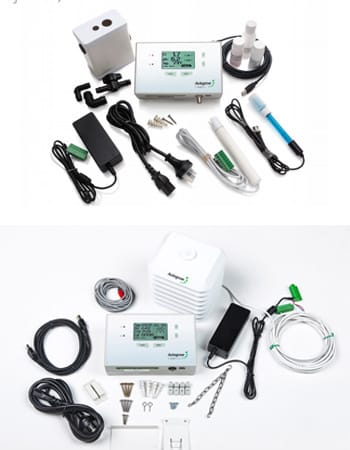 Autogrow IntelliDose & IntelliClimate
Basic Controller: $1499.00 9 outputs for IntelliDose and $2199.95 for IntelliClimate
Environment sensors: Yes indoor and outdoor temperature, CO2 humidity and light
Control: Magnetic door switch for security and light overtemp switch
Irrigation & Dosing Control: Yes, dose up to 8 nutrient parts and 4 irrigation stations
Light Control: Yes
App: Yes (Android - iOS)
Analytics: No, but has historic records saved
Remote Operation: Yes - Alerts, scheduling, historic analysis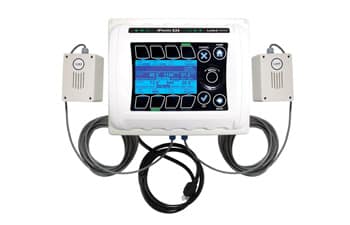 Link4 iPonic 624
Basic Controller: $1449.00 includes 8 120-volt outlets of which 6 are fully-programmable.
Environment sensors: Yes temperature, CO2 humidity and light
Control: Magnetic door switch for security and light overtemp switch
Irrigation & Dosing Control: Yes, simple on/off
Light Control: Yes simple on/off
App: No, web control
Analytics: No, but has historic records saved
Remote Operation: Yes - Alerts SMS/Email, scheduling, emergency shutoff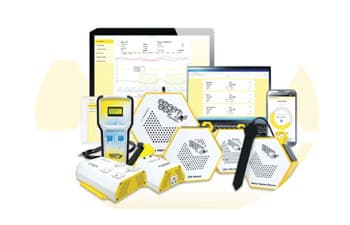 SmartBee
Basic Controller: $1949.00 Control up to Eight Devices with our new 24V Dry Contact Controller
Environment sensors: Yes light, temperature, humidity, VPD, and CO2 and also provide readings for PAR, PPFD (Photosynthetic Photon Flux Density) and DLI (Daily Light Integral) with additional sensor
Irrigation & Dosing Control: Yes
Light Control: Yes 
App: No, web control
Analytics: Yes
Remote Operation: Yes - Alerts SMS/Email, scheduling, emergency shutoff
Mid-Large Size Operations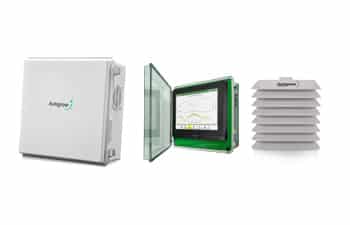 Autogrow MultiGrow
Controller: $Contact Sales The device controls climate - with up to 8 compartment managers, Fields - with up to 8 field managers, Irrigation - with up to 8 irrigation system managers, Monitors - with up to 8 independent monitor managers, Weather - with up to 2 weather stations
Environment sensors: Yes (Temp/RH/CO2/Light)
Irrigation & Dosing Control: Yes, supports up to 8 batched or simple dosed tanks in any combination
Light Control: Yes
Roof / Canopy Control: Yes
App: Yes (Android - iOS)
Analytics: No, but has historic records saved
Remote Operation: Yes - Alerts, scheduling, historic analysis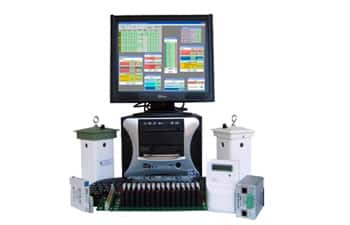 Climate Control: Climate Manager
Controller: $Contact Sales Configure up to 16 Climate zones which can be expanded with additional panels for a total of 32 Climate zones.
Environment sensors: Yes Indoor: Temp/RH/CO2 Outdoor: Solar radiation, wind, temp, rain, humidity
Irrigation & Dosing Control: No, but company offers an Integrated Fertigation manager system
Light Control: Yes
Roof / Canopy Control: Yes
App: No, web portal
Analytics: No
Remote Operation: Yes - scheduling