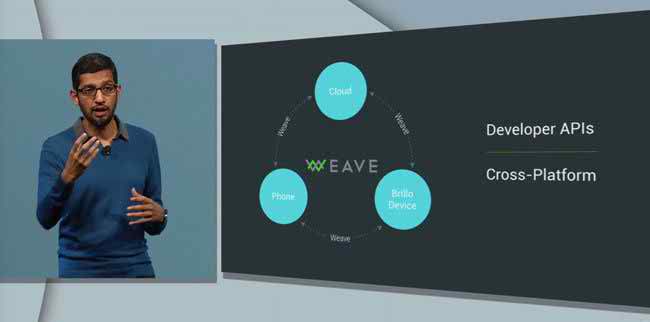 At Google's I/O developer conference today, VP Sundar Pichai unveiled the company's plans to provide an "end-to-end complete solution" for the software that will run tomorrow's connected devices.
"We pulled in people from the Nest, the Android, and the Chrome OS teams to take a fundamentally new approach to the Internet of Things," Pichai said during a keynote address.
The result is two-fold: Brillo and Weave.
Brillo is a scrubbed-down version of Android that will provide a lightweight but familiar operating system with built-in support for Wi-Fi, Bluetooth, and low-power communication protocols like Thread. "This is basically the lower layers of Android—the kernel, the hardware abstraction layer, the real core essentials—so it can run on devices with a minimal footprint," Pichai said. Like Android, it will be able to run on a wide variety of hardware from different manufacturers and will be easy to manage.
Weave is a communication layer that will be built into Brillo, but is also available to other platforms. It's not a protocol itself, but an "information schema" that will define common types of devices, what they can do, and how they can talk to one another. The idea is that any Weave-enabled camera will know that a Weave-enabled door lock can be told to lock or unlock itself, and conversely the lock will know that the camera can be told to take a picture—without either device needing to know anything specific about the other's manufacturer, components, or operating system. Pichai described Weave as "a semantic blueprint for all these devices to have a common language."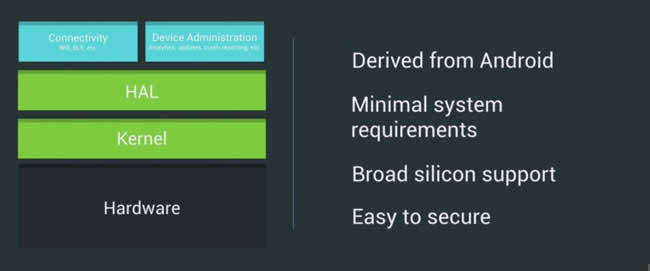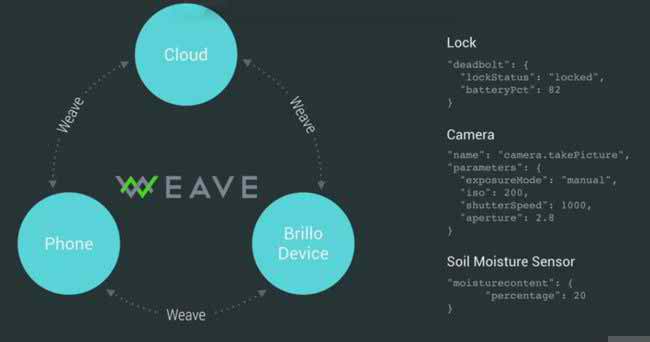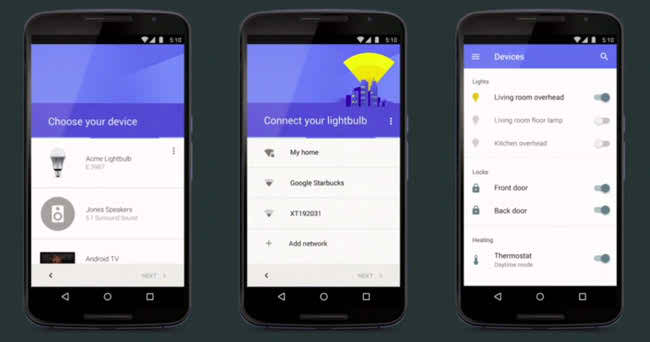 Both Brillo and Weave will be fully integrated with Android, so products that use them will be instantly recognized by users' mobile devices. "As a user you get the same standardized setup for any connected device," Pichai said. "You open up your phone, we detect it, you choose the device and set up the right owners and you're good to go."
Pichai said the goal with these tools is to emulate the wide success of Android, which has thoroughly saturated the mobile market and now runs on almost 80 percent of smartphones worldwide. "We hope we can connect devices in a seamless and intuitive way, and make them work better for users" to achieve similar dominance across the entire Internet of Things ecosystem, he said.
Brillo will be available for preview by developers in Q3 of this year, while documentation on Weave will be rolled out progressively and should be complete by Q4. Check out Pichai's presentation in the video below.