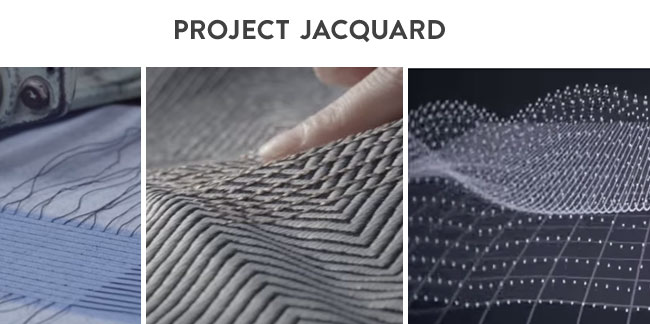 Google fans may soon be able to wear their love of the digital tech giant on their sleeve—literally.Project Jacquard, out of Google's ATAP lab (Advanced Technology and Projects), is a collection of conductive threads for weaving touch-responsive textiles like clothing, tablecloths, rugs, or anything else made of fabric.
Conductive threads and yarns have been available for a while now from some electronics hobbyist stores. They can be used to weave flexible connections between electronic components in a piece of fabric, or to add touch-sensitive areas (like making the fingertips of a glove touchscreen-compatible). Existing threads tend to be made of braided steel fibers, which makes them stiffer than normal thread and gives them a fairly rough, utilitarian look. It also makes them unsuitable for sewing machines and looms—so they're useful for hand-crafted and bespoke products, but can't be used in mass manufacturing.
Project Jacquard threads, on the other hand, are a combination of metal alloys and the natural or synthetic fibers found in the threads we're all familiar with, like cotton or polyester. They're engineered to have the same look, flexibility, feel and color as traditional thread, so they'll blend into any existing fabric design. And, crucially, they work perfectly with sewing machines and industrial looms.
In addition to the thread itself, the project team has developed a variety of small, thin electronic components as well as connectors for attaching them to the threads. These can be used for capturing and interpreting touch inputs and providing haptic, visual, auditory or other feedback to the user.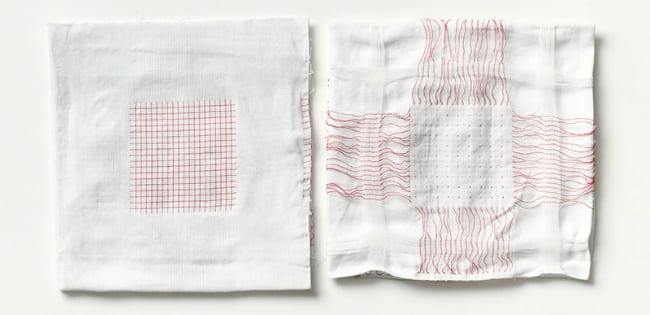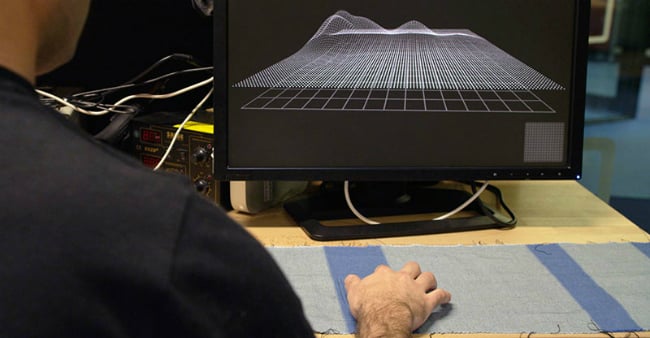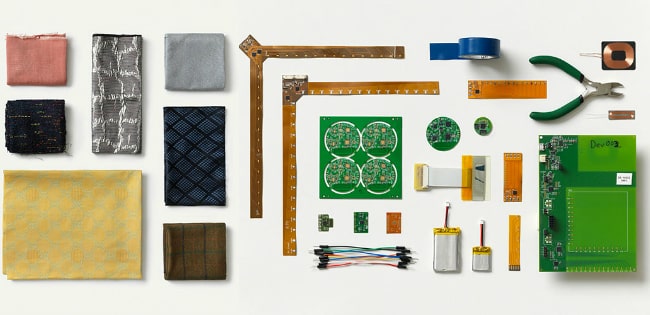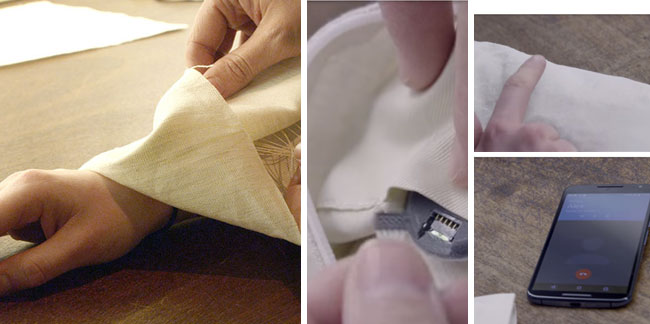 Demonstrations of Project Jacquard at Google's I/O conference last week showed how the technology can add simple gesture sensitivity to things like clothing or furniture. With a grid of Jacquard thread woven into a patch on the sleeve of a jacket, for instance, discrete taps or swipes could be used to make quick phone calls or advance slides in a presentation. Added to the arm of a couch, touch-sensitive fabric might let users change the channel on a smart television or advance songs in a music playlist.
"We think of Jacquard as a raw material that will make computation part of the language which apparel designers and textile designers and fashionistas speak," project lead Ivan Poupyrev told I/O attendees in a keynote presentation. "We want digital to be just the same thing as the quality of yarns, the color you use—how digital it is."
To that end, Poupyrev announced that Levi's has signed on to be the first production partner for Google-powered fabric textiles. There's no word yet on when the first Project Jacquard products will be released, but tech developers and fashion designers alike can sign up for updates at the project's website.
See Poupyrev's full presentation on Project Jacquard in the video below.
Previous I/O 2015 Coverage: Google reveals Brillo OS and Weave connectivity schema for IoT devices