Aira, a San Diego-based internet-connected eyewear that provides remote assistant services for the blind and visually impaired people. It consists of a tiny camera mounted on wearable devices (Google Glass and Vuzix) and Aira's network of trained agents who assist blind and low-vision people in navigating the world.

"People with low vision can use Aira to connect with a human agent who uses video feed from the headset or a phone's camera to describe her environment for her and help navigate her through it. The agent also has access to a dashboard of data about her preferences, multiple maps, and information about her physical location", wrote Michelle Donahue of PC Mag.
Aira's wearable was tested during the Boston Marathon when one of the certified agents Jessica Jakeway remotely assisted Erich Manser In his first Boston Marathon using Aira technology. "The experience of "running" with Erich during the Boston Marathon will forever hold a unique place in my heart. Obviously, Erich and his sighted guide did all the heavy lifting, but knowing I played even a small role in making sure he got the most out of his race and made it to the finish line safely is an incredible feeling", wrote Jessica on the company's blog.
Below is a screengrab of Jessica's view of the race from the agent dashboard.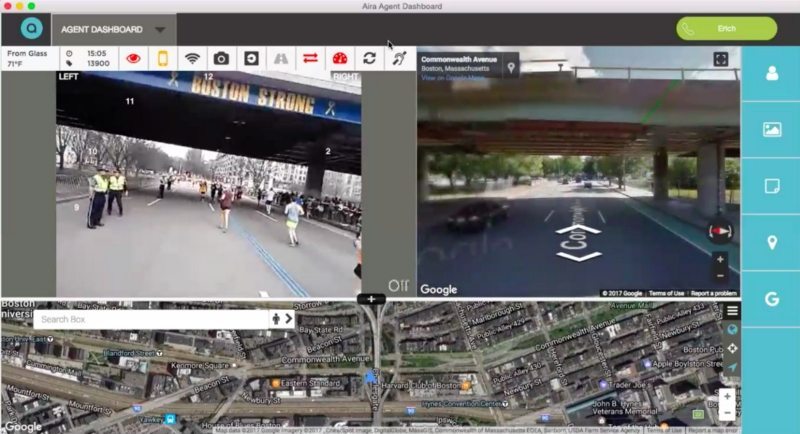 The company recently raised $12M Series B to expand its services to more customers. The round was led by Jazz Venture Partners and Ann Arbor, MI-based Arboretum Ventures. The company's solution is used by 100+ beta customers. The proceeds of the Series B round will be used for sales and marketing and develop new use cases by adding technologies such as AI and autonomous mode within the platform.