AKUA, a Baltimore-based subscription data service that provides in-transit visibility of goods and shipments through predictive and prescriptive analytics raised $3 million in Series Seed funding. The round was led by Crosslink Capital. London-based Talis Capital and the San Francisco-based Enterprise Security Syndicate also participated in the round. The startup's customers include companies from agriculture, perishables, and high-value recyclables sectors.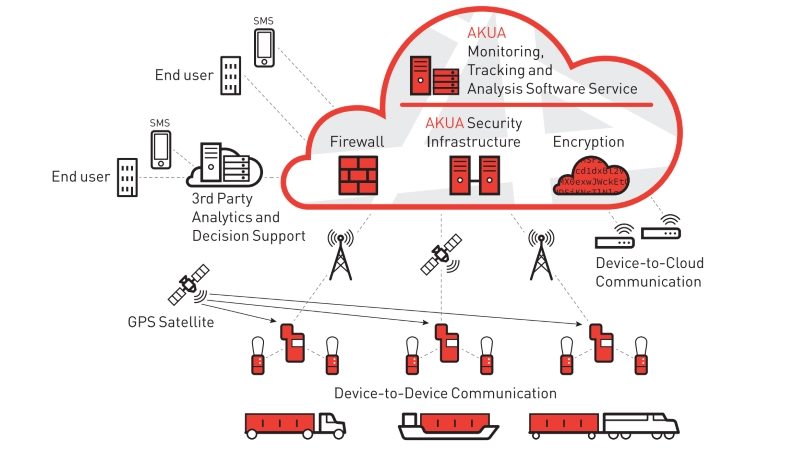 "These investments will help us advance the development of our secure IoT gateway platform, create greater value for our customers, and accelerate the growth of our company logistics and supply chain market", said AKUA Founder and CEO, Neil Furukawa.
AKUA's end-to-end supply chain tracking and monitoring solution utilize tracking devices, tamper-resistant and tamper-evident multi-layer security, and in-transit analytics sent over to a cloud-based dashboard. It combines tracking devices, proprietary multi-layer security, in-transit analytics, and AKUA web services to deliver supply chain tracking and monitoring by turning sensor data into actionable information.
Customers can choose between two types of services AKUA offers. These include Software-as-a-Service (SaaS) and Data-as-a-Service (DaaS).
The SaaS solution provides location mapping, security, environmental and cargo status information, alerting, notifications and reporting. Typical exceptions customers can track include seal breakage or door intrusion, unplanned stops, Geo-fence entrance or exit, device tampering, sensor threshold violation, and route deviation.
The DaaS customers of AKUA can integrate the tracking and monitoring data into a third-party or proprietary platform. The company's primary target market is companies who want to obtain in-transit analytics of perishable goods, pharmaceuticals, manufactured items, materials, medical devices, and hazardous substances.
AKUA's solution can be used to reduce cargo theft. The solution was also field-tested for monitoring environmental conditions in potato seed export shipments.