German software and industrial companies launched ADAMOS, an alliance formed around an open, white-labled IIoT platform. It has two main components, one is the digital marketplace and the other is the App Factory.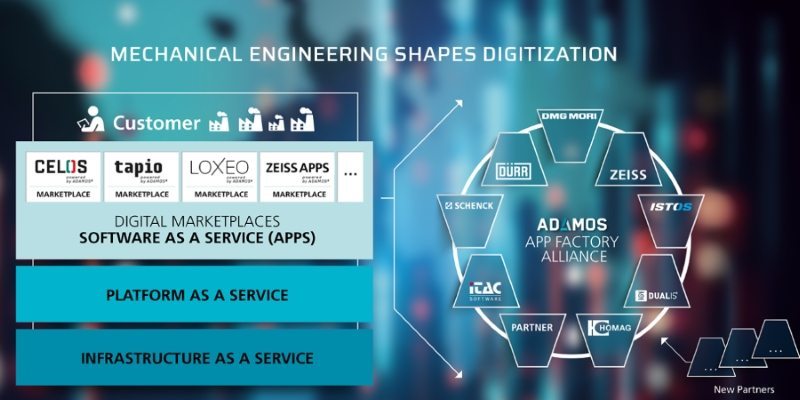 The digital marketplace based platform-as-a-service (PaaS) consists of 200 experts, 5 digital marketplaces (of respective ADAMOS partners) and more than 30 apps in the App Factory. The App Factory has a development environment where platform partners can use a common technology infrastructure to build apps.
The key capabilities provided by the ADAMOS platform include machine learning (for predictive maintenance in manufacturing processes), real-time analytics, data storage, device connectivity, customizable dashboards, integration with various IIoT scenarios, and security.
The key companies behind the launch of IIoT Industry 4.0 platform include DMG MORI, Dürr, Software AG, Zeiss and Singapore-based ASM PT.
"As a machine builder, we know our customers' requirements and know what is important. In the ADAMOS App Factory we bring industry knowledge for intuitively operated applications together with the design of digital marketplaces. The ADAMOS App Factory is a cooperation between machine builders and software companies that are closely linked with the partners."
Ralf W. Dieter, CEO, Dürr AG.

The platform is aimed at SMEs and plans to launch first apps for planning, predictive maintenance, and machine cockpit from the beginning of 2018.