According to the Department of Energy buildings are the largest energy consumer in the nation, accounting for more than 40 percent of the nation's total energy demand and resulting in an annual energy bill totaling $430 billion. It's estimated that if the U.S. could cut energy use in buildings by 20 percent, it could save nearly $80 billion a year on energy bills.
As a way to help combat these inefficiencies, the DOE's Building Technologies Office within the Office of Energy Efficiency and Renewable Energy (EERE) has announced a $19 million investment in 18 projects across 4 categories (Sensors and Controls, HVAC and Joining technologies, Window and Building Envelope and Energy Modeling).
One of the winning projects is from PARC to develop a wireless system of peel-and-stick sensor nodes to be placed across buildings.
Powered by radio frequency hubs the sensors don't require a battery, are auto-locating, outfitted with temperature, humidity and light level sensors and can relay their data to building management systems for analysis and improvements.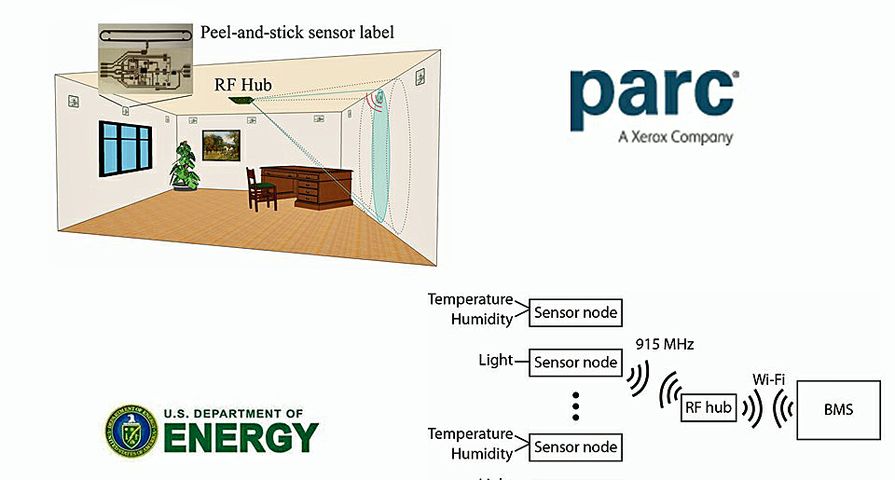 "Distributed sensing enables richer knowledge of any environment, detecting air quality, temperature, humidity, occupancy, and more," said David Schwartz, project lead and Manager of Energy Devices and Systems at PARC. "Sensors need to be low-cost, easily deployed, require little or no maintenance, and be able to store enough energy to do their job. PARC's flexible, printed and hybrid electronics enable the unique peel-and-stick form factor, provide affordable, plug-and-play installation, and allow for remote radio frequency power delivery."