Underwater - Real-Time Art
Underwater is an installation piece by artist David Bowen that uses a combination of a Microsoft Kinect and 729 servo motors to articulate the real-time surface of a lake and translate it into the inside of a gallery located hundreds of miles away.
Recently exhibited at the Minneapolis Institute of Arts the Kinect device was installed just off the shore of Lake Superior and pointed towards a plastic membrane floating on the surface. Data points captured from the membrane's movement were translated to a complex grid structure of rope and motors suspended from the ceiling in the gallery.
Each of the servo-motors correspond to a particular point on the surface material so that the mechanical grid can match the subtle changes of the water's surface. Creating the sensation of being underwater for viewers as the piece rises and falls.
More of David's work can be found at: Dwbowen.com/portfolio.html or you can see Underwater's surface movements in the video below.

Related: Telepresent water, Networked Art, Cloud Tweets

Image Credits: David Bowen
Featured in Channel: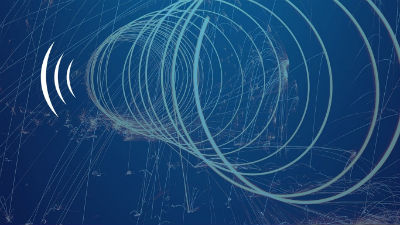 IoT Art - Real Time Networked Art Installations
A spotlight on the products and companies
View