frog Design's team "ConnectedProjected" has been honing a series of prototypes focused on taking simple tools from around your home and bringing them into the networked age.
Created using sensors, laser projection and prototyping hardware and under the guise of exploring the potential for "emergent, integrated product solutions by blending key trends in technology and user experience design." the team's explorations include a drill that is aware of its speed and can help the user properly guide it into a wall, and a networked tape measure that translates its recent measurements into a dynamic 3d Sketchup model and maintains a record of all that is has recorded.
"…..Things will not only talk but explain what they do or what they need. They will follow one another, discuss, collaborate, create events, and complete tasks together. They will even fight and disagree. What if all my tools could collaborate as I build my house? What if they talked to other products and learned from their experience? What if they competed to be used or suggested what was best in a given situation? What if they learned with us and from us? ' (Full Post) explains Rob McIntosh the team'sCreative Director.
McIntosh also highlights the role of the network in their design process "The real goal is not how smart each individual node can be, but how intelligent it can become while in a collective network."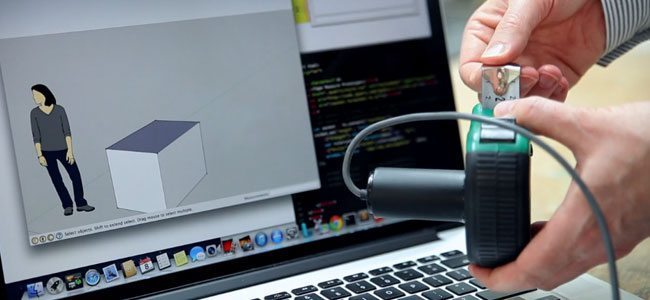 Based out of Munich the ConnectedProjected team includes: Rob Mcintosh, Holger Hampf, Brendan Donovan, Simone Rebaudengo, Lasse Underbjerg, Alex Jonsson, Patrick Schmidberger, and Miguel Oliva.
You can see some of the prototypes in action below, or follow along with frog's new connected producted experiments at: Designmind.frogdesign.com/blog/
Additional: DesignMind
Via: Janchip

Image Credits: Frog