The San Francisco-based startup CellScope is building what it calls a "smartphone-enabled digital toolkit" for making medical diagnoses. Its first product, the Oto, should perk up the ears of doctors and patients alike.
Compatible (for now) only with recent-model iPhones, Oto is an attachment that turns the phone's camera into an otoscope — the curving reverse-trumpet instrument doctors use to examine the inside of the ear. A paired app can capture photos and videos, and allows doctors and patients to communicate remotely about ear-related diagnoses.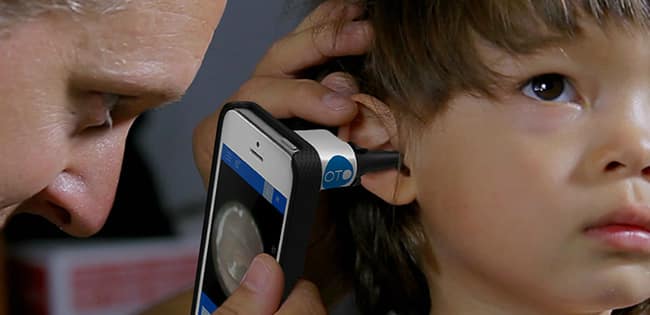 While medical professionals can certainly use Oto in the clinic — the professional version even integrates with electronic medical record systems — part of CellScope's mission is to allow patients to receive medical care from home. The Oto app provides instructions that guide a user through the observational steps of an ear exam, and the images collected with the home version of the device can be emailed to a patient's own doctor or submitted to CellScope's secure online platform for review by on-call physicians.
CellScope was founded out of a project that shares its name at UC Berkeley's Fletcher Lab, where researchers continue to develop new microscopes and other optical attachments for smartphones. The lab has created devices that allow phones to diagnose blood-borne parasites, eye diseases and cancer, as well as others that have uses outside the medical field. As the spin-off company expands its line of devices in the future, no doubt some of those innovations will show up as new tools for self-guided diagnosing.
And although a consumer-facing medical device like the Oto may seem to be targeting a small, relatively privileged slice of the market, the spread of inexpensive diagnostic technologies actually has powerful global benefits. The proverbial "peace dividends of the smartphone wars" are now allowing high-quality medical care to reach many underserved populations, as Prof. Fletcher himself wrote in a Wall Street Journal op-ed:
The enormous capabilities of smartphones are being repurposed and redirected for use in the developing world. … [W]ith smartphones capable of providing basic primary-care services and diagnostic work, and with expanding wireless services that allow doctors to interpret results and recommend treatments remotely, many of the services we enjoy at the doctor's office will be available in the field — anywhere in the world.
Learn more about CellScope Oto in the video below.
Related: Stethee, Babybe, Alvio, HealthPatch MD